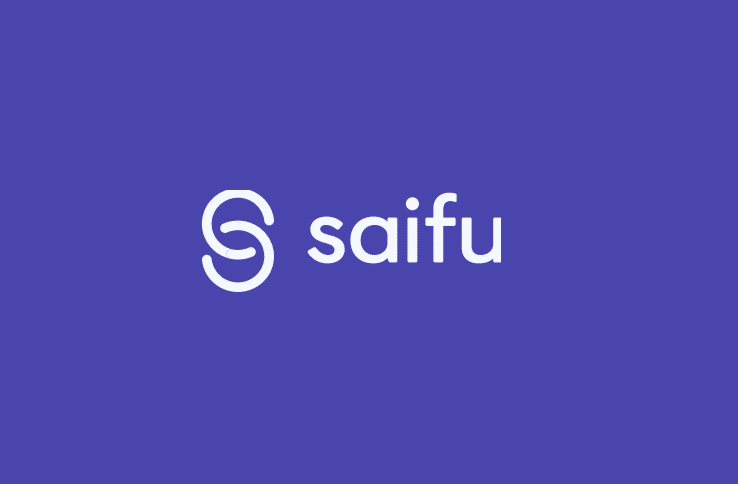 Today's poor integration between cryptocurrencies and traditional financial systems means that buying and using cryptocurrencies is often regarded as only being viable for 'geeks' and technology enthusiasts, rendering cryptocurrencies accessible to only a relatively small community. For most people, cryptocurrencies can be difficult to buy and keep safe, and it's not straightforward to use cryptocurrencies for day-to-day financial transactions, such as shopping.
Saifu platform wants to make it easier and safer for consumers, businesses, and banks to buy and use cryptocurrencies. Saifu wants to give customers the simplicity of one account for all their currencies and cryptocurrencies. Their service aims to be secure, regulated, and easy to use, so that almost anybody can run a Saifu account.
Main features
Multi-layered, bank-grade security helps to keep users' money safe.

They have a license for financial trading management and are monitored by external regulators.

Fast and easy to use for any user: no special skills required.

The core of their IT system is based on an e-money & payment platform that's been tried and tested in the market for over 15 years.

A convenient way to manage cryptocurrencies and traditional currencies in one platform.
Novelties
Is already operating and already has customers.

Could be the first service that brings world-class, banking-grade security to the cryptocurrency world, taking care of users' day-to-day security issues.

The system uses a series of 'cold vaults' and 'hot vaults' to protect users' money.

They operate two types of account: a Customer Account used to store customers' funds, and an Operational Account used for operational funds & payments.
Drawback
Running limited in Beta testing.

Complicated stages of business that can go wrong. 

A banking license is from the Czech Republic, so implementation in other countries could need other (countries') types of licenses.

Investors are likely to come from the financial sector (like Ripple for banks).
Social media presence
Competitors
Bankera: is building a digital bank for the blockchain era. As a traditional bank, services will fit into three groups: payments, loans and deposits, and investments.
Africunia: innovative banking model that allows the use of digital currency without hurdles, risks, or technical barriers linked with owning, transferring, and trading in cryptocurrencies and tokens.
European Crypto Bank: project for build a bank and trading platform to secure investments in Bitcoin and cryptocurrencies market on the blockchain.
Token Information
Token = Saifu Token

Acronym = SFU

Technology = Ethereum ERC20

Max.Number of tokens = 200,000,000

Soft cap = 10,000,000 USD

Hard cap = 49,000,000 USD
Pre-sale ICO
Available = December 4th 2017.

Close = February 18th 2018.

Token price = 0.00006 BTC – 0.000095 BTC .

Min. purchase = $25,000 – $1.

Bonus = 40% – 5%.

Currencies accepted = BTC, ETH, LTC, BCH, DOGE and USD.

NOTE: variations depend on pre-sale date.
ICO
Starts = February 19th 2018.

Close = March 11th 2018.

Token price = 0.0001 BTC.

Distributed = 65%.

Currencies accepted = BTC.

Min. purchase = $1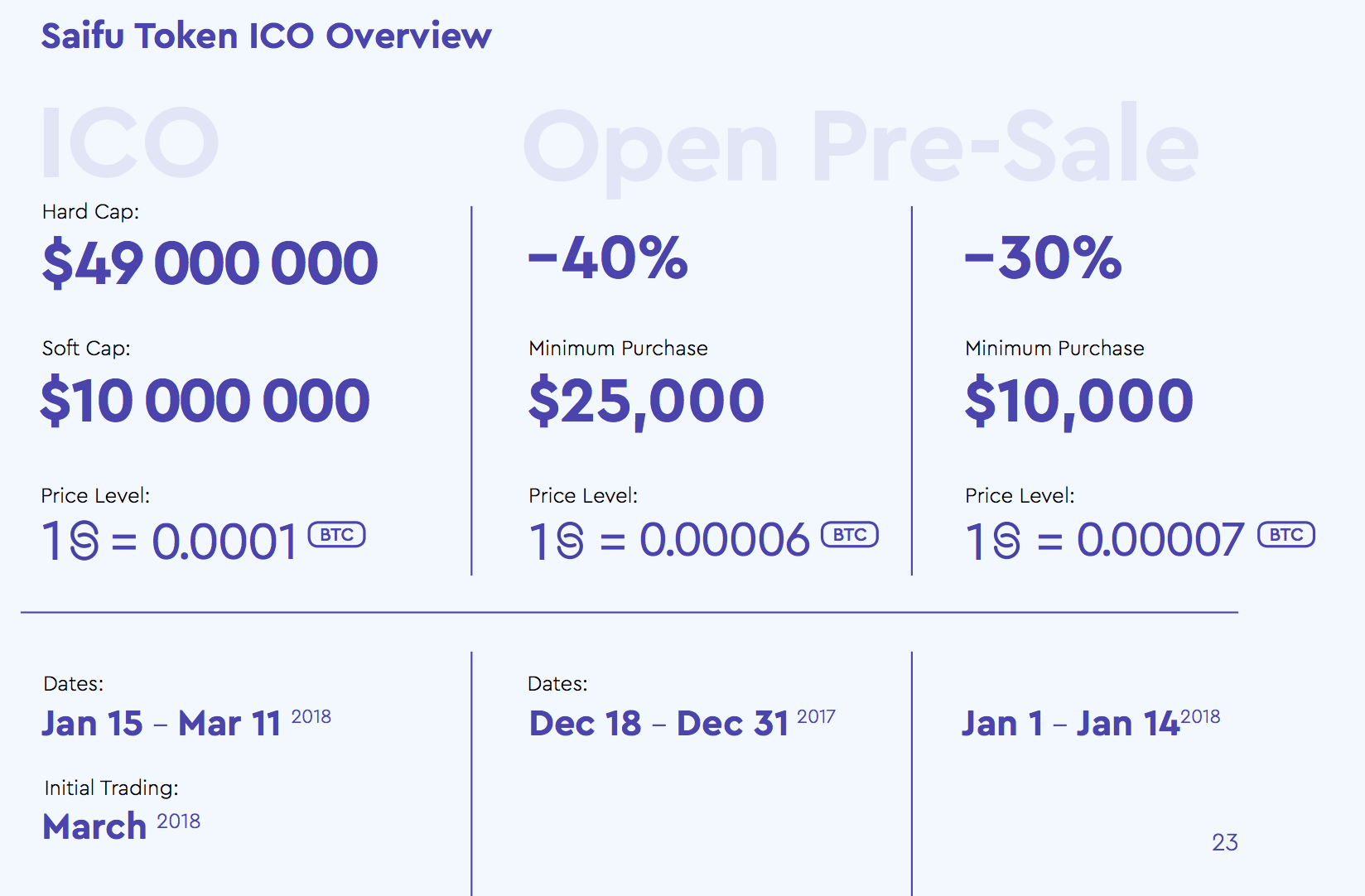 (Saifu ICO Token overview, source: co.saifu.ai)
The team
Alexander Legoshin (CEO / Co-Founder): responsible for strategic development, regulator relations and global business development.
Evgeny Vigovsky (COO / CTO / Co-Founder): in charge of the operational side of the business, development of new products for corporate and private clients, as well as technological development and security of the service.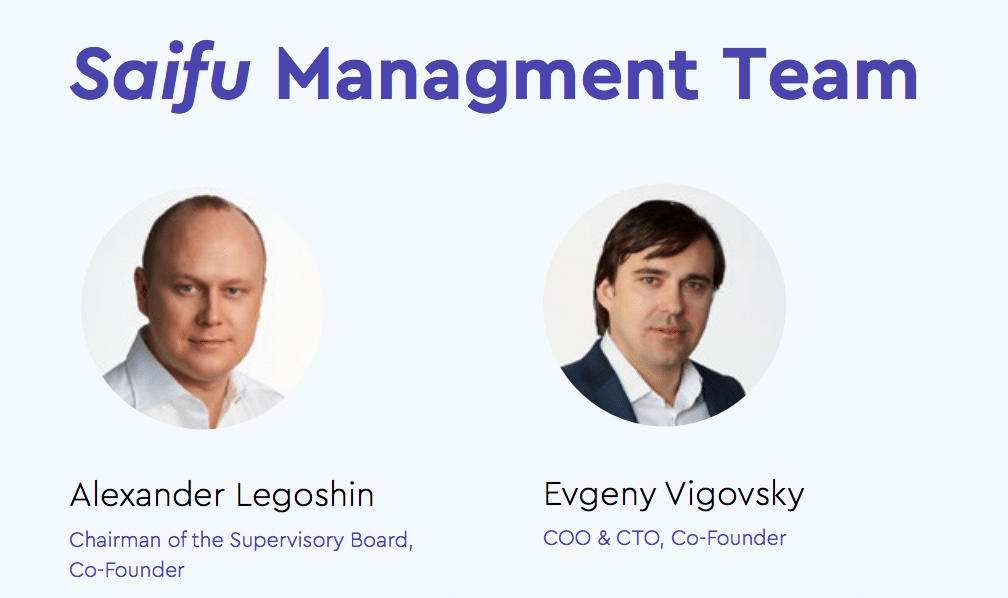 (Saifu Team management, source: co.saifu.ai)
Additional information
Conclusions
The cryptocurrencies and the blockchain industry could be compared to the era of the computer revolution. That era when the empires of Microsoft and Apple were born, where young adventurers focused their strength and motivation in making PCs simple and user-friendly for anyone, anywhere in the world, and indeed they did. The cryptocurrencies are going through a similar threshold, which experts call 'scalability problems'. Saifu wants to help so cryptocurrencies are for everyone and easily accessible to all.