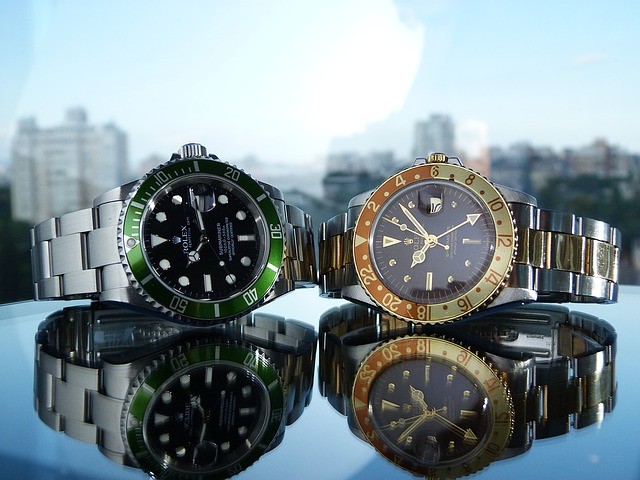 Whether you want to treat yourself with a premium watch, show off your status as a member of tomorrow's financial elite in style, or diversify your asset holdings, Rolex is always a great buy. Here is a review of five retailers of luxury watches that accept Bitcoin or other cryptocurrencies.
PrestigeTime
The assortment of PrestigeTime consists exclusively of high-end watches. Here, you can find a large array of watches from the most prestigious manufacturers. Additionally, the shop has an education section where you can inform yourself about the different options for your new luxury watch and recent development within the market. If you already own a high-end watch, PrestigeTime also offers you to sell your watch or trade it in.
Thanks to their partnership with the Jewelers Mutual Insurance Group, you can get an insurance policy that allows you to wear your watch without fear of damages. The PrestigeTime webshop allows for various fiat payment options and also accepts Bitcoin, Bitcoin Cash, Litecoin, Ethereum, and Ripple. To use one of these coins for payment, simply select this option on the checkout screen.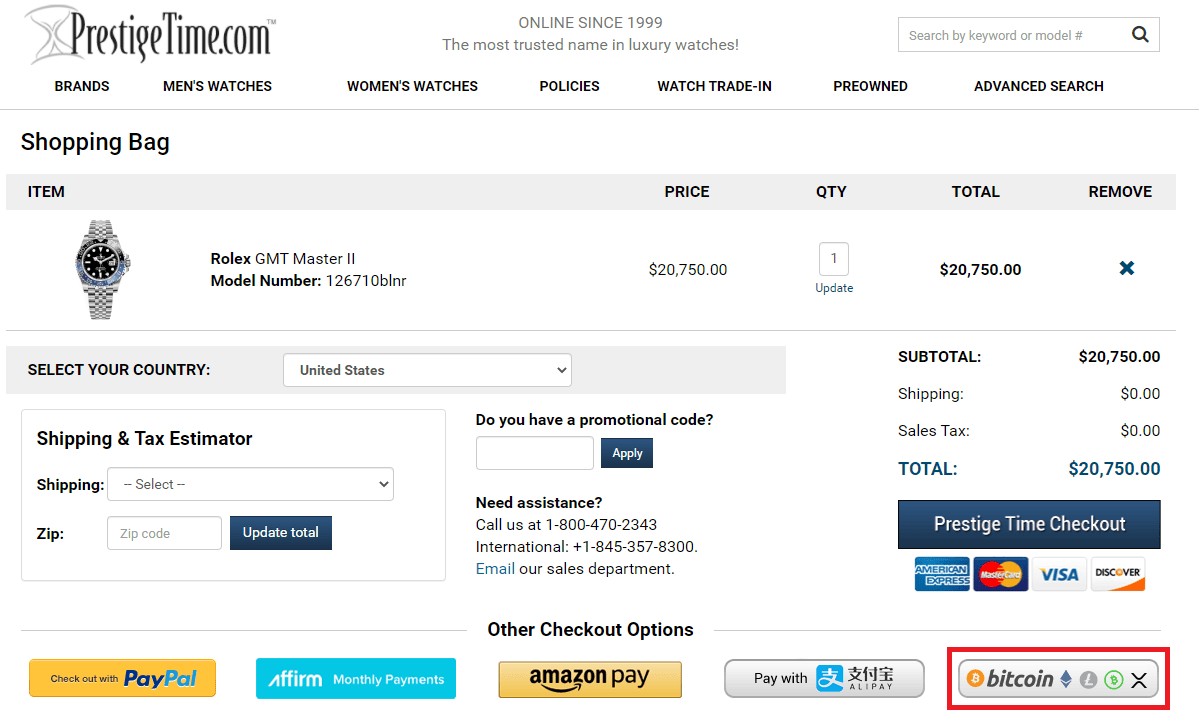 BitDials
Founded in 2016, BitDials was the first Bitcoin-only webshop for luxury items. Besides watches, the website offers an assortment of jewelry, accessories, and exclusive spirits. You can also use your BTC to invest in rare metals. For this, the webshop offers various gold coins as well as gold, silver, platin, and palladium bullion.
If Lambos float your boat, you can find a selection of high-end vehicles and oldtimers on their partner website BitCars. All prices on BitDials and BitCars are quoted in Bitcoin and are finalized once you checkout. After entering your shipping details, a digital invoice is created with a Bitcoin address to which you simply send your coins.
Crypto Emporium
Crypto Emporium is a crypto-only webshop offering a wide variety of products including luxury watches, cars, motorcycles, electronics, and even real estate. Caution may be warranted though, since the shop received many one-star reviews on Trustpilot, accusing the webshop of being a scam.
Crypto Emporium answers to most reviews and claims that they have been the victim of review bombing from a rival site. The fact that many of the negative reviews were submitted on the same day by accounts with no prior history on Trustpilot seems to confirm this, however, since the end of 2020, Crypto Emporium has not received a single positive review. Negative reviews that seem genuine complain about long shipment times and poor communication.
The shop accepts payment in BTC, LTC, ETH, XVG, XRP, and DASH. Upon purchase, you will be redirected to CoinPayments.net, where a payment address will be generated for you.
Overstock
The Overstock webshop mainly offers furniture, but also has a jewelry section offering watches from several manufacturers including Rolex, Breitling, Omega, and Tag Heuer. Thanks to a partnership with Coinbase, Overstock also accepts payment in Bitcoin, Litecoin, Ethereum, Dash, and Monero.
Gray & Sons
Gray & Sons is a retailer specializing in watches established in 1980. Besides watches, their webshop, which accepts Bitcoin as a payment option, also offers Luxury Jewelry, GIA-certified diamonds, accessories, and Sterling silverware. Gray & Sons can also be contacted to sell watches and other jewelry.