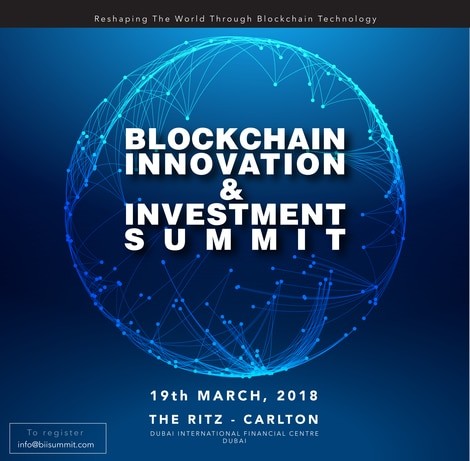 When and where is it on?
March 19th 2018 at the Ritz Carlton – Dubai International Financial Centre, Dubai UAE
How many years has it been going?
The event has been going on for a year and, due to high demand, it now takes place four times in one calendar year across all continents.
What was the inspiration to start it?
Innovations in Blockchain Technology is gradually changing the way businesses across multiple industries operate and, as such, the need to keep up to date with current trends remains ever so important.
What exciting things can people look forward to?
An event format which creates awareness in Blockchain Technology and showcases ongoing and upcoming projects in an atmosphere filled with unrivaled networking opportunities.
What opportunities are on offer for those attending?
Attendees get the opportunity to listen to case study-based presentations by notable speakers as they explore new possibilities in Blockchain Technology.
Who will be speaking?
Keynote Speakers for the BII Summit include global influencers in Blockchain such as Simon Cocking and Sally Eaves along with a host of others representing Government Authorities, FinTech Professionals, investment firms and start-ups.
What tips would you give to people attending to get the most out of it?
Participants are encouraged to be very active by raising questions as the event offers a high level of interactivity between speakers and the audience during Q & A's following each presentation.
How can people book tickets, and when does it usually sell out?
Tickets can be booked through our website. It is important for individuals or corporates interested in attending to purchase tickets while they are still available. Ticket availability can also be monitored on our web page at www.biisummit.com.
For Sponsorship Opportunities, an email is required to the address [email protected].
Event Description
BII Summit is the largest event of its kind in the region. This business-driven event attracts over 1200 delegates globally and remains the only Blockchain event in the Middle East which focuses on case study-based presentations in ongoing and upcoming Blockchain projects.
It is with no surprise that the world (as we know it) is changing drastically with the rapid improvements being achieved in Blockchain innovation. This has inspired several government entities to embark on Blockchain technology-based projects.
The Dubai Government has yet again set the trail by implementing the Dubai Blockchain Strategy 2020, an initiative which is sure to usher in economic opportunity for all sectors in the city.
At the Blockchain Innovation and Investment Summit, all participants get to experience a unique platform as they listen to experts from leading Blockchain companies from around the globe on an event format which drives unrivaled business development opportunities.