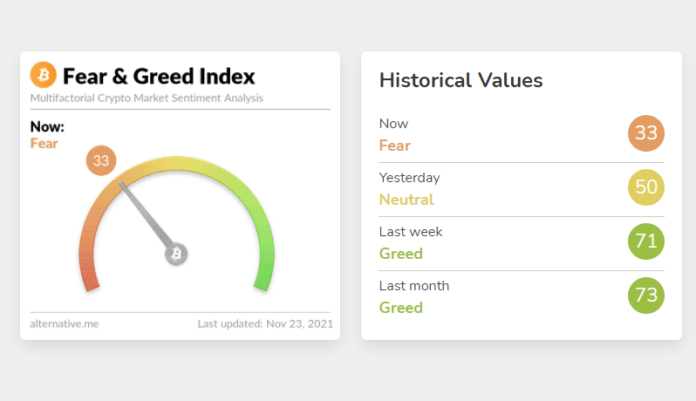 The Crypto Fear and Greed Index has dropped into Fear territory, as 141,000 BTC are set to hit the market.
Crypto traders in fear again
The website Alternative.me tracks the overall market sentiment for crypto assets with their Fear and Greed Index on a scale from 0 to 100. The index is a popular metric used by many traders to assess the potential next market direction, but is somewhat ambivalent. A Fear score (less than 50) could mean that crypto assets are oversold, while a Greed score (more than 50) could mean that bulls get too greedy and the market is headed for a correction.
The Fear and Greed Index has been steadily on a Greed score since the beginning of "Uptober". The drop started after news broke that Mt. Gox creditors are now awaiting the payout of 141,000 BTC.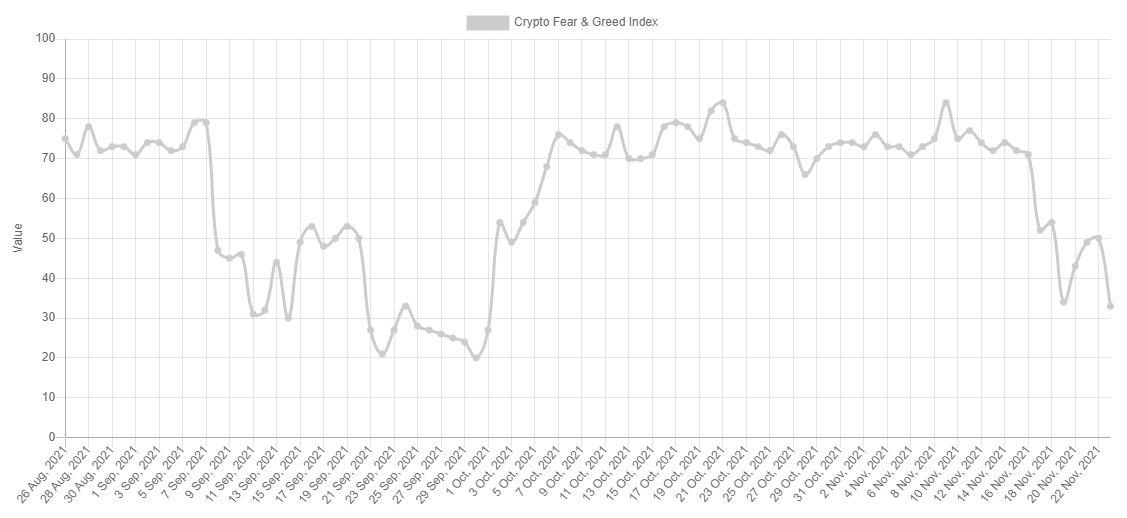 It's been coming for a long time
Mt. Gox, one of the earliest Bitcoin exchanges, went out of operation in 2014, after hackers had stolen roughly 650,000 BTC due to a bug in the Bitcoin source code that went undetected for years. 
Originally, it was estimated that the payout of the remaining 141,000 BTC would occur in 2019, but drawn-out legal proceedings delayed the compensation plans until now. In the last week, the civil rehabilitation plan was finalized by the Japanese court. Nobuaki Kobayashi, who holds the funds in custody, stated that the payout could occur any time now.
Will El Salvador step in once more?
The silver lining for crypto HODLers is that El Salvador's president Nayib Bukele has unveiled his plans for an entire Bitcoin City funded through the issuance of Bitcoin-backed bonds. Bukele stated that the construction of the city's infrastructure would cost about 300,000 BTC. For 2022, he plans to issue a first bond worth one billion USD, with half of the revenue being used to buy Bitcoin.
Historically, El Salvador has become a stabilizing factor for the Bitcoin price, as the Latin American country habitually uses dips to increase their BTC holdings. As up to 141,000 BTC entering the market could spell a huge dip, Bukele might see the chance to fund the first round of his bond issuance at a massive discount.
Related: The Capital Of Crypto: El Salvador President Unveils Plans For Bitcoin City