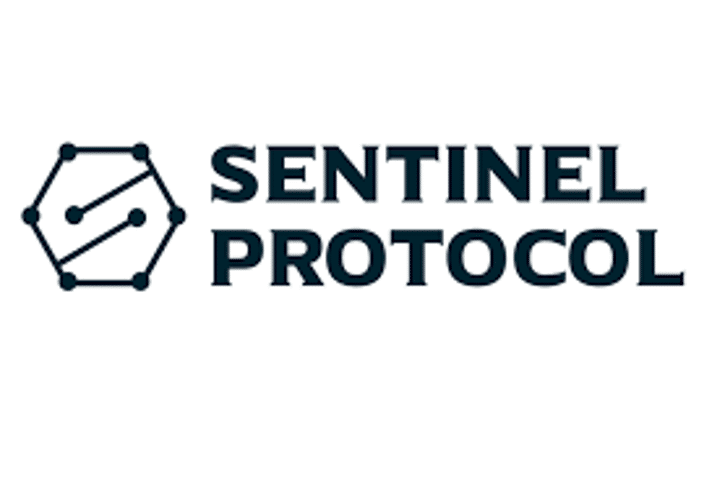 Important dates: Mid-April – public sale begins
Number of tokens: 1 billion for ICO
Cap: $30 million
Token type: Icon ICO
Token ticker: UPP
What is Sentinel Protocol?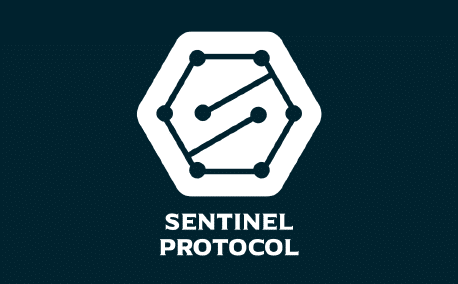 Sentinel Protocol is a security intelligence platform that aims to protect individuals, exchanges and DApps against security threats. It consists of the following security components:
Threat Reputation Database: a shared threat database that can be updated by security experts and is decentralized.
Machine Learning Security Wallet: like an antivirus but does not require updating and proactively identifies new security threats. It pulls data from the Threat Reputation Database to help  identify threats.
Distributed Malware Analysis Sandbox: allows untested programs to be run on a separate virtual machine.
What is the problem Sentinel Protocol wants to solve?
In today's technology driven society, computers must be secured against hackers. However, while IT firms have money to pay for protection, ordinary people can often only use rudimentary security. Threats have grown in recent years with new forms of attack such as ransomware. Holders of cryptocurrency are at risk from scams and hacks resulting in empty wallets. Sentinel Protocol seeks to solve these issues via its platform.
What is Sentinel Protocol's business plan?
The whitepaper doesn't offer much information on how it proposes to gain customers or reach out to businesses. It does have a roadmap which is below: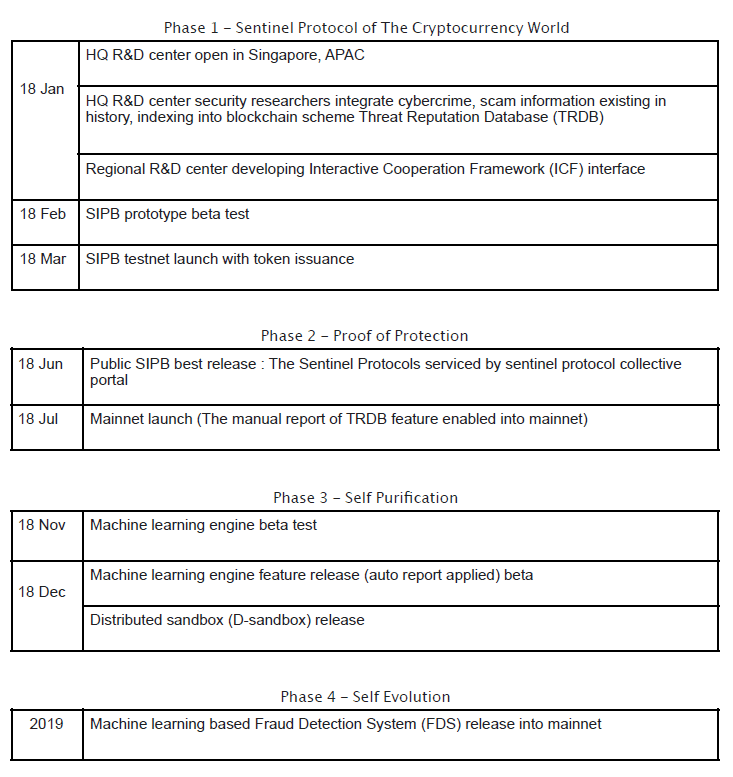 ICO
Sentinel Protocol is one of the first projects being built on the ICON Blockchain. ICON had its ICO in September and had its main net go live in January. 60% of tokens are being sold during the ICO and are being divided as shown in the graph below.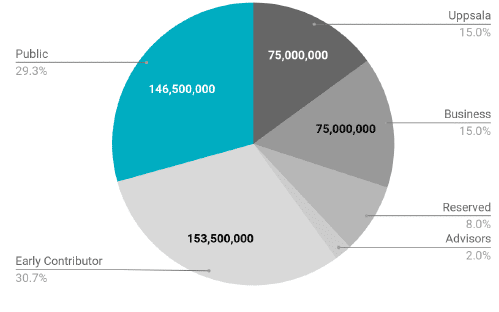 Token utility
UPP is a currency for goods and services in the Sentinel ecosystem. UPP also can be used to purchase cyber forensic services, consultancy, vulnerability assessments, and other activities requiring The Sentinel Protocol's help. Tokens will be subject to inflation. There is a second currency called Sentinel Points (SP). These cannot be purchased during the ICO and can only be acquired by doing work in the Sentinel ecosystem. SP can be staked to generate UPP.
The team
The team is based in Singapore. Notable members include:
John Kirch: extensive experience across cyber security. He started his career at Bank of America and more recently worked in Japan for a cyber security company focused on machine learning.
JH Kim: works on the ICON project and is advising Sentinel Protocol
Sentinel Protocol has some strong partners including Softbank and Kyber networks. Investors include Kenetic Capital and Hyperchain Capital.
Hype
Sentinel Protocol has about 2,500 people in its Telegram channel. There is a bounty program that incentivizes content creators which should also help promote the project. There is neutral sentiment about this project according to Social Mention.
Competition
Hacken: Hacken is a marketplace where hackers can be paid to find security vulnerabilities and bugs. The project is based in Ukraine and had its ICO in November. The project is very similar to Sentinel with the exception that Hacken is built on Ethereum.
Risks
Exchange Listing: Sentinel Protocol will use the ICON blockchain. This may make listing on an exchange challenging in the short term as exchanges will need to implement ICON technology.
Investment horizon
Short Term: in this bear market it is hard to get excited about the short-term potential of any ICO. That being said, Sentinel has a number of things going for it. It has a good team, the project is well-thought-out and the token metrics are fair.
Long Term: unfortunately, the long-term prospects are less rosy. The UPP token does not have any inbuilt mechanism to help it appreciate in value and even if Sentinel Protocol becomes wildly popular there is no incentive to hold UPP coins. There is also plenty of competition in this sector.