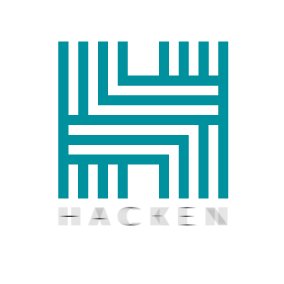 Hacken ICO Review
Important Dates: Token Sale ends on Nov 30th
Number of Tokens: 20 million
Cap: $20 million USD
Token value: 1 HKN = 1 USD
Token Type: ERC-20 token built on the Ethereum blockchain
What is Hacken?
Hacken is a marketplace where hackers can be paid to find security vulnerabilities and bugs. The project is based in Ukraine and comprises of the following parts:
HackenProof
HackenProof is a bug bounty marketplace platform created by white hat hackers and the blockchain community based on the principle of fair share. This is a place where the two communities can cooperate and support each other. The purposes of this cooperation are high quality penetration testing and vulnerability reports for a premium fee paid to community members submitting these reports.
Unreported Zero-day Remuneration Platform
This is a remuneration fund for unreported zero-day vulnerabilities. Hacken will support bright technology experts, by financially rewarding their original and previously undisclosed zero-day research.
Cybersecurity Analytics Platform
This platform consists of a team of analysts, who will perform fundamental cybersecurity research, as well as monitor and audit existing and upcoming cybersecurity products.
Hacken Accelerator
The Hacken accelerator is incubator program that aims to support business ideas from employees that are part of the Hacken ecosystem.
HackIT Conference
Hackit is an annual international forum on cybersecurity held in Kharkiv, Ukraine. This conference is a way for Hacken to promote its ecosystem.
What is the problem Hacken wants to solve?
Helpfully, Hacken has written an entire section in their whitepaper that addresses this issue by using the cautionary tale of Ukraine. During the recent conflict with Russia over the Crimean peninsula, Ukraine was target by cyber criminals who sought to destabilize the country. Hacken argues that services such as what it is proposing can be used to help build effective cyber defence systems that find vulnerabilities and fix them.
What is Hacken's Business Plan?
Hacken has a road map, which is below.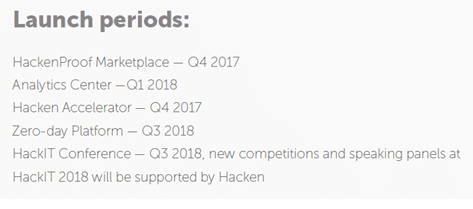 There is also a diagram that indicates how funding is to be spent based on the amount of money raised.
However, it is hard to see a proper business plan on the website. How will Hacken obtain customers? Who is their target market? Do they have a marketing plan? These questions need to be clearly answered.
ICO
The ICO has already been running since Oct 31st. Prospective buyers can register directly on the website to participate. Thus far, the team has raised a total of $3.2 million, quite a bit lower than the hard cap of $20 million.
Bonuses were given during the presale and during the main sale to early investors.
Hacken has a road map that describes the funding milestones and how these will allow Hacken to build its ecosystem. It looks like Hacken will be able to raise at least $4 million which will allow for the development of the Analytics Center but not the Accelerator or Zero Day platform.
Token Utility
HKN tokens are the payment method for the Hacken marketplace. The only innovative part of the token is the 'Burning Principle' described in the white paper. Essentially, this means that when Hacken has obtained 1% of the supply of HKN tokens via fees, they will sell them all on exchanges to enhance platform liquidity. They justify this exercise by pointing out that it allows people who ordinarily would not be able to participate in an ICO to easily obtain tokens on the secondary market.
The Team
During their stop in Hong Kong, I heard the Hacken team speak and promote their project. I was impressed with their marketing materials (they had a very glossy leaflet they passed out to everyone). Furthermore, I also thought Olga Samoilova was a great speaker (The PR Manager) and did her best to promote the project.
The rest of the team is similarly good. The CFO Dmytro Budorin (For some reason there didn't seem to be a CEO listed on the website?) worked at Deloitte for 8 years and was CEO of a company called Ukrinmash prior to the joining Hacken full time.
In terms of advisors, John McAfee is definitely the star here.
Hype
There are 2968 people in Telegram and 3029 on Twitter. It was hard to find the social media information on Hacken's website.
Competition
Hacken has done an analysis on vulnerability research crowdfunding businesses, which is below. However, they have not looked at other startups in the blockchain ecosystem such as Quantstamp.
Quantstamp is another startup (please see my review of the ICO here). https://medium.com/@acepka/quantstamp-ico-review-1e93f90680f3
They have a narrower focus than Hacken, specifically looking at Smart Contract auditing. Quantstamp's solution also aims to be fully automated, unlike Hacken which would crowdsource auditing services.
Risks
Competition: This is a significant risk for Hacken, given the existing players in this space that already have a mature product. If Hacken achieves all that it is described in its plans, it may be able to complete effectively against these incumbents. However, that moment is still a number of years away, given the early nature of the Hacken project.
Business: Hacken's whitepaper and website materials need to show a clearer business plan and a way to attract business to their platform.
Fundamental Indicators
Concept
There is a need for what Hacken is offering. However, this is not a particularly innovative idea. Hacken is another one of those projects that doesn't need tokens to exist but is giving an ICO a go because it is easy to raise money.

Token Utility
This is problematic because of the burning plan to appreciate the token price. Otherwise there is no need for a HKN token to exist. Payments could just as well be made in any other currency and the Hacken ecosystem could function just as well.
Status
The project needs to show that it is more than a whitepaper. I was unable to locate any information about a minimum viable product (MVP), nor has the team released any updates on development. All updates have been focused on the token sale. This does not inspire confidence that any revenue generation will take place in the near future.
Team
The team has a good pedigree and a strong advisor in John McAfee.
⚡️ our CFO 👨‍💼 Dmytro Budorin @buda_kyiv invented the new way of conducting live 🎥 with🕵️ John McAfee @officialmcafee using the ultimate secure connection. Do you think we should get ready for the next token sale? Palmium $PLM🤣 Follow the drama on https://t.co/sYvn6T8obn pic.twitter.com/NA1xWw1s8L

— Hacken (@hackenclub) November 22, 2017
Competition
From an ICO perspective, there is not much competition. Quantstamp and Hacken have different focuses and could peacefully coexist. However, Hacken is really going to compete against non-blockchain vulnerability research companies.
Technical Indicators
Market Cap
The hard cap for the project is $20 million, and it looks like Hacken will fail to raise that much.
Hype
Hacken's hype quotient is pretty low. The telegram room only has a small number of people. The only thing saving this from a lower ranking is the inclusion of John McAfee as an adviser.
Investment Horizon
Short Term: The short term investment horizon is mixed. On one hand it looks as though Hacken will fail to raise its $20 million market cap and will likely raised $4-5 million. This is good for flips as lower market caps have a higher potential to increase in the short term. On the other hand, the bonuses given to early investors will mean that there is likely to be an initial dump. Therefore, I am neutral on short term prospects.
Long Term: Long term is also mixed. Because of the strong existing competition, the long-term future of the project is totally dependent on team execution. The good news is that the team is good and could pull it off.
Conclusion:
Hacken is a high-risk project. There is a lot of competition and the idea is not exactly revolutionary. From an investment perspective, it may be a winner. The low market cap and strong team are harbingers of potential future success.