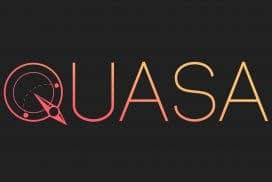 Cargo shipping is a complex business involving individual parts working in perfect synergy to ensure the right cargo is shipped and reaches its destination.
Millions of tons of cargo are in transit around the world on any given day. Large machinery, cars, trucks, and goods of all kinds, are moved through shipping lanes from one end of the planet to another. This requires manifests, paperwork, supervision, care, and a combination of sea- & land-based transportation methods.
Transport- and logistics-related expenses account for about 8-9% of a country's GDP,
which is an immense amount of money. The international cargo shipping
environment is also fraught with issues that derive from its sheer scale. The market is fragmented and riddled with national rules and regulations which hamper the movement of goods between different territories, causing inherent inefficiencies.
Quasa is a new ICO that proposes solutions to global cargo shipping via blockchain technology.
https://www.youtube.com/watch?v=FHJdOSoWbCY&feature=youtu.be
Quasa: enforcing transparency global cargo shipping through the blockchain
The inherent fragmentation and complexity of the international cargo shipping ecosystem poses a number of challenges, which are compounded by 80% of all logistical operations being carried out by intermediaries. These challenges are two-fold: lack of transparency in the fees and commissions charged by intermediaries, and the difficulty in obtaining precise data about the movement, position, and status of the cargo.
Quasa's proposed decentralization of cargo shipping intends to resolve these quandaries, using blockchain technology to bring transparency to the fees and commissions charged, and to the provision of information about the cargo itself.
Quasa in figures & quick facts
Token name – Quasa token (QUA)
Total number of Tokens issued – 50,769,000
Token worth – 1 ETH = 6,000 QUA
Pre-ICO start date – January 15th 2018
Pre-ICO end date – February 15th 2018
ICO start date – February 15th 2018
ICO end date – March 15th 2018
The Quasa token
The developer Vladimir Khramov conducted an audit of the QUASA.

Vladimir is an authoritative expert in the industry Blockchain and an expert in the security of smart contracts is known for the fact that during the audit of the smart contract Kickico found several critical bugs. pic.twitter.com/Z7wU6hGRLR

— QUASA.IO (@quasagroup) January 23, 2018
Quasa will issue its own currency, the Quasa token (QUA), which will be required to interact with the Quasa platform to pay for services.
Once created, the QUA token will be distributed as follows:
Services – 65%
Overheads – 17%
ROI – 10%
Payment of PR services – 8%
The team
We are pleased to announce that Fábio Silva joined us!
After the end of the ICO, the QUA tokens will be placed on the Latœx platform!
Fabio is CEO & Co-Founder of Latœx, the first tokenization and asset trading platform in Latin America in blockchain… https://t.co/zaxqdRla2Y pic.twitter.com/F3F1cmbXLe

— QUASA.IO (@quasagroup) January 24, 2018
The Quasa white paper lists nine people, including four advisors.
The core team (excluding advisors) includes the founder, two technical people, and one graphic designer. All team members feature a short bio and a link to their LinkedIn profile.
Social media presence and digital footprint
QUASA team received the status of bronze sponsor of Cryptoconference 2018 in Almaty.

We really hope for productive work throughout the conference and invite everyone to our booth!

Best regards,
command QUASAhttps://t.co/PzQxpfN4Vq pic.twitter.com/cVlTmgmh20

— QUASA.IO (@quasagroup) January 28, 2018
Here are the numbers for Quasa early February 2018.
Twitter – 3,912 followers
Facebook – 5,700 followers
Medium – 20 followers
Telegram – 401 followers
Instagram – 10,400 followers
Quasa's reach on social media appear adequate, but can certainly be improved.
There are a couple of peculiarities: the ICO has a large Instagram base, for example, which is not a very relevant platform for a company involved in logistics and cargo shipping. Quasa should focus more on evolving its presence on Medium and Telegram, with more informative blogs, background info on the team, its progress, etc.
Overall, Quasa's presence on Social Media ranks as 'Acceptable'.
Competition
— QUASA.IO (@quasagroup) November 29, 2017
Logistics and supply chain is a popular industry of choice for ICOs, it seems. There are plenty out there whose goal is to become the standard. OriginTrail, which we recently reviewed, CargoX, AIDA, Local World Forwarders, to name just a few, but there are plenty more.
Quasa is entering an already-crowded market where the fight for survival is going to be tough. It remains to be seen how Quasa will stack up against its competitors.
Website quality & layout
Quasa's website is simple and neat, with a secure SSL certificate.
The text throughout the site is poorly written and needs editing.
White paper
Quasa's white paper is embedded as a page on the website. The document is also offered for download through a link elsewhere on the site.
The text is clear and neat, with an elegant font and plenty of graphics and statistics to break up the monotony. The grammar used throughout is odd and confusing. A proofreader would have resolved particular issue. There is not to much technical jargon, mathematical formulas, or equations.
Overall, Quasa's white paper ranks as 'Acceptable'.
Conclusion
ICO – Logistics at Blockchain – Buy QUASA Tokens – Great ICO
Join QUASA ICO Now And Get A Huge 80% Bonushttps://t.co/3UUozYTnIo pic.twitter.com/Cz2D32c4i4

— QUASA.IO (@quasagroup) November 22, 2017
Quasa's value proposition appeals at many levels. The decentralization of cargo shipping may prompt a revolution in how cargo is moved around the world.
This piece is an analysis of the facts available about the Quasa ICO. It should not be read as offering advice or a recommendation. Any investor who plans to buy tokens during any ICO needs to obtain all relevant independent advice and carry out their own appropriate due diligence.