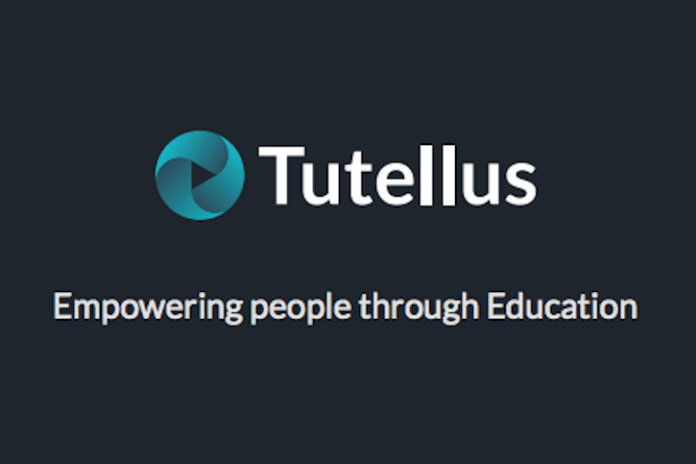 Education has hardly improved in the last 100 years and no educational model lets people earn money while studying and sometimes students stop studying because of the lack of motivation. Additionally, teachers can't earn money depending on the value of the students that they have and are rarely rewarded for their efforts. Today, many jobs are very technical or specific, causing a gap between the education received and the work offered and in consequence jobs are unfilled.
Tutellus is an online educational collaborative platform in the Spanish-speaking world with 5 years of experience and aims to introduce a new paradigm in the student-teacher relationship with the creation of a unique decentralized system to strengthen the commitment of both students and teachers. Tutellus wants to be the first educational platform that pays students for learning (proof of learning) and remunerates the teachers according to their impact on the success of their students (proof of teaching). Tutellus is a platform registered in Australia and is carrying out an ICO to be able to finance its business model.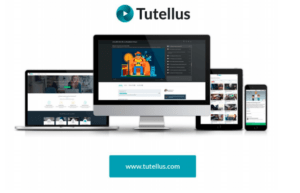 Main features
The platform has been running 

since May 2013

with a community of more than 1 million users in 160 countries, more than 2 million financial transactions and more than 130,000 video courses

Students can

earn money

by learning and gain

motivation

to help others to learn

Teachers get

more value

out of teaching with the success of their students

Companies can

hire employees

with a

highly efficient

matching process

Their token will be used as the platform's currency for

buying products and services

and to interact with other platforms and currencies

Also, they have a smart token (called STUT) that

rewards users

who contribute educational value to the platform as a measure of the quality of their participation and only can be partly traded for their main (tradable) token
Novelties
A novel education model that creates a

new system of incentives

by which all users get rewarded directly according to the value they provide to the community

Token information
Token name = Tutellus

Acronym = TUT

Platform = NEM blockchain

Max. Number of tokens = 1,500,000,000

Cryptocurrencies accepted (Pre-ICO) = ETH, BTC, XEM, LTC, BCH, ZEC, DASH

Cryptocurrencies accepted (ICO) = ETH

FIAT accepted (Pre-ICO) = USD

Hard cap = $40,000,000
Token distribution
Token sale = 900,000,000 – 60%

Pool (Study Grants) = 300,000,000 – 20%

Team (1y vesting) = 150,000,000 – 10%

Bounty & Advisors = 150,000,000 – 10%
Funds usage
Product & Engineering = 40%

Sales & Marketing = 20%

Publicity & PR. = 20%

Operations = 10%

Security, Loyalty & Reserves = 10%

Pre-ICO
Starts = May 10th, 2018

Ends = June 11th, 2018

Token price = 5,000 TUT/ETH

Bonus = Up to 20%

Min. buy = 0.05 ETH
ICO
Starts = June 12th, 2018

Close = July 12th, 2018

Token price = 5,000 TUT/ETH

Bonus = Up to 10%

Min. buy = 0.05 ETH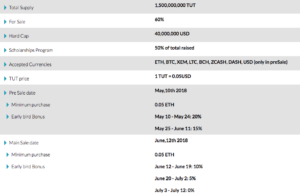 The leading team
Competitors
Social media presence
Additional information
Conclusions

Thanks to new technologies like blockchain, the education system can radically change, be improved, and become decentralized and accessible to anyone anywhere in the world, especially for developing countries. Education has shown that it is one of the best tools to develop societies and Tutellus is committed to helping in this mission.