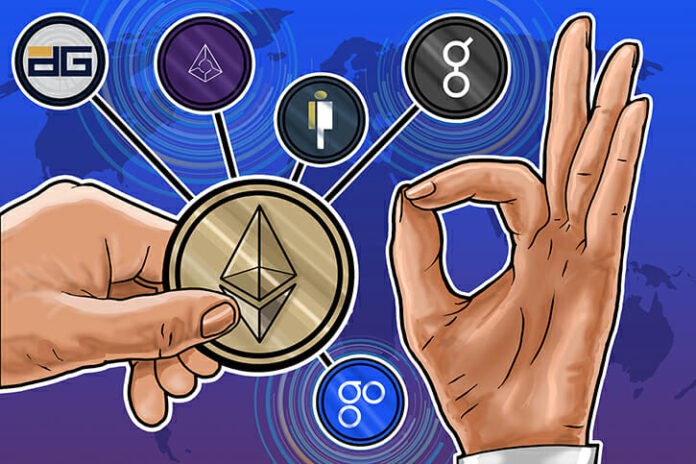 by Greg Thomson
While we await the full-scale rollout of many Ethereum-based platforms, a significant chunk of them has already started to reward early backers with huge returns on investment.
Let's take a look the most profitable Ethereum-based platforms – from their starting ICO token price until now.
Augur – 5461%
When Augur launched their ICO back in August of 2015, one REP token was worth $0.602. Fast forward less than three years and that token now trades for $32.793 – marking an astronomical 5461% increase.
If these readings were taken during the peak of January then Augur would hold claim to an ROI rate of 17790% – as REP tokens achieved an all-time high of $107.70.
One of the first oracle and prediction market platforms, Augur has managed to stay relevant three years after launch. It survived the deluge of ICOs post-2017 and continues to float around the market cap Top-50.
Golem – 3952%
Another of the early Ethereum projects, Golem has gone through multiple peaks and troughs since its launch in November of 2016.
Regardless of its volatility, the net gains recorded by Golem come in at just under 4000%, as GNT tokens have soared from a price of $0.010 to $0.425 in just under two years.
Golem took a long time to get off the ground and only recently launched their Brass-beta in Q2 of 2018.
OmiseGo – 3752%
OmiseGo holds the title of the fastest grower among ERC20 tokens, having shot to a 3752% growth in the last eleven months alone.
OMG tokens were selling for $0.244 at launch in July of last year. Now, less than a year on OMG trades for $9.40, with the spread extending to $12.40 across some exchanges.
By January 8th 2018, OMG tokens had soared over 10000% and were trading at $26.14. The subsequent crash corrected those gains to the tune of 65%, but still, OmiseGo remains a success story for Ethereum launches and has grown exponentially in its short time on the scene.
DigixDAO – 3611%
Without putting too fine a pun on it, DigixDAO has been worth its weight in gold to investors since its launch in March of 2016. The platform caters for the purchasing and digital storing of gold bullion, with each DGD token being backed up by 1 gram of physical gold.
DGD tokens started at a price of $3.235 just over two years ago. Now they go for close to $120, with the majority of trades coming from BTC and ETH on Binance.
Populous – 2912%
From an ICO price of $0.278 to $8.368 at the time of writing, Populous has paid investors back nearly thirty-fold.
Populous has been active for almost exactly one year, during which time it raced into the market cap Top-50 and cemented its place as one of the strongest projects to have been birthed on Ethereum.
As attractive as these numbers are, it's worth bearing in mind that some of these percentages would be 20% higher if this article was written last week. Such is the way of the crypto market.