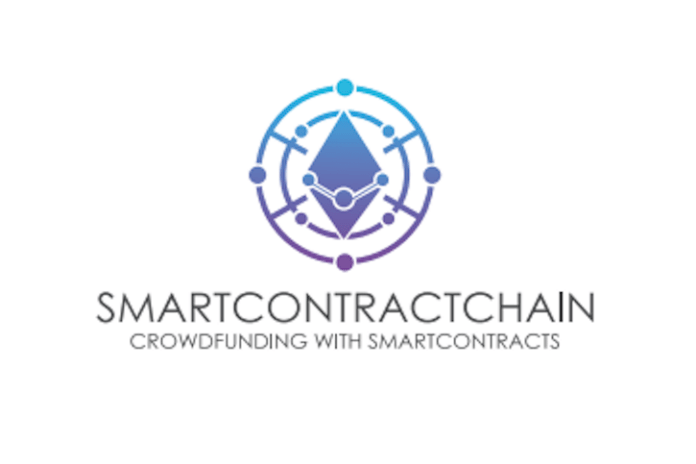 Over the years, thousands of startups have raised money through crowdfunding, but this space is filled with fraud, abuse, failed projects, and 'completed' projects that don't live up to the expectations or promises they once advertised. Too often, small startups that seem to have great potential do not get enough investor support, especially the ones unpublicized by media and PR teams.
The transparent nature of blockchain is revolutionizing how crowdfunding is done and allowing common folk as well as seasoned investors to back research and development activities, services, products and people that they believe can create a high-value product or service.
SmartContractChain is a new crowdfunding platform based entirely on the blockchain to avoid the problems of conventional crowdfunding. It protects the backers' investment of failed projects and the platform is designed to facilitate open and honest investment with the potential for significant returns, especially (but not only) for projects of research and development. SmartContractChain is carrying out an ICO to finance its business model.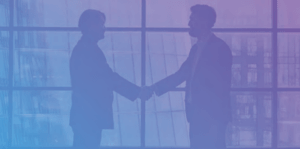 Main features
Integration of a new solution for crowdfunding through cryptocurrencies and blockchain technology

Project creators can avoid geographical constraints and opens a new way to organize crowd investing campaigns for a global audience, regardless of their place of residence, nationality and other obstacles as long as the terms and conditions of the startup are acceptable to all

Platform avoids the high commissions of traditional platforms (often around 20%) and will only take a 3% fee for raised funds

The platform would support an Initial Loan Procurement (ILP) process to allow investors to earn a predefined share of the profit of the product they support, based on their investment

Additionally, backers can to support the startup and gain access to the company's offering by giving a loan procurement token as digital assets and allows for the adequate generation of funds for the campaign. It ensures that investors only pay for projects that meet goals and deliver on objectives

Project creators can airdrop tokens to backers, who help them by providing services




to their start-up processes like translating content, creating social postings, bringing in other investors, or similar activities

The platform wallet lets the user exchange any ERC20 and ER223 standard token built on top of Ethereum.
Novelties
Through a creation of a smart contract on the platform, the backer will send pre-defined platform-specific coins to the project creator as a loan to a wallet, which will be released to the project creator after the full fund goal is raised. If the fund does not reach the intended goal, it will be closed, the smart contract will be invalidated and the backer gets their coins back minus network fees.
Token information
Token name = SmartContractChain

Acronym = SCC

Platform = Ethereum ERC20

Max. number of tokens = 60,158,729

Cryptocurrencies accepted = ETC, BTH

Soft cap = $2,000,000

Hard cap = $30,000,000
Token distribution
ICO = 45,119,047 – 75%

Founding Team = 6.015.873 – 10%

Early Investors and Advisors = 4.812.698 – 8%

Future Contributors = 3,007,936 – 5%

Bounty campaigns = 1,203,175 – 2%
NOTE: unsold tokens will be used for future funding rounds and will be locked for a minimum period of one year.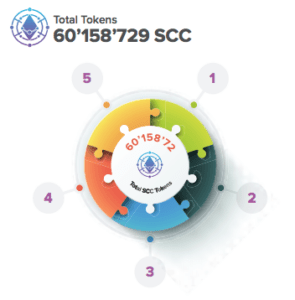 ICO
Starts = July 1st, 2018.

Closes = August 1st, 2018.

Token price = $0.50 to $0.80.
NOTE: token price depends on tier stage of the token sale.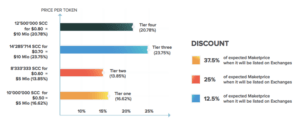 The leading team
Competitors
Social media presence
Additional information
Conclusions

SmartContractChain platform is designed to help companies, projects, and entrepreneurs leverage the latest coin tools and activities and to support multiple funding options and opportunities so project owners can reward investors in various ways. Through their new model of crowdfunding, the platform can avoid failed projects and the investor does not have to give away all the fundings if the project stage goals are not achieved in the established time and all this is carried out thanks to blockchain and smart contracts.