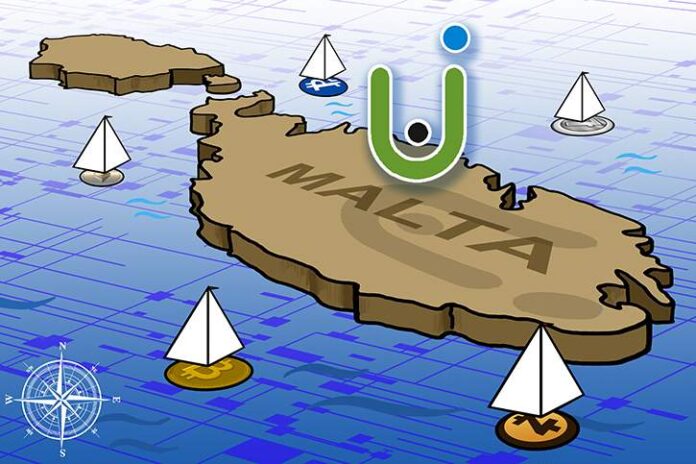 Digital gold fever has made cryptocurrency exchange platforms consolidate in a short space of time, where investors from all over the world try to take advantage of cryptocurrencies such as Bitcoin, Ethereum and the tokens offered by innovative projects through ICOs.
The purchase and trading of cryptocurrencies can be extremely profitable and, at present, there are different types of cryptocurrency exchange platforms that offer various characteristics but that mostly operate in the main world markets, leaving aside access to emerging markets, enthusiasts of cryptocurrencies, blockchain technology and decentralization.

KuBitX is a cryptocurrency exchange, situated in Malta, which aims to build an advanced, user-friendly and secure trade engine platform, focused on opening up the adoption and economic inclusion of cryptocurrencies for emerging markets, allowing access to many users in remote locations.
Main features
Trading fees will be paid using the KuBitX token.

KuBitX token can be converted into fiat money or cryptocurrencies.

New coin listing processes will be assessed by the platform in less than 24 hours.

To guarantee users' funds, 70% of the platform assets will be in a cold storage wallet.

Trading fees (0.025%) 8 times cheaper than the current exchanges (around 0.2%).

A professional team that has worked in the top Fortune 500 companies and one of the "big four" consulting firm.
Novelties
Cryptocurrency exchange focused on emerging markets with no geographical restrictions

Through their API, users will be able to pay suppliers or receive Bitcoin as payment for their business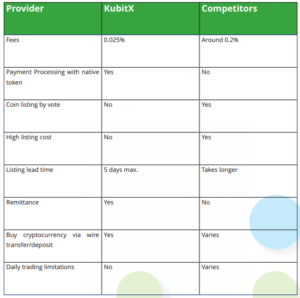 Token information
Utility token name = KuBitX

Acronym = KBX

Platform = Ethereum ERC20

Max. number of tokens = 175,000,000

Currencies accepted = ETH
Token distribution

Private sale = 32%

Crowd sale = 24%

Reserve = 22%

Founding and development = 10%

Business Angel = 7%

Airdrop and bounty program = 3%

Advisors = 2%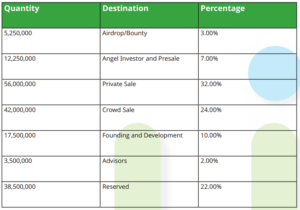 Funds usage

Liquidity = 45%

Operations = 23%

Reserve = 22%

Marketing = 10%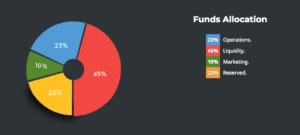 ICO
Starts = July 16th, 2018

Ends = August 8th, 2018

Distributed on ICO = 42,000,000

Token price = $0.22/KBX

Min. buy = $100

Hard cap = $9.240.048,40
The leading team
Competitors
Social media presence
Additional information
Conclusions
Crypto exchange platforms have become one of the main tools in the blockchain industry to trade Bitcoins, altcoins and tokens in an easy and simple way. A few of the current platforms are available only in some countries due to government regulations, which precludes many traders around the globe. Additionally, the growth capacity of the current exchanges has collapsed due to a large number of new users and some of these platforms have stopped their registration process because of the high volume of new users. Platforms such as KuBitX will be necessary to cover the high demand of users where the current platforms do not offer their services.