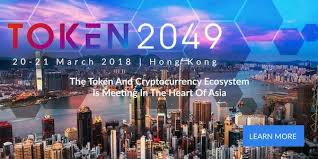 TOKEN2049 is organizing the largest digital asset event in Asia this year, where we will explore in depth the growing crypto ecosystem. We are shining a light on the global developments of this new asset class, while taking a unique and widening perspective on the token industry and its opportunities in Asia.
When and where is it on?
This is a full two-day event running from 20th to 21st March at the Kerry Hotel in Hong Kong.
How many years has it been going?
We are particularly excited about this year, as 2018 is the inaugural Token2049 event.
What was the inspiration to start it?
Asia's crypto scene started to explode over the last 12 months and, given the proximity to China and the buzzing local scene, Hong Kong is a perfect place to host this event.
What exciting things can people look forward to?
Attendees will have the opportunity to meet some of the most successful crypto entrepreneurs, all under one roof. The quality of speakers is unparalleled.
What opportunities are on offer for those attending?
Unique Industry Insights: learn about the latest trends and developments, meet the hottest and most innovative projects, and hear about successful investment strategies to get exposure to this new asset class.
Unparalleled Networking Opportunity: each day will bring new connections, new partnership leads, new ideas, and new networking opportunities. Network with the industry's smartest visionaries and thought-leaders.
Highly Targeted Exposure: TOKEN2049 is the center stage for the token industry, providing a platform for you to build brand awareness, form partnerships, and launch new products and companies.
Who will be speaking?
Check our website for a full list of speakers.
What tips would you give to people attending to get the most out of it?
Make full use of our networking app, which we will release the week before the event – all attendees are automatically registered and can be reached via direct message.
How can people book tickets and when does it usually sell out?
Tickets can be booked via our website, and we expect to sell out certainly before the event.