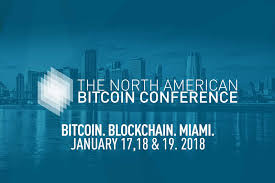 The North American Bitcoin Conference, part of the World Blockchain Forum, was held last week on 18th and 19th January. The conference hosted 4000+ participants with top speakers and leaders from the blockchain and cryptocurrency space such as Dr. Patrick Byrne (CEO at Overstock.com), Dr. Moe Levin, Brock Pierce (Blockchain Capital), Ryan Taylor (CEO Dash Core), Matt Spoke CEO of NUCO, Kyle Lu (Partner Achain), Charlie Shrem and many more.
Leaders and pioneers like Charlie Shrem, CTO of Intellisys.ai / Mainstreet.ky and founder of The Bitcoin Foundation shared with the audience some great anecdotes from his beginnings in the crypto world such as playing poker and betting around 20 BTC at that time (around 2010-2011) when the price was far from what we see today.

Interesting projects emerged on the stage such as ZEN Protocol from Israel. Just as Bitcoin is a peer-to-peer money, ZEN Protocol is a peer-to-peer trade giving you total control over your financial assets. CEO Adam Perlow shared the insights into how this new protocol will give Fintech entrepreneurs endless possibilities to build on top of Zen Protocol apps such as Trading Floor, tools for brokers, and many more projects built on a parallel blockchain that connects to Bitcoin. Keep an eye on this project (https://www.zenprotocol.com/en).
The winner of Best ICO
Shopin, (https://tokensale.shopin.com/) a secure profile that enables shoppers to own their complete purchase data, giving the power back to the customer and rewarding them financially. Combining AI and Blockchain Technology, Shopin enables retailers to better understand and serve their customers. CEO Eran Eyal shared his vision to reinvigorate the retail economy by deploying Blockchain technology to store, purchase, and profile data to scale millions of transactions per second and empower retailers on the open web to provide a decentralized Amazon-like experience with recommendations powered by AI.
Other noteworthy projects from the stalls
Also, we have the chance to understand more about the vision behind Spice.VC (https://www.spicevc.com/) which aims to disrupt the world of venture capital with the blockchain. The idea is to reinvent venture capital and make it more attractive to investors by removing its biggest limitation – the 7-10 years effective lock-up period (zero liquidity). His CEO, Carlos Domingo, former CEO of Telefonica R&D, Venture-Angel Investor and founder of Wayra and Sling Ventures, shared in his talk that this new model introduced by Spice.VC not only allows more investors to grow their fiat and cryptocurrency capital by investing on future technologies via VC funding but also make these investments more liquid. Token Holders will be able to trade Spice tokens and will be entitled to their pro-rata share of all net exits. In conclusion, Spice.VC combines the best of two worlds (VC + blockchain) From the VC world, Spice brings robust due diligence, diversification outside of crypto and backing tokens with assets and entitlement to exit money. From the blockchain Spice will bring a more liquid market, more openness, transparency, and a great model to invest in pre-ICO startups.
We also had the chance to talk closely with the founders Isaac Philips, Joel Philips, and Antoine Delanglade of Siglo Protocol – The Blockchain Protocol for Digital and Financial Inclusion which are also behind the project Pig.Gi (https://pig.gi/).
Siglo Protocol (https://www.siglocoin.com/ )will tackle an interesting problem for emerging markets: the high cost of data and connectivity for smartphone users making it impossible for a large part of the world to have consistent access to the network. Examples in Latin America in countries such as Brazil or Mexico, where it takes an estimated of 8-40 hours of work for consumers to earn just 500 MB. Currently Pig.Gi (the company behind Siglos protocol) provides brands with a solution to connecting with new consumers while helping people in these markets gain access to the internet. The Siglo Token will be launched, creating the first ever token that connects providers and brands who directly reward consumers with connectivity in exchange for engagement. This will tokenize access to airtime as well as expand the ecosystem in new and current markets.
To conclude: the conference themes made it clear that 2018 will be an interesting year for Blockchain Projects, Cryptocurrency Markets, and ICOs (Initial Coins Offering), as the market gets more mature and great entrepreneurs step in.
By Gabriel Zanko Tech Entrepreneur. Investor, advisor to Elpis ICO. Build platforms, write about startups, musician, travel adventurer and specially proud Dad.