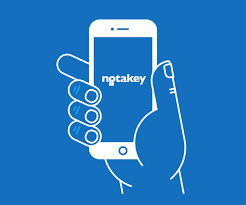 Shift is happening
Notakey was founded to provide solutions to some of the major problems digitalization has created. As more and more people go online and interact with different corporate entities, they are all too often unknowingly passing on personal information and details that can be aggregated and stored without their consent.
This subtle transition means that data has become a commodity in its own right; a 'digital oil' for the knowledge-based economy. It's not surprising that 7 out of the 13 most valuable companies are IT companies, and five of those companies monetize personal data. Michael Gregoire, CEO at CA Technologies made the point this week at the World Economic Forum in Davos that one of the key issues our generation faces is deciding the ownership structures for data and how it can be monetized.
The subject goes beyond the mere monetization of people's personal data, as tens of billions of potential hacks and threats are thwarted on a daily basis. As these hacks become ever more sophisticated, our technology will adapt and keep pace with this growing problem. Previous boundaries and norms no longer apply in a world of increasingly interconnected datafeeds and servers. The databases and storage facilities are too promising a target for hackers and a new approach is required for the digital age we're in: one that enables people to control their own identity and how their data is passed on to third parties.
The rise of a new digital identity technology
Notakey envisions a future whereby the individual controls their digital identity and how their personal data and information is passed on. Ultimately, it's up to the individual to decide how their data is used by others. This fits in with the EU General Data Privacy Regulation that pushes towards higher transparency and data minimization. It should also clarify how to safeguard our identities and monetize personal data. Whenever a person shares their data with a service provider, they should be rewarded for reducing the company's on-boarding costs. That could be reflected with discounts to the product or other benefits.
However one question still remains: how can a person pass on data to a service provider with full confidence that it won't be misused? This applies particularly in in areas such as the Financial Services Industry where there are strict regulatory requirements. The answer lies in the use of innovative technology and the blockchain.
Innovative technologies
Increased productivity and its impact on our lives is one of the fundamental drivers for our increased quality of living and future prosperity. Its impact is clear to see: even something as simple as finding information has been transformed by digitalization. Up until the early 1990's people would go the a public library, however now that process has been sped up to a matter of seconds.
This is for the most part possible because of automation and machine-powered algorithms that are infinitely more accurate compared to humans. Despite these impressive technological advances, both the government and Financial Services industry are proving slow to adopt the emerging technologies.
Part of the reason for this lies in the barriers to verifying someone's identity via social media being far lower than for a financial services provider; the need to determine the authenticity and identity by following AML and Anti-Terrorist Financing guidelines is critical for their survival.
That said, in an age of cryptocurrencies and blockchain technology, banks no longer require people to physically arrive at their branches to verify their identities. The means are there to adopt a more streamlined and innovative approach to identity confirmation.
The EU has noticed this and the European Supervisory Authorities recently announced that face-to-face identification is no longer necessary, provided there are appropriate safeguards in place. Even in more traditional sectors such as transaction monitoring, the supervisory bodies are beginning to encourage the use of innovative technology. That is essentially what we're developing at Notakey and have successfully provided solutions for a number of blue-chip banks.
Blockchain
Once an individual's data is stored on the blockchain, it is immutable and can't be changed or accessed without their prior knowledge and permission. Each and everyone of us has the potential to maintain our own digital identity and decide who can access it. As last year's Equifax data breach illustrated, companies are struggling to protect their customers' data.
It has another significant advantage as well. If everyone possessed and maintained their own digital identity, it would be almost impossible for stolen funds to be laundered and converted into fiat currency. It would also enable regulators to identify patterns of behavior and irregularities that could be further investigated.
Lastly it would educate people about the value of their data and how it can be monetized; no small matter in a time when people are increasingly concerned about their privacy.
Challenges ahead
As Neelie Kroes, Former VP at the European Commission for Digital Agenda said during the WEF: "The biggest challenge will be to educate people about technology, so that they don't feel alienated by it". We couldn't put it better ourselves. Our company focuses on speed, automatization and efficiency, and we believe the product people use must be intuitive and simple. That is the common denominator to the products we offer, it also explains why we didn't adopt a utility token based on Ethereum, as doing so would create a barrier to using the product and alienate some of our users. When offering people a reward with a discount, it should be in the same currency that they pay for the service in.
Digitalization has disrupted and transformed existing industries as diverse as media, advertising, financial services and retail, however it has also created some serious questions about how customers' personal data and information is stored and managed. Notakey aims to create a fairer and more transparent ecosystem for industries and empower the customers they seek to serve.