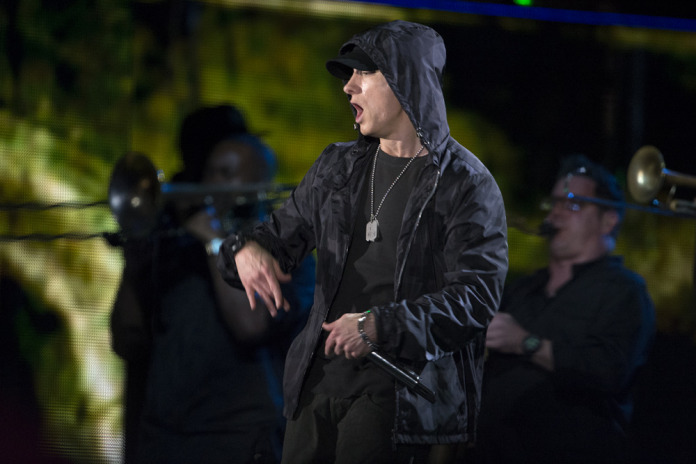 The rap legend Eminem has released his first NFT collection with the Shady Con series, collecting over 1.7 million USD.
What the hells an NFT? Guide to the @niftygateway drop on the site – https://t.co/aVekoOLBKl pic.twitter.com/EGMl0FPQsY

— Marshall Mathers (@Eminem) April 25, 2021
Card Packs, Open Edition, Limited Edition, and  Eminem NFTs
Marshall Bruce Mathers, better known as Eminem, has sold over 130 million albums and 389 million singles during his career in the rap business. The Academy Award and serial Grammy Award winner has now released a collection of non-fungible tokens through Nifty Gateway.
888 card packs that contain one of six NFTs at random were sold for $500 each on the platform. Additionally, an open edition sale has been conducted where users were able to mint as many NFTs as they wish at a price of $313 each, for a period of 15 minutes. Two series of limited edition NFTs called Tools of the Trade and Still D.G.A.F have been released at a supply of 50 NFTs each for a price of $5000. Owners of limited edition NFTs will also receive a physical print autographed by Eminem.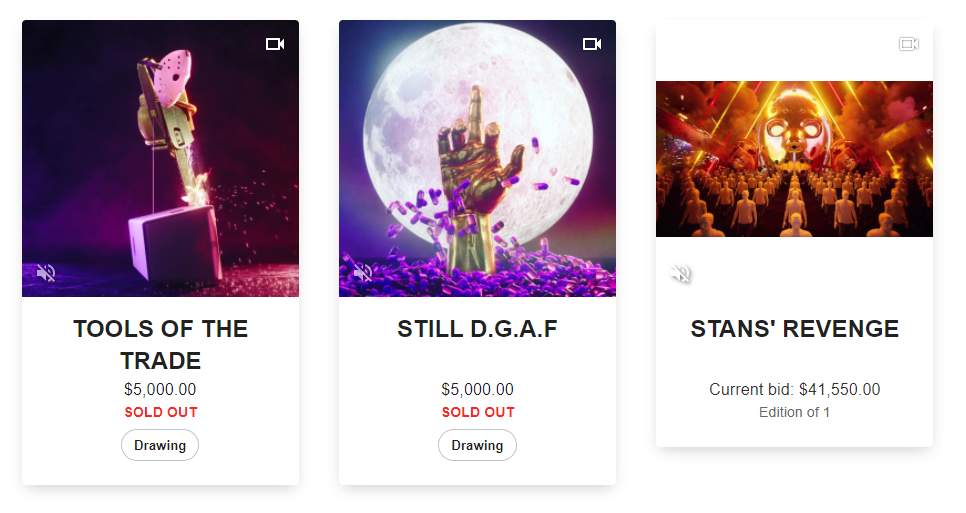 In total, the rap artist has collected almost 1.7 million USD from the sale of these collectibles. The most valuable piece of the collection is a unique NFT called Stans' Revenge whose auction is still open until Monday, April 26, 22:00 UTC. The winner of the auction will also receive rare Eminem merchandise.
Coming Up Next: Lionel Richie
The Soul and Pop singer Lionel Richie will be another musician to drop his first NFT collection called All Night Long in the next week. For this purpose, he has partnered with visual artist Klarens Mallute. The drop will take place on the Crypto.com marketplace on Monday, April 26, 13:00 UTC.
As a singer, Richie has won four Grammies and won the Academy Award for his song Say You, Say Me, which was featured in the movie White Nights.
This is the second piece that will be part of the #NFT collection, in collaboration with @LionelRichie 💜
dropping on @cryptocom , Monday April 26 @ 9AM ET

👉View the drop: https://t.co/yUOlpUDxnJ pic.twitter.com/NKkp4VVFGg

— Klarens Malluta (@klarens_malluta) April 24, 2021
DEADMAU5 #2
In the last week, deadmau5 has released his first NFT collection. A total of 34 non-fungible tokens have been sold for a total of roughly 25,000 USD. The most valuable NFT called JPY has been auctioned for a sum of 3.5 ETH (~8.500 USD).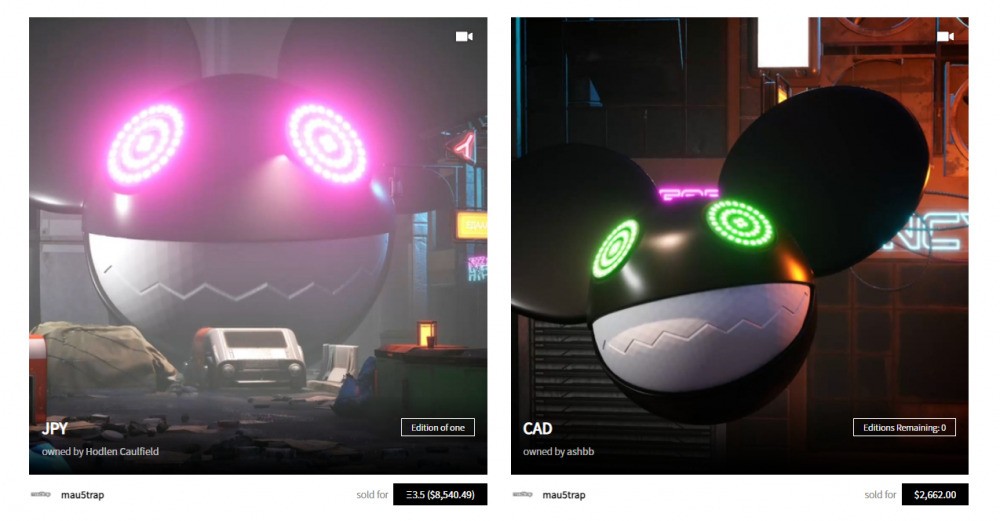 But the Canadian DJ and producer is long from done with NFTs. He has now formed a new alliance with digital artist Alan Bolton, with whom he has formed a new label called hau5trap. The first NFT collection by hau5trap called Mind Games will drop on April 27, 22:00 UTC on MakersPlace.
Rob Prior will Burn Original Artwork in Livestream
Last month, the decentralized film financing platform Mogul Productions has partnered with Rob Prior to release a series of movie-inspired NFTs on Polygon. In addition to their digital art, buyers had the option to receive a physical copy of their NFT, or have the original artwork burned by Prior.
Prior will now burn the first piece in the series, which is inspired by the movie The Wolf of Wall Street, on April 28, 22:00 UTC. Those who want to witness the ceremony can do so for free by registering for a ticket through Eventbrite. Proceeding the burning ceremony, the ERC-1155 NFT will be auctioned on the Mogul platform.
NFL Rookie Zach Davidson Releasing Rookie NFTs Before 2021 Draft
As the college football star Zach Davidson awaits the 2021 NFL draft, which is set for April 30, 2021, Davidson will auction an NFT collection on OpenSea on April 27. The auction will last for 48 hours.
During his time as Punter and Tight End at Missouri Central, Davidson played in 36 games, where he caught 51 passes for a total of 1,133 yards and 18 touchdowns. Despite a generally good performance in college football, it is however unlikely that he will make it into the higher ranks in the draft. On their website, the NFL estimates that Davidson will be around 7 picks at best.
In this light, the NFT drop may well be a way to garner attention before the event that will decide on Davidson's career as a professional player. Ultimately, the long-term value trajectory of his NFTs will strongly depend on his eventual performance in the world's most prestigious American Football league. According to ProFootballNetwork.com, Davidson might fill a roster spot for the Jacksonville Jaguars, Tennessee Titans, or the Arizona Cardinals.