Blockchain technology has infused a new sort of decentralized life into many industries. Hospitality, gambling, VR, financial investment, the arts, to name but a few.
The idea of decentralization is key to the uptake and implementation of blockchain technology across such diversity of industrial aspects. The middle man is cut out of the picture, allowing for a direct connection between the purveyor of the goods or services and the customers.
Heavy industries have up to now been few and far between to buy into the blockchain concept, maybe due to traditionalisms, or reluctance to change.
This may be about to change, as SoyCoin enters the ICO playing field with a unique proposition: To invest in high-tech processing of soy beans for the production of several soy derivatives like soybean oil and flour.
https://youtu.be/rdqoGoFLiOg
This piece is an analysis of the facts available about the SoyCoin ICO. It should not be read as offering advice or a recommendation. While ICOs have quickly become a popular tool for funding projects and start-ups, they can also be very high-risk for token purchasers.
Additionally, ICOs currently have an unclear legal and financial status. Token buyers may find that their purchase does not offer them any security or equity because the ICO is closer to a crowdfunding initiative than a traditional IPO. As such, any investor who plans to buy tokens needs to obtain all relevant independent advice and carry out their own appropriate due diligence.
SoyCoin: Investing on green, high-tech production of soybean oil
SoyCoin is a pioneer in the heavy industry field, in terms of ICOs at least.
The company aims to gather investment for developing high-tech production plants running on green energy, for the processing of soy beans, yielding soy derivatives.
https://twitter.com/CoinSoy/status/920594887740977153
SoyCoin in numbers & quick facts
Token Name – SoyCoin (SYC)
Token Value – To be defined during ICO, see table shown in the next section
Total tokens issued – 325,000,000
Pre-ICO Start Date – November 17, 2017
Pre-ICO End Date – December 17, 2017
ICO Start Date – December 25, 2017
ICO End Date – March 25, 2018
The SYC token
As with any other ICO, the company will issue its own currency, the SoyCoin (SYC). This token is based on the ERC-20 standard.
The company defines the SYC as a "financial instrument on the Ethereum blockchain, provided with goods of industrial production.'
The value of SYC will vary throughout the ICO, according to this table:
Day            Value in USD       Discount %
ICO Day 1 – Value = $0,55 (45% discount)
ICO Days 2-4 – Value = $0,65 (35% discount)
ICO Days 5-7 – Value = $0,75 (25% discount)
ICO Days 8-22 – Value = $0,85 (15% discount)
ICO Days 23-30 – Value = $0,95 (5% discount)
Beyond Day 30 – Value = 1$ (no discount)
Once created, the tokens will be allocated as follows:
Crowdsale – 80%
Project Team – 17%
Bounty – 3%
The team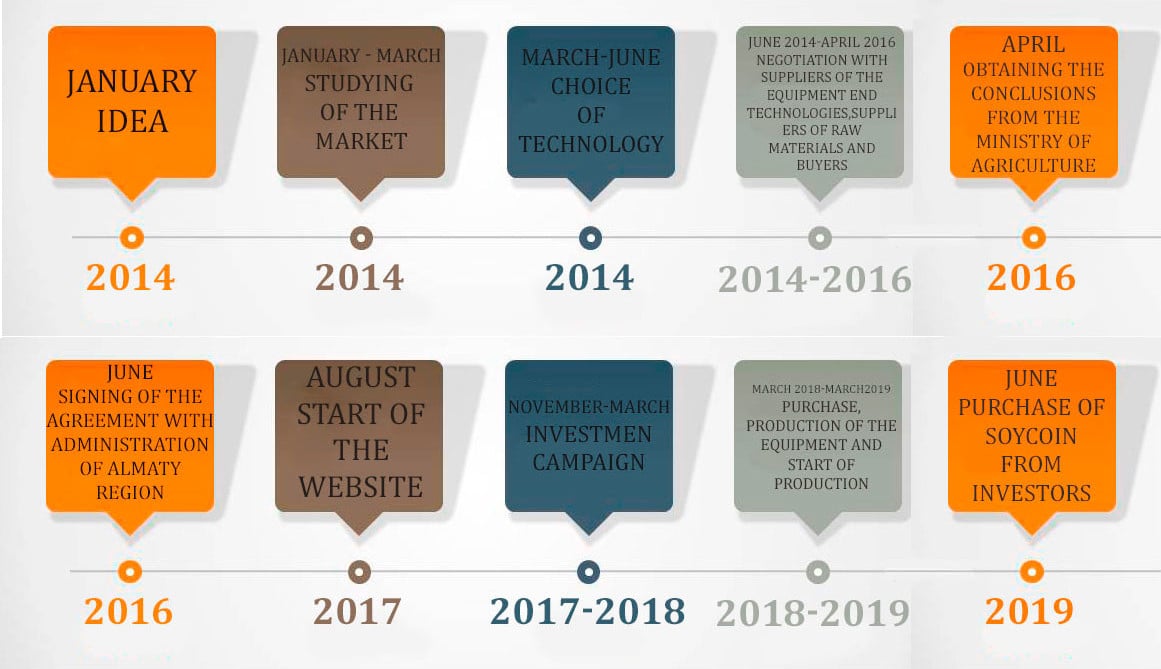 The SoyCoin site presents a core team of six people, which is quite lean and appropriate for start-up ICO.
A brief bio is displayed with every photograph, but there is no link to LinkedIn profiles so it is hard to verify the information.
Social Media presence and digital footprint
A strong presence on Social Media is usually a good indicator of a company's popularity, though it is not the only factor that determines success.
Here's the numbers for SoyCoin at the time of writing (December 2017).
Twitter – 0 followers
Facebook – 4 followers
LinkedIn – n/a
This ICO's presence on Social Media is negligible at present, which equates to a non-existent entity.
This is not necessarily an indication of failure, but SoyCoin does need to step up in the Social Media game if it's to succeed in the long run.
Overall, this ICO's presence on Social Media ranks very poorly.
Competition
https://twitter.com/CoinSoy/status/920622568276725760
SoyCoin's choice of produce (soy beans) is a pretty unique proposition. To my knowledge, no other ICO thus far has chosen to set up manufacturing facilities for the processing of such item, so it does have an advantage from that standpoint. Only one other ICO, Beefcoin, has a similar approach to business, albeit for the beef industry.
Looking at SoyCoin purely from a competition point of view, this ICO is currently a pioneer.
Website quality & layout
An ICO's website is the first port of call for any potential investors, and if the site isn't appealing enough, they will move on and forget about your proposition, no matter how good or viable it may be. It is therefore imperative to design a good website, to make a strong and lasting first impression.
SoyCoin's site is quite a messy affair. It comes in two languages, Russian and English. I can't vouch for the Russian version, but the English one is quite awkward and difficult to read as there are multiple grammar and ortographical issues throughout. The text clearly has not been offered to a proofreader.
The fonts and color palettes chosen are also quite discordant and jarring, making for a somewhat unpleasant and unremarkable experience.
Crucially however, the site is not secure, a flaw which is clearly a showstopper for a website dealing in cryptocurrencies.
Finally, the links for Social Media accounts did not appear to work.
Overall, very poor rating for SoyCoin's website.
Whitepaper
A well laid out, informative, comprehensive Whitepaper is a must for any ICO, if they are to be taken seriously. Documentation is sometimes treated as an afterthought, leaving many companies open to some criticism.
In SoyCoin's case, and much like its website, the Whitepaper is of a very poor quality. It is quite difficult to read and understand, as the grammar is not up to standard. A proofreader could have made all the difference here, but the budget may not be there at this point in time. Also, there is random bolding of words and sentences, different size fonts, etc.
Overall, SoyCoin's Whitepaper is in a very poor state.
Conclusion
If one looks at it from the sole perspective of the processing of soy beans, SoyCoin does stand quite alone in the field. No other ICO deals with this, as far as I can tell, and the idea of decentralizing the refinement of the beans is interesting.
Overall however, there are a few issues to take into account, such as the poor website and Whitepaper, and very importantly, that the website is not secure. This factor will play against SoyCoin in a very significant manner.