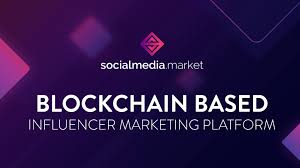 Influencers, bloggers, YouTubers. The new denizens of the online world are known by many names, but they all want one and the same thing: to earn money through their content.
Some do, after a while, if they are lucky, while most, of course, don't. The vast majority must resign themselves to gaining a certain level of exposure and following before moving on to something else.
The reason most social media dwellers never make any financial gain out of their time and passion is lack of contacts; it is difficult to connect with the right people at the right time.
SocialMedia.Market (SMT) is a new ICO that proposes a solution to this quandary, by creating a social media platform to connect bloggers and advertisers, built on blockchain technology.
SMT: The monetization of content through the blockchain
SMT's platform will create an advertising marketplace where bloggers and social media influencers will connect with brands worldwide, to gain further exposure, and monetize their content.
According to SMT, the platform "will create new opportunities for content monetization, community engagement and audience exposure."
SMT in figures & quick facts
Token name – Social Media Token (SMT)
ICO start date – February 9th 2018
ICO end date – February 16th 2018
Token worth – 1 ETH = 2,500 SMTs
Hardcap – 16,000 ETH
Note that you can contribute to the ICO with the following currencies: ETH, BTC, XRP, BCH, DASH, DOGE, ETC, NEO, XMR, ZEC.
 The SMT token
https://twitter.com/SocialMedia_io/status/961934285979742208
The company will issue its own currency, the SMT token (SMT), which will be based on the ERC-20 Standard.
According to SMT's marketing blurb, "The Social Media Token will create a self-driven economy, based on constant cooperation between influencers, advertisers, marketing agencies, and agents".
Once created, the SMT token will be distributed as follows:
Token Sale – 80%
Platform & Core Functionality – 15%
Partners & Bounty & Advisors – 5%
Bonus System
SMT will offer a bonus system to incentivize contributors.
Pre-sale – 20%
Public sale (Days 1-5) – 15%
Public sale (Days 6-20) – 10%
Public sale (Days 21-35) – 5%
Privileges for token holders
Purchasing tokens beyond a certain threshold will afford certain privileges.
Holders of:
5,000 SMT tokens will enjoy reduced service fees and agents admission
10,000 SMT tokens or more will get premium tools for brands and bloggers
15,000 SMT tokens will receive premium tools for brands and bloggers
Social media presence and digital footprint
https://twitter.com/SocialMedia_io/status/961253366876819456
Here are the numbers for SMT at the time of writing (February 2018).
Twitter – 3,268 followers
Facebook – 41,400 followers
Instagram – 1,578 followers
Telegram – 6,044 followers
This ICO sports a pretty impressive following on social media, which is to be expected as social media itself is SMT's reason to be.
The team
https://twitter.com/SocialMedia_io/status/956254488440070144
SMT's website presents a team of 31 people, plus 10 advisors.
The team fields varied expertise, from blockchain to UI design, financial, Social Media, etc.
The site expressly states that SMT's team will expand to 70 people in the near future.
Competition
Social media is a subject matter favored by a lot of ICOs. Friendz (which we reviewed not long ago), JET8, Mavin, and Sphere Social to name but a few. The battle for dominance of the social media blockchain is on.
White paper
https://twitter.com/SocialMedia_io/status/961449620437168128
Consult the SMT Whitepaper for detailed information about its platform, additional features, etc.
Conclusion
SMT's proposition of a transparent marketplace to connect social media bloggers and brands is sound, but there are many other ICOs out there with the same offering.
The site highlights the fact that the intended Soft Cap has been reached, but this ICO's full capitalization is a long way off.
https://twitter.com/SocialMedia_io/status/961913847882960897
We'll revisit SMT's progress in due course.