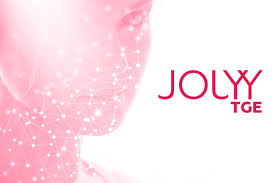 What is JOLYY?
Blockchain startup JOLYY is an online beauty booking platform. Its mission is to disrupt the existing market using blockchain technology to provide an innovative and highly effective platform for booking online beauty services. They aim to provide the beauty market with a secure and trustworthy platform to benefit all parties, from industry representatives to their clients.

ICO information:
Token name: JOY
Token type: Utility-token
Token standard: ERC-20
Hard cap: 46,300,000 USD
Soft cap: 1,000,000 USD
Token price: 1 JOY = 0.02777778 USD
Accepted payment method: ETH
ICO start date: 25th January 2018
ICO end date: 24th February 2018
Structure:
JOLYY will be free of charge for the first year and then charge 1% commission thereafter, in stark contrast to the 20% average for this industry. The JOLYY token will allow instant p2p payments to JOLYY.com and JOLYY LIVE. JOLYY LIVE will be a place where beauty experts share their work so that clients can see what's trending and follow their favorite beauticians, similar to a social network, but solely catering for the beauty industry. It will be a user-friendly mobile app, and the first platform to connect beauty experts and cosmetics companies through the development of a database of vendors. They will affiliate the brands to offer and sell products to beauty salons through smart contracts.
— JOLYY (@JolyyProject) February 6, 2018
But Jolyy may be assuming that beauty experts are not already connected to cosmetics companies. Beauty bloggers online are constantly trying out and reviewing new products, for PR or review purposes, or they may already have an affiliate with that brand. Therefore, is the blockchain technology necessary?

Well, here's the potential niche: starting up a new cosmetics company can be difficult, particularly finding the budget for advertising on channels such as TV, internet and via celebrity endorsement. Through the JOLYY service, your products are only targeted at beauty experts making it direct and cheaper while reaching the audience that's most important.
JOLYY also has partnerships with Thrive and Origin.
Token distribution:
Private and public sale: 50%
Community and reward system: 30%
Company reserve: 15%
Advisers and strategic partners: 5%
Token usage
Indefinitely fixed ad prices in JOY

Payment method in JOLYY and JOLYY Store

Payments transfer method via Smart Contracts

Bounty and awards for users
The team:
Julian Urdov – CFO, former analysis and forecasting expert at Ministry of Finance Bulgaria
Zhaniel Genev – lead engineer, technology analyst
Diliyana Ivanova – CNO, author and journalist
Ognien Genev – COO
Petko Petkov – Full-stack developer
Advisers include: Stoyan Nedin and Jason Hung among others.
Social media presence:
Twitter – 1,294 followers
Medium – 26 followers
Telegram – 968 members
JOLYY does not have an official Facebook page or a LinkedIn profile as of now, making their social media presence quite weak. There is still a lot of work to be done for JOLYY to be heard and taken seriously.
Website and white paper:
JOLYY has a clear idea and simple goal which are explained very well on their website: "Our mission is to disrupt the existing market for online beauty booking by providing an innovative and highly effective beauty booking platform." JOLYY's white paper is readable and easy to understand. It gets to the point without confusing the reader with complicated grammar or exaggerated goals and statements, making it refreshing to read.
Conclusion:
JOLYY's idea is good and, with the growth of the beauty industry online, could be worth investigating further. It identifies a niche in the market by using blockchain technology to enhance the online beauty booking process. JOLYY could potentially have a very successful and effective ICO campaign, if everyone gets on board.
By Edina Zejnilovic