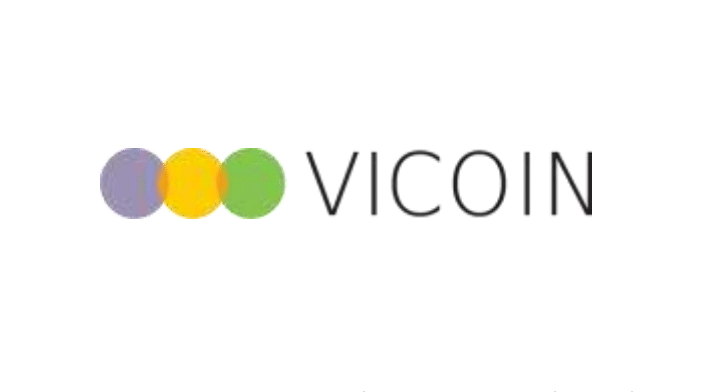 Virtonomics is fundamentally a new paradigm and platform for the creation of a mainstream cryptocurrency, VICoin, based on alternative virtual economy development.
VICoin is planning to build an ecosystem that will enable anyone with basic knowledge of economy, management, and entrepreneurship to become a 'digger'. Diggers can apply and capitalize on their own expertise and skills in order to earn cryptocurrency in a multi-user global business simulator, that emulates macro and micro economical processes alongside the interaction of economic agents. VICoin wants to leave block mining to the professionals and industrial miners, and use the produced Ethereum cryptographic blocks as the technological foundation for the creation of VICoin cryptocurrency. The bulk of users will earn tokens (VICoin) through purposeful and meaningful actions that are by far more familiar to them than mining itself. In the context of VICoin, this is 'digging'.
VICoin's objective is to develop an ecosystem of a virtual economy where the investor can get a return on the investments in the virtual company assets, generating the 'fuel' for the cryptocurrency without burning away megawatts of electricity, buying tons of expensive hardware and video cards, or renting space for mining farms. More than that, it will allow direct capitalization on one's intellectual capabilities, management skills, labor, and time spent on the creation and development of a virtual economy. In such ecosystems of a virtual economy, everyone can create and run their own company, invest all available capital in its development, and gain convertible cryptocurrency from the investments. From here, the owner of a large virtual company can generate a sufficient amount of cryptocurrency to hire other people, regardless of their location, in order to help manage and scale up the enterprise, and pay them in cryptocurrency.
Virtonomics global multi-user business simulator creates its own cryptocurrency and an ecosystem for earning the cryptocurrency in an online economic game emulating the formation and development of an alternative global virtual economy. The cryptocurrency is gained through a realistic business simulation where users build and expand their virtual companies, trade and compete with each other, and develop the business ecosystem in the virtual economic environment. The resources and tools for the generation and digging of 'fuel are special game entities purchased for VIC tokens (such as virtual mines extracting natural resources, virtual mining farms, virtual power plants etc).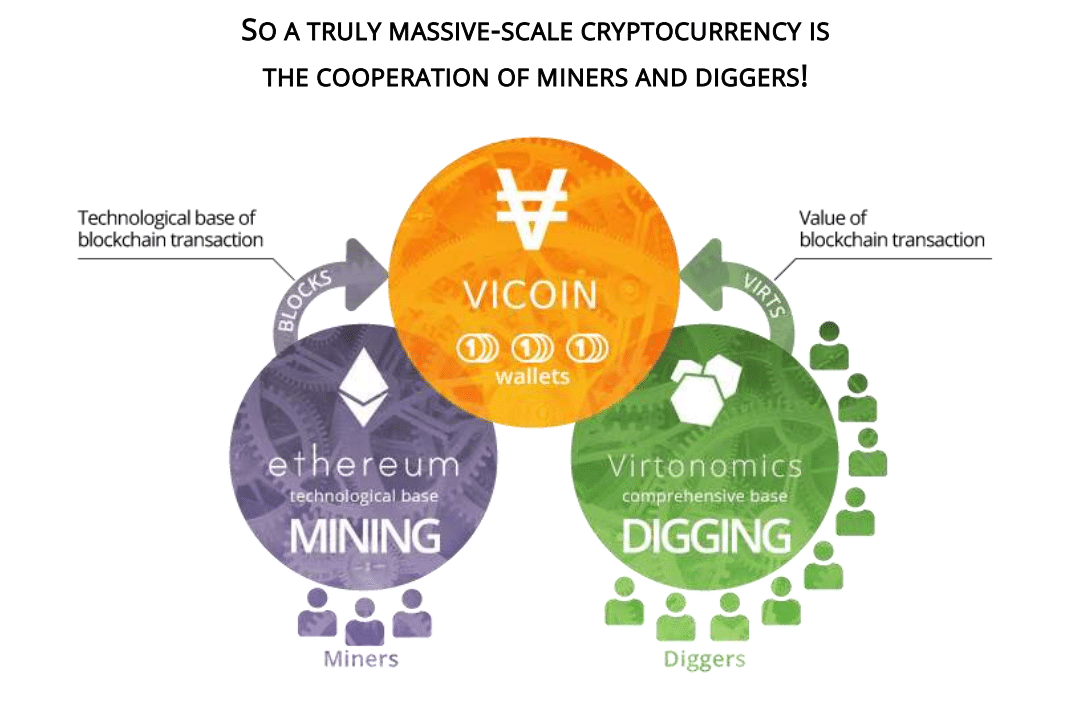 (Vicoin Facts, by Vicoin Wallpaper, Vicoin.io)
Quick facts:
Virtonomics

 is a massive multiplayer online economic game, being one of the most popular and forward-looking MMO business simulators worldwide.

VICoin (VIC) is the token of Virtonomics' application based on smart contracts of Ethereum blockchain platform. This token can be earned in Virtonomics' economic game. The token is also in free circulation outside the Virtonomics ecosystem.

There are three types of currencies in Virtonomics' ecosystem: I

ntra-game currency, s

pecial game bonuses (Virts), and 

Cryptocurrency tokens (VICoins).
Advantages:
Their client base exceeds 2 million registered users.

Virtonomics hits top positions in Google global search by relevant queries such as 'online business simulation' and 'online business game' with huge organic traffic.

It is available in English, Russian, and Spanish.

The platform engine is widely used by universities in different countries for teaching the basics of macro and micro economics and management, as well as many big corporations for managers' corporate training.

The history of the project spans more than 10 years.

Virtonomics introduces a new approach to the possibility of mining for any user within the game itself. Users have the opportunity to not just hone their business skills, but also to try themselves in the role of real miners who can earn money.
Disadvantages:
German, French, and Portuguese language versions are under development.

There are no developments of infrastructure for the blockchain Virtonomics platform but is planned for Q1 2018.

The idea of the project assumes that people will be actively involved in the business game no less than 30 minutes a day.
Social media presence:
Competitors:
Parsec Frontiers: a massive multiplayer online game with a virtual economy, blockchain. All in-game items and resources are stored on a high-capacity blockchain with fast confirmations.
Token:
Token = VICoin.

Acronym = VIC.

Max. number of tokens = 800,000,000.

Currencies accepted = Ethereum (ETH).

(Vicoin Token Specifications, by Vicoin Wallpaper, Vicoin.io)
ICO pre-sale:
Started = November 21st 2017.

Close = December 25th 2017.

Token price = $0,20 (paid in ETH).

Min. offering = 480.000 VIC.

Max. offering = 1.920.000 VIC.
Pre-ICO:
Available = January 2017.

Close = January 30th 2017.

Token price = $0,30 (paid in ETH).

Offering = 2.400.000 VIC.
ICO:
Starts = February 2017.

Close = March 2017.

Token price = $0,80 (paid in ETH).

Min. offering = 4.000.000 VIC.

Max. offering = 5.600.000 VIC.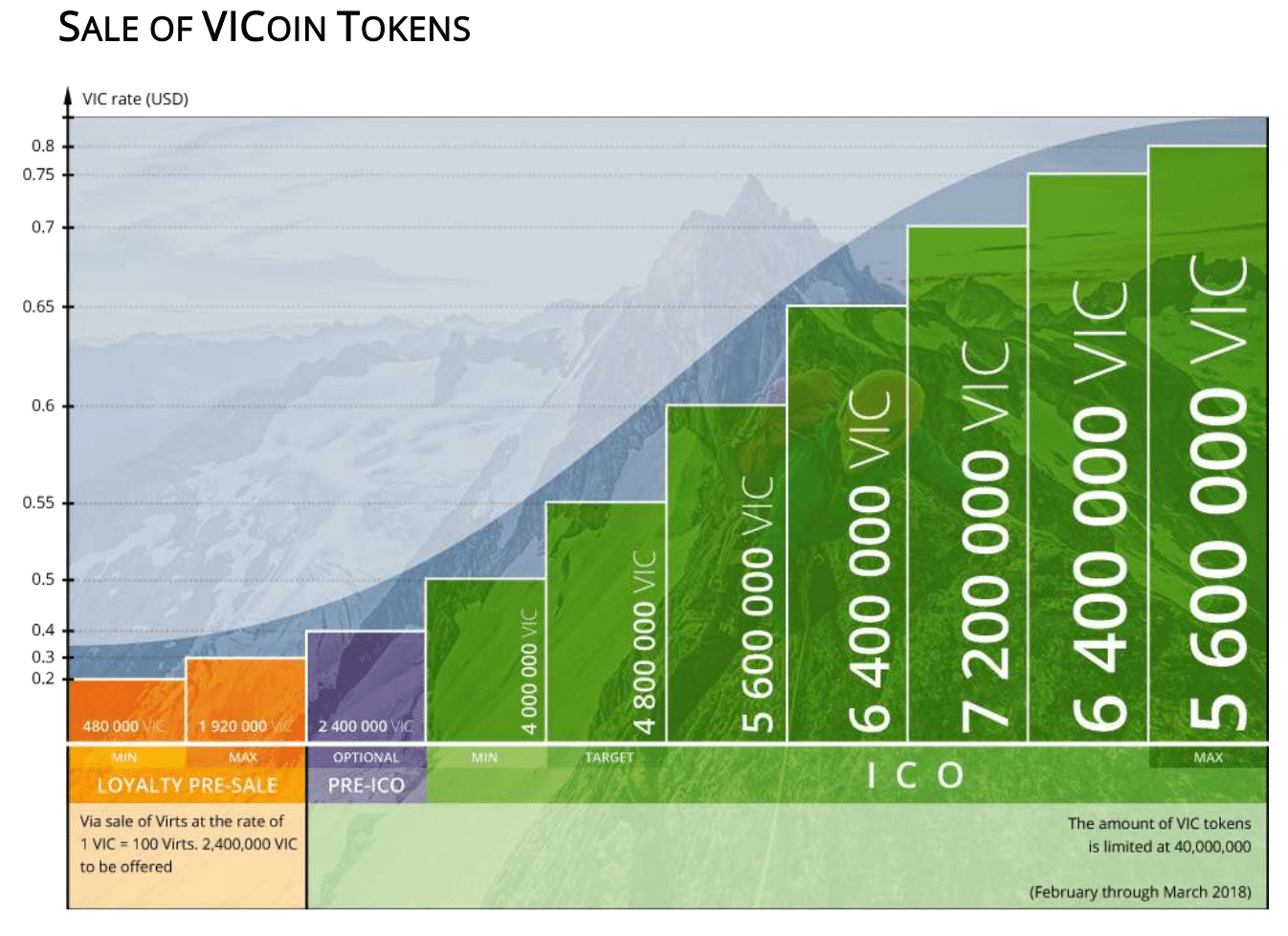 (Vicoin ICO sale, by Vicoin Wallpaper, Vicoin.io)
The team:
Sergey Menshchikov (founder): One of his projects was Forex Club, a small provincial company he joined back in 2002. Together with his team, he managed to transform it into a large international company. In 2006 he started another business called Virtonomics. In 2014 Sergey co-founded Simformer, an educational platform nominated in 2016 for Best Elearning Award by Elearning! Magazine.

Sergey Morgalev (technical director): with 30 years of experience in software development, Sergey Menshchikov's college buddy has taken part in all Menshchikov's projects since their graduation. Having launched together at least two highly successful projects they are more likely to keep on working together in future projects, including VICoin.

Mikhail Rakhaev PhD. (game designer): is another strong addition to the team with more than 25 years of experience in game design and software development. Like Sergey Morgalev, Mikhail took part in creating Virtonomics algorithms, which means that he is not new to the VICoin project.

Denis Zhuravkov (game designer and community manager): joined Virtonomics in 2008 and offered the project his vast experience and expertise in logistics, marketing, and finance in the real sectors such as O&G refining, retail, and online trade.

Anton Fedotov (design / UX): joined Menshchikov's team only three years ago, but before that he had worked as a web designer for two of the biggest newspapers in Russia – Izvestia and Moskovsky Komsomolets – which undoubtedly means that he knows what he is doing and the potential fans of the game will not be disappointed.
Additional Information:
Conclusions:
One of the strongest advantages of the project is the team itself; people that have been working with each other for many years. This is a positive way to distinguish Virtonomics from any other ICO projects. The overall concept of the project is also very interesting and not like most of the existing ICOs. However, the realization of the idea requires huge time and financial investments. Virtonomics has every chance to become a working and interesting project and could easily gain attention from a large audience. After all, to ensure the platform in the network, hundreds of thousands of users would be required on a daily basis.
https://www.youtube.com/watch?v=nM1_foT9kx0