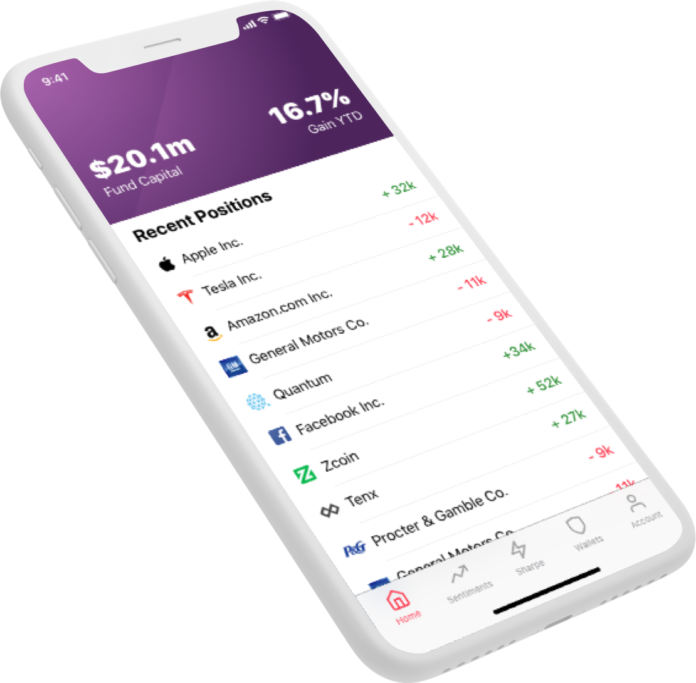 The complexities of equity markets are sometimes hard to fathom. These financial
environments offer little help to the uninitiated, instead becoming almost
exclusively accessible to those with deep knowledge of economics, or a sharp eye
for business.
Consequently, the appreciation, identification, and quantification of the value of
a particular equity market is a hard undertaking.
The advent of blockchain technology has enabled Sharpe Capital to develop a
proprietary trading algorithm that offers participants the possibility to express
contextual sentiment about global equity markets. Participants then receive a
service fee proportional to the accuracy of the sentiment they offer.
The sentiment data collected is then processed and complemented with Natural
Language Processing (NLP) strategies for linguistic analysis and emotional
responses.
The finalized data becomes an invaluable insight source for hedge funds and asset
managers, and a prized revenue stream generated by the sale and trade of this
insight.
This piece is a full disclosure, a statement of facts without any intention of
advice or endorsement about the Sharpe Capital value offer.
Sharpe Capital: Understanding Market Dynamics in the Blockchain
The volatile nature of financial markets worldwide is well known. Market dynamics
are fluid and unpredictable at best, and downright chaotic at worst. Formulating
educated sentiments about global markets is not easy.
Sharpe Capital offers a two-pronged approach to resolving the issue of global
equity market sentiment: The Financial Markets Protocol, and Investment Platform.
Financial Markets Protocol
Our #token #presale is filling up quickly. Whitelist your contribution so you don't miss out on up to a 30% discount. #blockchain #crowdsale pic.twitter.com/Sndj8rAv6S

— Sharpe (@sharpe_social) September 15, 2017
Sharpe Capital intends for this protocol to become the new standard for hedge
funds, whereby crucial governance decisions are made by the community.
Investment Platform
A great summary of the Sharpe Platform was recently published by #AmaZix – https://t.co/0LeLPn1MAT #Blockchain #FinTech #RegTech #Investment pic.twitter.com/NoAGLjAnPz

— Sharpe (@sharpe_social) September 15, 2017
Sharpe Capital's proprietary quantitative model that combines state-of-the-art
advances in economic theory and cognitive science, integrated with statistical and
machine learning analysis.
The Investment Platform is built using Amazon Web Services technology.
Sharpe Capital: A few quick facts
Founded in – 2015
Headquartered in – London
Token Name – Sharpe Platform token (SHP)
Token Pre-sale begins on – 14.00UTC, November 6, 2017
Hard cap during Pre-Sale – $8m
Token Crowd-sale events begins on – 14.00UTC, November 13, 2017
Hard cap during Crowd-Sale – $20m
SHP: Pre-sale and Crowd-sale events
I just published "Sharpe Capital — Pre-Sale" https://t.co/jM0n1wf8Re

— Sharpe (@sharpe_social) September 2, 2017
Pre-sale
Working hard building our unique trustless smart contracts – much anticipated #ICO #whitepaper to be released Monday! #blockchain #investing pic.twitter.com/xeL0wUJlIQ

— Sharpe (@sharpe_social) July 29, 2017
The Pre-sale event commenced recently, on November 6 2017.
It is open to investors willing to make large contributions.
Investments made during this period will be rewarded with the following discounts:
Pre-Sale Token Discount – 10%, 20%, 30%, based on minimum and maximums of 10k-50k, 50k-250k, and 250k-500k, respectively.
Ethereum payments must be submitted during the Pre-sale event.
Crowd-sale
Ahead of our upcoming Token Generation Event, we're sharing some more detail on our reserve funds and vesting rules https://t.co/3FizjnWoOk

— Sharpe (@sharpe_social) October 5, 2017
Sharpe's token-generation event ('crowd-sale') will commence seven days after the
Pre-sale, on November 13, 2017, exactly at 14.00UTC. SHP will be issued during this
period.
SHP will be issued at a rate of 2,000 SHP to 1 ETH, which will remain constant
while the crowd-sale is ongoing. SHP will be used primarily to support the
Investment Platform.
An additional 2,000 SHP will be held in reserve for future fundraising purposes.
There will be no further minting of SHP after the end of the crowd-sale event.
Sharpe Capital's Sentiment Platform
The core of Sharpe Capital's value proposition is its sentiment platform, which
will be first made available to a limited number of customers during Q2, 2019.
Using a mobile app, customers will earn Ether in return for providing opinions on
global equity markets and blockchain assets.
Customers will be presented with news announcements, to which they must express a
positive or negative sentiment. Over time, these contextual expressions of
sentiment will build up a reputation score on the Ethereum blockchain.
The Sharpe Capital Team
Introducing our CTO and Lead Developer: check out our latest blog post https://t.co/zo0mIW7FIC #Blockchain #FinTech – welcome on board guys! pic.twitter.com/ATtjvTBX1G

— Sharpe (@sharpe_social) September 16, 2017
The human force driving Sharpe Capital is limited in number, but well rounded and
with a great deal of relatable experience.
Five people form the core team, fielding a balanced strike force with some
impressive backgrounds in their respective missions, from business-related
responsibilities to blockchain technology.
Very happy to announce two new team members have joined us, Mieke and @lexiGao. It's fantastic to have such a diverse team of experts #ICO 🎉 pic.twitter.com/vEzZukepOz

— Sharpe (@sharpe_social) August 10, 2017
There are also six people on the Advisory Board, each with equally
impressive backgrounds in their fields, from legal studies to algorithm
development.
As a whole, the team appears cohesive, with the right people to do the job they are
supposed to do.
As a footnote, Sharpe's roadmap specifies that they intend to grow their team
during the first quarter of 2018, adding more expertise in software & business
development, machine learning, and marketing.
We're very excited to welcome Dan & Arthur – fantastic groth https://t.co/tq5OITH0te pic.twitter.com/8HOxHMzfHC

— Sharpe (@sharpe_social) October 1, 2017
White Paper
Our #whitepaper leveraging the #Ethereum #Blockchain, defining a new gold standard for #investment funds is here! https://t.co/PuLGX7c5Yy 🎉 pic.twitter.com/QcWgXaP1uF

— Sharpe (@sharpe_social) August 19, 2017
I have reviewed quite a few ICOs at this point, so I'm quite familiar with their
framework, which usually includes a White Paper. Sharpe Capital's one stands out because the White Paper is amongst the most comprehensive, detailed, and thorough I've read.
It is a very professional-looking document that goes into exhaustive detail about
Sharpe Capital, its proposition, and a myriad of related financial concepts. The
paper includes a table of figures, which is rare, and also a list of tables.
Overall, Sharpe Capital's White Paper is certainly worthwhile.
Roadmap
Security audit on our smart contracts is complete. Read the report here: https://t.co/kOOT3DyEaM 🎉 Very well done to our talented dev team! pic.twitter.com/40mO9wwv4j

— Sharpe (@sharpe_social) October 10, 2017
Sharpe Capital's current Roadmap goes from Q1 2018 to Q1 2019, starting with the
establisment of the company's HQ in London early in 2018, to the formation of
strategic partnerships with hedge funds late the following year.
In between, Sharpe intends to launch its platform to a number of selected customers
and community members at some point during the second quarter of 2018. After that,
they will launch their mobile app, and a hackathon later in 2018. The year 2019 is
scheduled to feature Sharpe Crypto-Derivative (SCD) tokens, and then commence live
trading during the second quarter. The first dividends are intended to be paid to
investors during the third quarter.
Website Quality & Layout
Website v2.0 coming soon! #fintech #startup #branding pic.twitter.com/dgnaO2D7MY

— Sharpe (@sharpe_social) July 9, 2017
Website design for ICOs tends to be hit and miss. Some sites, particularly from
countries where English may not be the first language, tend to be riddled with
grammar and spelling issues, which taints the experience slightly and makes them
less trustworthy, in my view.
Sharpe Capital's site does not fall into this category, however. Much like its
White Paper, the website is professional-looking and well constructed. All the
links work, the layout is neat and tidy, and the site features all that you would
expect from an ICO, including a link to purchase their tokens.
The website is secure, of course, as it includes a valid SSL certificate and it's integrated in the Cloudflare framework.
I just published "Smart Contract Security Auditing & More" https://t.co/iNTNmQzzHm

— Sharpe (@sharpe_social) August 25, 2017
Sharpe's website gets a thumbs-up.
Social Media & Digital Footprint
A solid presence on Social Media is a must for any ICO (or any other professional
entity, for that matter), if they wish to garner a steady following.
Sharpe Capital's current digital footprint is somewhat limited, for now at least.
Here's the numbers, at the time of writing this piece (November 2017)
Social Media presence is the one aspect where there is plenty scope for improvement
for the company. Sharpe Capital could do with a series of media advertising
campaigns.
Conclusion
Sharpe Capital offers a solid, comprehensive, considered value proposition.
All the materials presented are professional and neatly designed. Once again, the
White Paper merits special mention due to its exhaustive treatment of the subject
matter, and the incredible amount of detail that it offers.
Sharpe Capital's only weak point, if it can be thus deemed, is its media presence.
A few targeted advertising campaigns would provide a much needed boost at this
point in time.
Read Sharpe Capital's White Paper for more information.