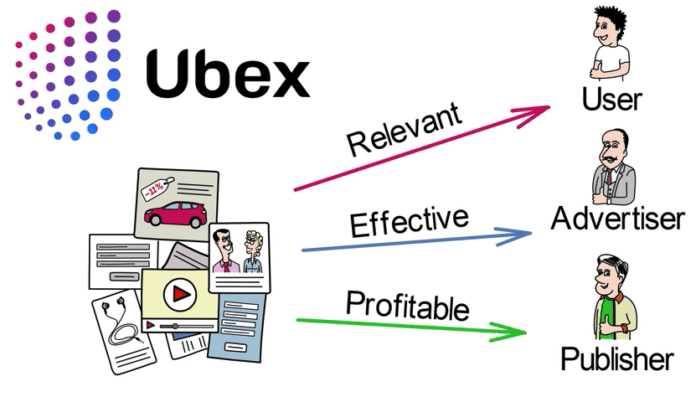 Thanks to the new technologies available, the digital advertising market has been actively growing in the last few years and has largely replaced traditional advertising such as television, billboards and print media. Programmatic advertising is one of the most promising segments of digital advertisement as computers will utilize users' data to decide which ads to buy and how much to pay for them, saving money to advertisers and avoiding showing users irrelevant and invasive advertising.
Despite the improvements in digital advertising, there are still problems caused by low targeting efficiency, non-transparent counterparty relationships and a high level of fraud meaning that advertisers overpay for each client involved, publishers receive fewer rewards and consumers of advertising are dissatisfied with its quality.
Ubex project is a global, decentralized exchange of programmatic advertising that proposes to solve the current problems of digital marketing by combining all the advantages of programmatic technologies, neural networks and smart contracts in a single system. Ubex provides a transition from the traditional pay-per-click scheme to payment for targeted actions, which can be a fairer and more interesting model for all market participants. Ubex aims to build an infrastructure that allows them to take the process of buying advertising and its economic efficiency to a new level. Ubex is based in Switzerland and is carrying out an ICO to be able to finance its business model.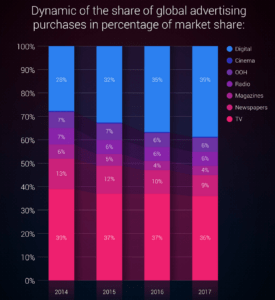 Main features
Upgrades the traditional pay-per-click scheme to the model of payment for targeted actions

Advertisers can automatically purchase ads slots using the Ubex system

Advertisers can set up and run an ad campaign in a few clicks. Tasks that used to require an entire team of digital marketers can now be taken over by Ubex algorithms

Payment is made upon fulfillment of targeted actions by users

Smart contracts allow the relationship of advertisers and publishers (owners of ads slots on sites) to be as transparent and fair as possible

Publishers can quickly and conveniently connect their advertising slot to the Ubex advertising platform and start earning as soon as the tracking add-on accumulates enough data about site traffic for further analysis by the neural networks

The Ubex Token will act as a payment unit on their platform

Websites owners who are providing statistical data for training of Ubex system will earn Ubex tokens as a reward for their actions (similar to mining)

The system's neural core, which is responsible for making decisions at all stages of the life cycle of the advertising material, will have an API to which access can be provided to partner companies that need regression analysis of user data
Novelties
The platform has a neural network that evaluates the interest of users, calculates the likelihood of targeted actions for all advertiser offers, and chooses the most suitable advertisement, maximizing the targeting of advertising and the economic efficiency for advertisers

Procurement of advertising takes place in real time using programmatic technology on the basis of neural networks with the application of smart contracts
Token information
Token name = Ubex

Acronym = UBEX

Platform = Ethereum ERC20

Max. Number of tokens = 4,000,000,000

Cryptocurrencies accepted = ETH, BTC, LTC

Soft cap = 4,000 ETH

Hard cap = 24,000 ETH



Token distribution
Token Sale = 2,880,000,000 – 72%

Team & Advisors = 600,000,000 – 15%

Reserve = 400,000,000 – 10%

Bounty = 120,000,000 – 3%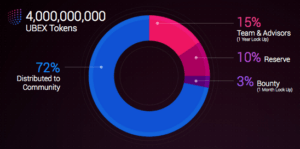 ICO
Starts = May 21th, 2018

Close = August 13th, 2018

Token price = 0.00001 ETH/UBEX

Bonus = Up to 20%

Min. buy = 0.01 ETH
NOTE 1: the percentage of the bonus depends on the purchase date.
NOTE 2: unsold tokens will be burned.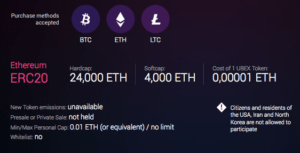 The leading team
Competitors
Social media presence
Additional information
Conclusions
With programmatic advertising, the Ubex platform can select for the advertisers the most current advertising offers relevant for certain visitors, maximizing the probability of obtaining the desired results and optimizing marketing costs. Publishers can increase revenue from advertising slots at effective sites due to the transfer of all transactions with advertisers onto smart contracts and optimization of targeting by neural networks.