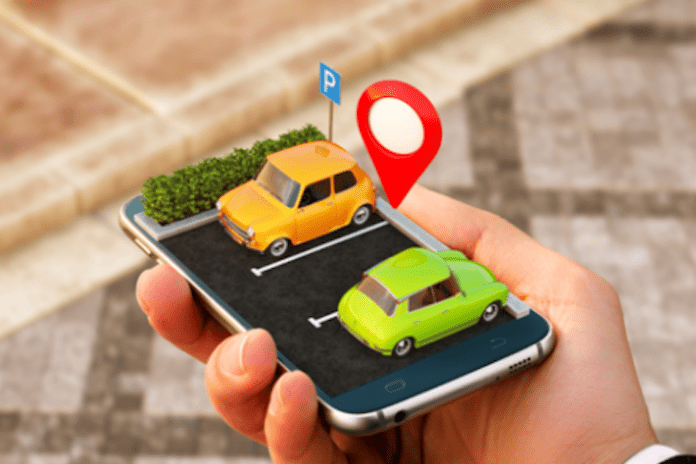 Because of outdated public and private city infrastructures, technology and systems, drivers have to pay a substantial price (both economically and emotionally) to find themselves available and affordable parking spots. On the economical side, the search itself costs drivers money in gas, tires, etc and time that could be used at work, with family or at leisure. This wasted money can increase because of parking fines and extra parking time, having to pay for a minimum of an hour while only needing a few minutes, for instance, or paying for extra hours out of fear of getting a parking ticket. On the emotional side, drivers can become stressed if they are delayed for an important appointment because there is no parking spot available quickly.
Parksen Parking has worked on a solution for this issue with a fully-functional and tested parking App that has been operational in the Netherlands since 2015. The App allows users to easily locate and reserve parking spots, guaranteeing drivers to receive real-time information on parking options near them, saving time and money.
Main features
Real-time navigation and parking availability: search a parking spot available from your smartphone

Advanced parking reservation and payment: a pay-per-use App without having to worry about pressing a 'stop' button when you've finished using a parking spot, as it will all be done for you

Avoids the risk of fines for exceeding the time of use for parking

Helps to decrease the carbon footprint (less driving hours = less wasted energy)

Can be integrated into any local parking App and the main API will be entirely public and available. API contributions will be rewarded.
Novelties
By including parking price lists through smart contracts, the platform can guarantee a specific price for the agreed time, allowing drivers to never pay more than what it states in the contract (used time)

Utilizes IoT devices and offers a one-size-fits-all cloud-based solution that can be easily adapted by cities, parking garages, companies and individual consumers

Users can complete the parking zone profiles by adding additional metadata such as location, status, price, timeslots, conditions and exceptions
Token information
Utility token name = Parksen.

Acronym = PARQ.

Platform = Ethereum ERC20.

Max. number of tokens = 10,000,000,000.

Cryptocurrencies accepted = ETH, BTC.

FIAT accepted = yes.

Soft cap = $35,000,000.

Hard cap = $250,000,000.
Token distribution
Project = 2,500,000,000 – 25%.

Marketing = 2,000,000,000 – 20%.

ICO = 2,000,000,000 – 20%.

Development = 1.500.000.000 – 15%.

Team = 500,000,000 – 5%.

Pre-ICO = 500,000,000 – 5%.

Business development = 400,000,000 – 4%.

Private sale = 300,000,000 – 3%.

Bounties = 200,000,000- 2%.

Charity = 100,000,000 – 1%.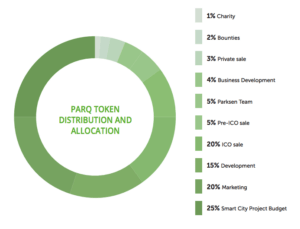 Funds usage
Research & development = 45%.

Marketing = 30%.

Global expansion = 15%.

Business development = 10%.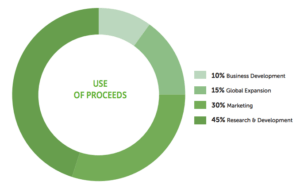 Pre-ICO
Starts = June 1st, 2018

Ends = after 500,000,000 PARK have been sold

Token price = $0,07

Min. buy = 0,1 ETH
ICO
Starts = after 500,000,000 PARK have been sold

Close = a year after the public sale starts

Token price = $0,08

The leading team
Competitors
Social media presence
Additional information
Conclusions
With the new technologies available, the transport industry has the tools to improve its services in order to save large amounts of money, time and quality of life for drivers. The Parksen proposal combines blockchain and IoT to modernize the search and collection process of parking lot rental, which involves both the public and private sector of this industry.