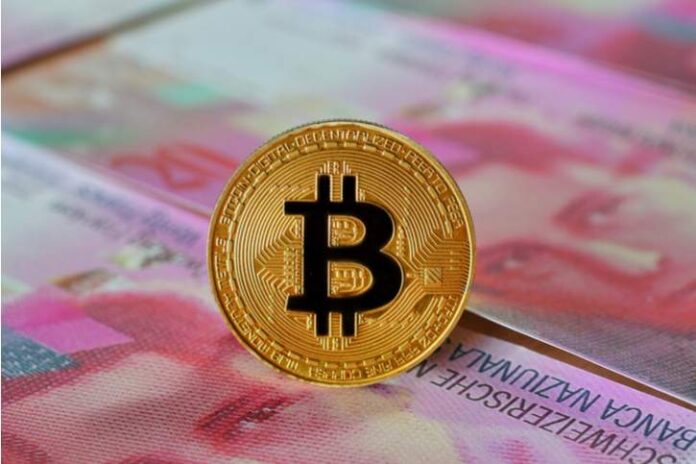 Due to the continuous growth of the crypto community, cryptocurrencies are gaining more and more recognition and currently and there is the possibility to obtain cryptocurrencies in many exchanges with Fiat money by bank transfer or credit/debit cards. Nevertheless, many people fail to gain a foothold in the crypto community because of the required disclosure of personal data and the laborious handling of platforms. Exchanges are characterized by time-consuming registrations and the unpredictability of platform operators, high hidden fees, and a necessary cooperation between the respective banks and states.
The Konios project wants to end all these problems. Since November 2017, Konios has been developing and programming an easy access platform in Switzerland for all crypto enthusiasts worldwide to enable them to enter the crypto world with cash and only requiring a smartphone with an internet connection, all without the use of a bank or other intermediaries. The platform eliminates the high exchange fees experienced and simplifies the transactions experience.
Konios is based in Switzerland and is carrying out an ICO to be able to finance its business model.

Main features
The participants make the exchange with only four clicks on their smartphones with a secure and anonymous face-to-face (F2F) transactions of cash to cryptocurrency

Cryptocurrency wallet and digital exchange of any cryptocurrency pairs with an integrated analysis tool that displays the desired parameters in the charts designed to show laymen the necessary predictions and visualize trends

Marketplace to buy and sell commercial goods and services with cash and cryptocurrencies

Anonymous data about the crypto market behavior, statistics and location information

After each transaction, evaluations are given by the exchange partners. The evaluations give an insight into the professional behavior of the exchange partner

The reward and penalty parameters stored in the smart contract sort incorrect behavior and reward the users for their positive contribution

Konios will comply with and implement all regulations required by Swiss law




Token information
Token name = Konios

Acronym = KON

Platform = Ethereum

Type = ERC20

Max. number of tokens = 5,000,000,000

Cryptocurrencies accepted = BTC, ETH, BNB

FIAT accepted = CHF

Hard cap = $29,000,000
Token distribution
ICO = 3,750,000,000 – 75%

Reward system = 350,000,000 – 7%

Team and Founder = 250,000,000 – 5%

Airdrop and supporter = 250,000,000 – 5%

Reserves = 200,000,000 – 4%

Pre-ICO = 100,000,000 – 2%

Advisor = 100,000,000 – 2%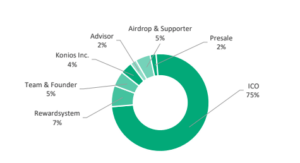 Funds usage
Development = 54%

Advertising = 25%

Liquidity = 10%

HR and marketing = 5%

Administration = 5%

Legal = 1%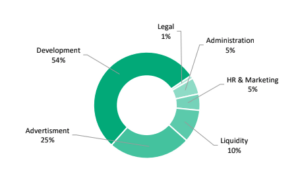 Pre-ICO details
Starts = March 1st, 2018

Ends = June 30th, 2018

Token price = $0.005
ICO details
Starts = July 1st, 2018

Ends = September 30th, 2018

Token price = $0.01

Bonus = 35% to 10%
NOTE: bonus percentage depends on tier stage.

The leading team
Competitors
Social media presence
Additional information
Conclusions
Despite the millions of crypto users in the world, the influence of cryptocurrencies in everyday life is not yet noticeable. Most of the global population lacks a platform whereby they can participate in the world of crypto without a bank, a platform that is easy to use and without barriers to entry. This hurdle excludes a huge mass of people who actually want to join. The Konios project is dedicated to bringing as many people as possible into the crypto boat with a user-friendly mobile app to make it possible and easier to change from Fiat to Crypto.