Important Dates: March 15th 2018 – ICO public sale begins
Number of Tokens:  1 Billion
Cap: $60 Million
Token Type: ERC-20 token built on the Ethereum blockchain
Token Ticker: HBB
What is HybridBlock?

Hybridblock is a competitor to Coinbase/GDAX/Bitfinex but has a more ambitious scope. They are planning a terminal (like Bloomberg) that specializes in Crypto, and will issue Fiat-backed tokens (like tether).
HybridBlock consists of four main parts:
Hybrid Central: An education mobile app that will help on-board new users to the HybridBlock ecosystem.
BaseTrade: An easy-to-use cryptocurrency platform, where users can buy, sell, and store their coins. BaseTrade has a similar idea to Coinbase.
Hybrid Exchange: An online exchange aimed at intermediate users. This would be similar to an exchange like Binance.
Hybrid Trade: This is a cryptocurrency trading terminal for advanced users, much like a Bloomberg terminal.
What is the problem HybridBlock wants to solve?
Hybridblock aims to be the cryptotrading platform for everyone, from a complete beginner to the most advanced user. This does not exist at the moment. Beginners start at Coinbase and have to move elsewhere to trade more tokens. Furthermore, HybridBlock plans to introduce a stablecoin like Tether, but one that's regularly audited to avoid any solvency concerns. By combining the stablecoin and the full suite of exchange options, Hybridblock can cater to everyone's crypto-whim.
What is HybridBlock's Business Plan?
They are reasonably far along and plan to release a beta product in April. However, there is little evidence of any plan for how Hybridblock can succeed against the now strong competition.
ICO
The ICO is to launch on March 15th. 53% of tokens are to be sold as part of the pre-sale and crowdsale. Part of the rather high market cap of $60 million is supposed to be for platform liquidity. Another 27% of the tokens are to be reserved for the team and advisors, which is rather high. It is unclear why they need this many tokens and what the vesting timeline is for them.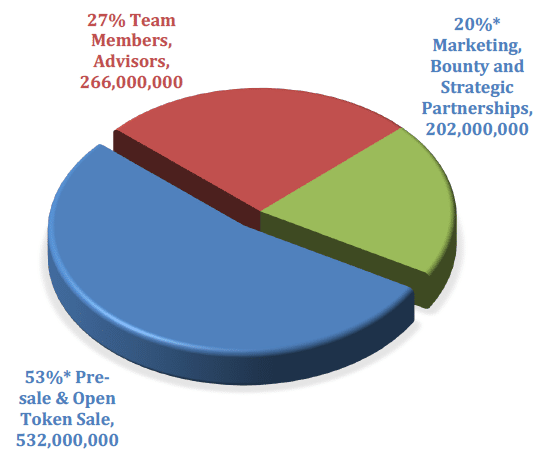 Token Utility
The HBB token has two primary uses: the first is as a governance token, whereby users can use their tokens to vote for proposals related to the Hybridblock treasury; the second use is as a method of payment in the HybridBlock ecosystem.
The Team
The team is quite impressive. The CEO is Anton Ohno, a former speed skater (who I remember from watching the Olympics). The advisory is good, with the CEO of Xtrade (another upcoming ICO) and Steve from Binance (who is responsible for token listings) as well as Reeve Collins (who founded Tether).
Hype
HybridBlock only has just under 1000 people in its Telegram group. This is very low compared to some recent ICOs. While the community buzz is low, Hybridblock already has existing partnership heavy-hitters such as Coinrail (a Korean exchange).
Risks
Competition:  While HybridBlock has a full-suite package for all user levels, it does face competition in each of its offerings. Coinbase exists for new users, and exchanges like Binance exist for more advanced users. Decentralized exchanges like AirSwap are also now coming online.
Investment Horizon
Short Term: Hybridblock is not good as a quick flip for two main reasons: the rather high hard cap for $60 million lowers the chance of the token listing at a higher price than the ICO, and as we are currently in bear market, most ICOs are not doing as well upon release.
Long Term: This is uncertain. While the project has great potential if it can pull everything off, there is intense competition. It is more and more difficult to launch an exchange more compelling than what is already out there.
Conclusion
Given the current bear market and the high market cap for Hybridblock, this is a miss. Save your money for other ICOs – there are many other great ones out there.