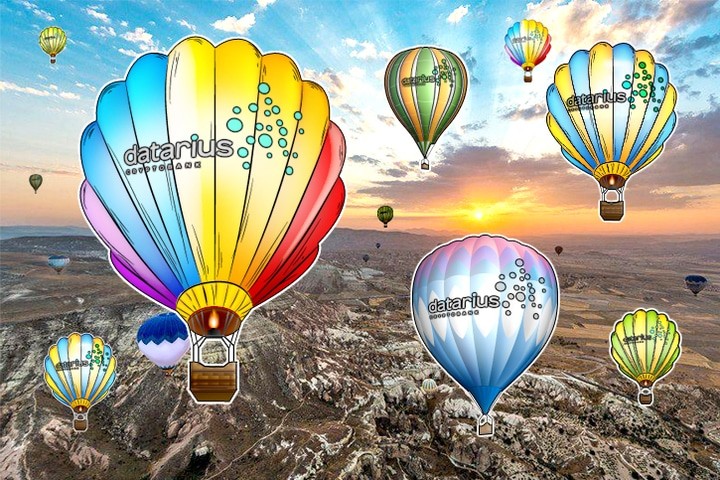 2018 started with huge milestones for the blockchain industry, from new legislation and cryptocurrency prohibitions, to offers of initial currencies of interesting projects that wish to scale and position themselves in this industry in the same way as in their time, did the "Dot-Com" companies.
Datarius: The Crypto-bank:
The Datarius project is a new, social-type decentralized crypto-bank with transparent conditions and using blockchain technology. In crypto-banking industry, Datarius wants to become the first financial institution capable of offering its customers a full range of financial services implemented within a decentralized system. Datarius will operate on the basis of peer-to-peer (P2P) ecosystem, where transaction participants are private users and not banking institutions.
Unlike most developers who continue promoting monopolization of world financial market by large players, Datarius team aims to create a perfect financial institution that would adopt all advantages of traditional financial organizations, leaving behind their major disadvantages: non-transparency, unpredictability, lobbyist and administrative burden.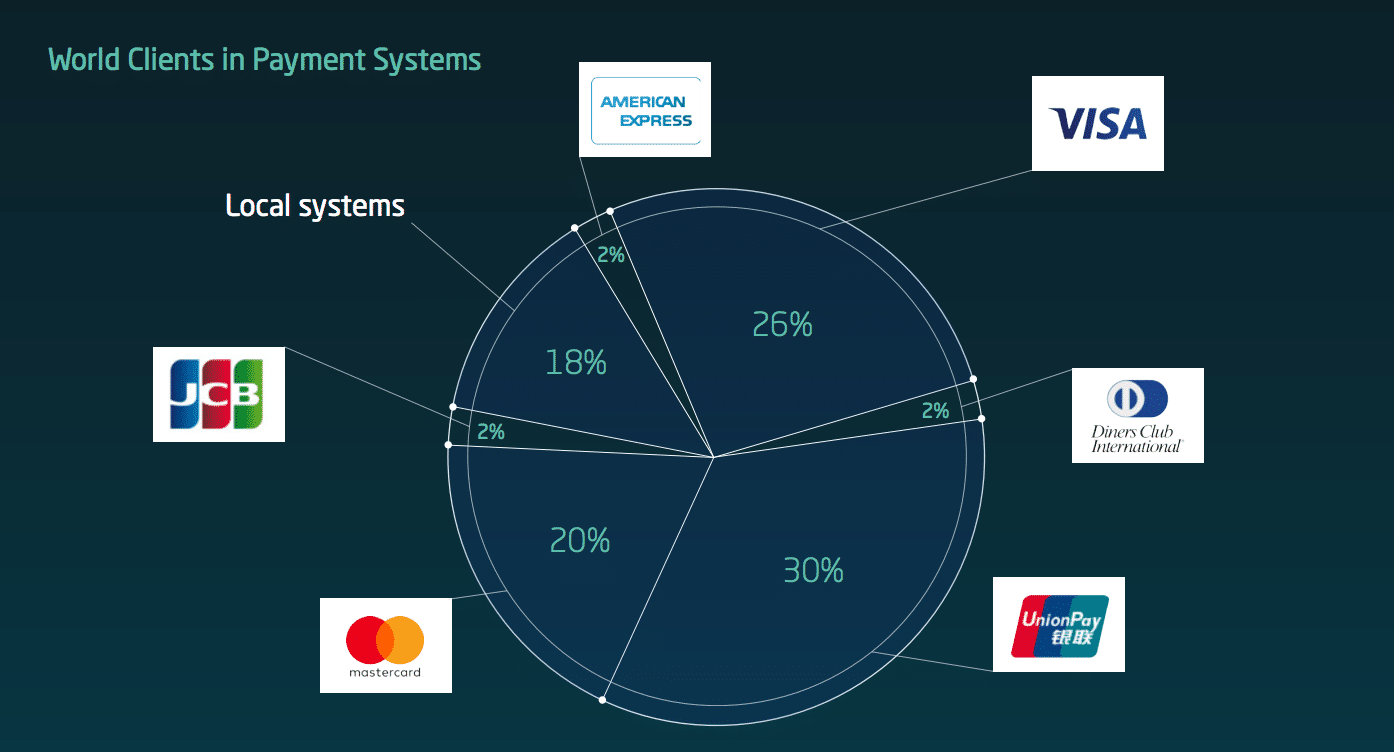 (World Payment System Marketshare, by Datarius Whitepaper, datarius.io)
The system will be built to allow users to make their own decision when judging the appropriateness of certain services and applications, which minimizes the cost of processing transactions. The customer selects a service according to his/her own requirements and pays the price without customer service charge. They also plan to issue a cryptocurrency card that will operate within the system and in partnership with other companies' systems. Customers can use the card to pay for goods and services and make purchases on sites that accept bank cards as a payment method. It will be possible to withdraw and deposit cash at partner's ATMs.
Characteristics:
Decentralized banking.

Blockchain technology.

P2P loans.

Artificial Intelligence and advanced data analytics to make possible to offer to the customers the most relevant services and to track suspicious operations in the system.

Integration of Biometric Authorization for transactions.
Advantages:
Such platform will be a perfect solution for people without a credit history, to whom traditional banks cannot provide loan proposals, or for whom current services on the market will cost much more.

It is designed to overcome current difficulties connected to the use of cryptocurrencies in a non-digital world, introducing options of integrated crypto and fiat money services into payment infrastructure for this purpose.

Provide to the world community access to major financial instruments in P2P transaction format.

Very low or zero on banking services and currency exchange.
Disadvantages:
Trust will depend on the users and not on a financial institution, which has the backing of governments.

Pre-sale closed on December 31, 2017. The new offer will start from mid-February with a lower bonus percentage.

Although it has a good percentage of review in

ICObench

, it has few reviews.

There are ICOs that will offer very similar proposals and services.
Competitors:
CoinLoan: Platform for loans secured by crypto-assets.
BlockBank: Digital funding platform designed to serve human needs rather than profits alone.
Forty Seven Bank: Provide safe, innovative and user-friendly financial services and products to customers with cryptocurrencies.
Bankera: Digital bank for the blockchain era. Bankera's services fit into three groups: payments, loans and deposits and investments.
Bulleon: provide to end users with the everyday digital asset related services from a single place.
Token Sale:
The Datarius Coin (DTRC) utility-token is based on the smart contract ERC-20 of Ethereum network. The number of emitted DTRC tokens is limited, totaling 200,000,000 DTRC at the time of the emission activation. Token that are not distributed during the ITO campaign will be eliminated, and the determination of the maximum number of DTRC tokens circulating inside Datarius system, as well as the formation of initial development level of the system, will depend entirely on each participant of the project. For the entire period of the ITO Datarius campaign, token value is fixed at  $1, but during pre-sale, each buyer will receive a bonus of 35%.
The tokens pre-sale round started on December 12, 2017, on the official website of Datarius Cryptobank and lasted until December 31, 2017. The funds raised will be allocated to a DPL license, ITO platform and a prototype of the system. The implementation is scheduled for mid-February 2018. For Cryptobank to be considered successful within the projections of their developer's team, the distribution of tokens has to be an amount equivalent to $1,000,000 (SoftCap) by the date of implementation. The established deadline for achieving distribution value will be equivalent to $67,000,000 (Hard Cap).
Token Distribution:
Basic package of tokens = 73%.

Exclusive bonuses = 5%.

Reserve fund = 12%.

Project team = 8%.

Bounty campaign = 2%.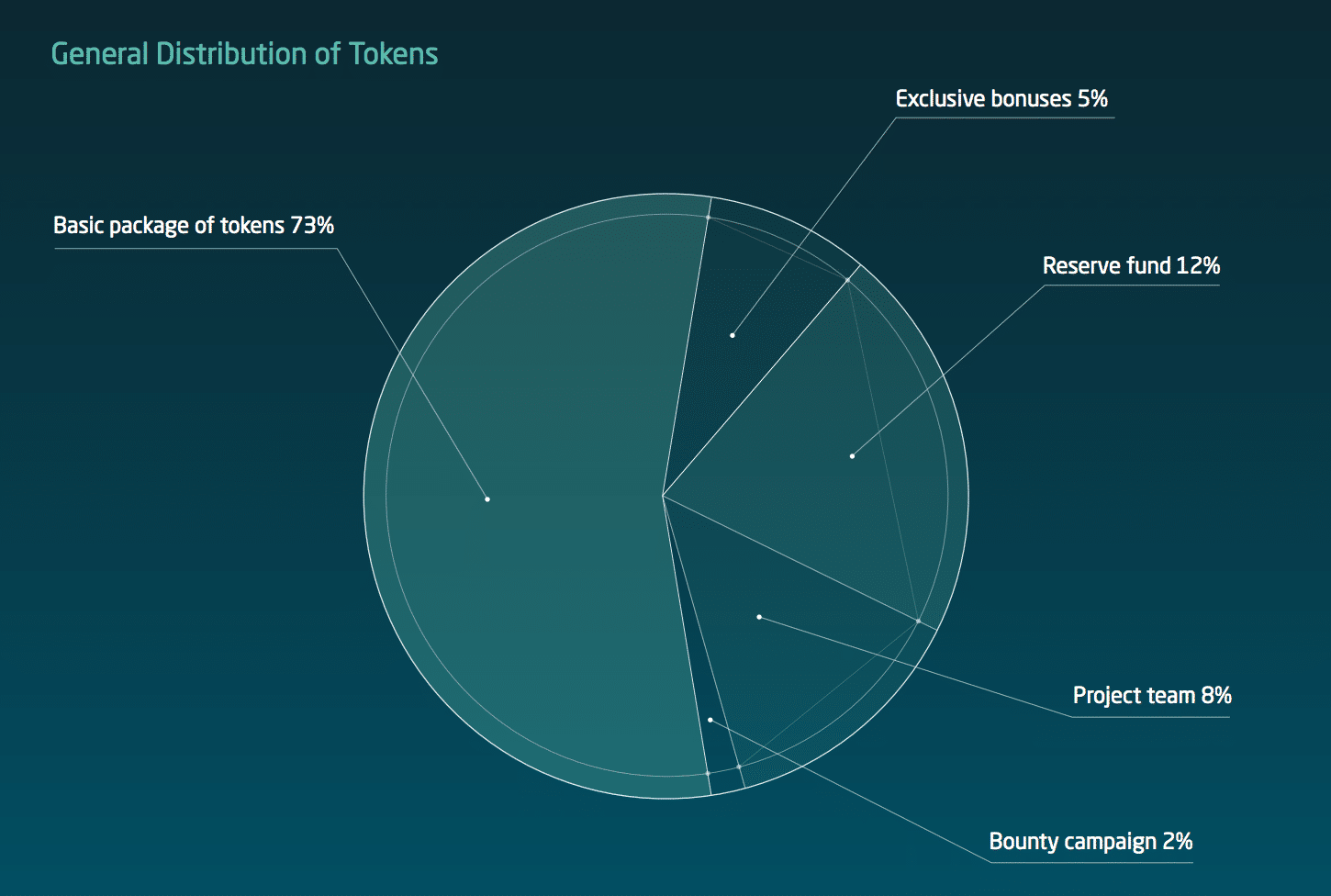 (Datarius Token Distribution, by Datarius Whitepaper, datarius.io)
All the detailed information is available on the official website of Datarius Cryptobank and in its whitepaper. To keep up to date with updated information and changes made to the platform, you can access the Datarius channel on Telegram and don't miss the next announcement for the beginning of March 2018.