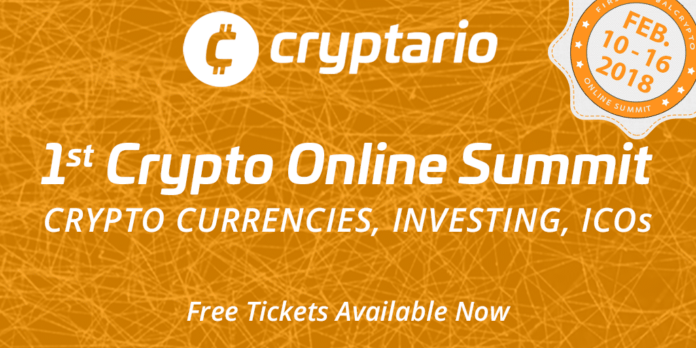 When and where is it on?
100% online, between 10th and 16th February, so you can watch it conveniently from anywhere in the world.
Is it free to attend? And how do people sign up?
A Free Ticket is available. Simply sign up at www.cryptario.com. The free ticket gives attendees access to all interviews on the day of publishing. Three interviews get published every day. Like at a real summit, you can watch the interviews on the day (in our case, because it is a global audience, you can watch it for 24 hours). If you want life-time access to all interview videos after the Summit, people can buy the Summit Package, which includes the audio tracks of the interviews to listen to on the go; written summaries of key points and quotes of each interview; the "fast five" Q&A with our guests; access to a special Facebook group. Early bird price for that package is €79 until February 9th and the price after the Summit is €197.
How many years has it been going?
This is the first year. It's the 1st Global Crypto Online Summit.
What was the inspiration to start it?
I'm a startup mentor specialized on fundraising, and 3-time founder myself. More and more founders asked me about ICOs as an alternative funding source. So I investigated more, started interviewing ICO experts for my startup podcast. I extended the topic to cryptocurrencies and investing, and decided to make it available for free in the form of an Online Summit.
What exciting things can people look forward to?
True insight views from people with many years of experience. Learn and understand how crypto currencies, ICOs and the underlying technology works. See the future of cryptos through the eyes of those experts.
What opportunities are on offer for those attending?
What exactly are Bitcoins, Altcoins and what are the differences between each currency? How does the blockchain technology work? From which amount on does it still make sense to invest in Bitcoins? What is an ICO and can it really finance a company? How does the tax system work for cryptocurrencies?
During the Cryptario Online Summit these questions and many more will be answered by the international crypto scene's top experts. In just 7 days, the summit participants will learn how Bitcoins, other digital cryptocurrencies and the underlying blockchain technology work and how it is best possible to invest in them. Additionally, the experts explain how to use an Initial Coin Offering (ICO) to raise funds for a startup or company and how everyone can participate in an ICO.
In personal interviews with Cryptario's host Dr. Florian Kandler, world-renowned experts not only reveal insider tips and tricks on the subject, but also give an outlook on the great financial potential of digital means of payment in the form of cryptocurrencies and their future development. Participants in the Cryptario Online Summit have the opportunity to experience valuable specialist knowledge on cryptocurrencies combined with hands-on tips on how to apply it in the real world – from the comfort of their own homes.
Who will be speaking?
Confirmed so far we have:
David Siegel, CEO & Co-founder of 2030.io
Jamie Burke, Founder & CEO Outlier Ventures
Christopher Emms, CEO at TokenKey
Artem Afian, Managing Partner Juscutum Attorneys
Suzanna Kalendzhian, Founder of LegalAdviceME.com
Brian Fabian Crain, Co-Founder/Co-Host at Epicenter
Oliver Völkel, Partner, Stadler Völkel Attorneys
Alexander Wallin, CEO at SprinkleBit
Henok (Hen) Tekle, Founding Partner, Alphachain Capital
Kambiz Djafari, Co-founder Edgecoin.io
Dimitrios Vourakis, Lawyer & Researcher at Curiositas
Henry Vu, University of Würzburg
Marco Robinson, Bestselling Author & Co-founder Naked Technologies
Kevin de Patoul, Co-Founder Keyrock
Philipp Giese, Chief Analyst at BTC-Echo
Stephen DeMeulenaere, ICO Advisor, Speaker
Christoph Heuermann, Consultant, world traveler
What tips would you give to people attending to get the most out of it?
Sign up as soon as possible, join our Facebook group to plug yourself into the community, and let friends know about the Summit, so you can discuss what you've learned afterwards and take action upon the learnings. Join a local meetup in your city, to meet even more crypto enthusiasts.
How can people book tickets?
You can get a free ticket now in pre-sale at www.cryptario.com
This ticket gives you full access to all interviews on the day of each interview. An upgrade to the Summit Package is available to get life-time access and other additional content. All information available on the conference website www.cryptario.com
Anything else you'd like our readers to know?
Don't ignore this huge technological trend and its implications. Instead, sit back, relax and listen to the experts at the Cryptario summit. Get educated and draw your conclusions from that. And if you want to support the Cryptario Summit and the philosophy of educating people about crypto, ICO and blockchain, then reach out to me on LinkedIn or elsewhere.