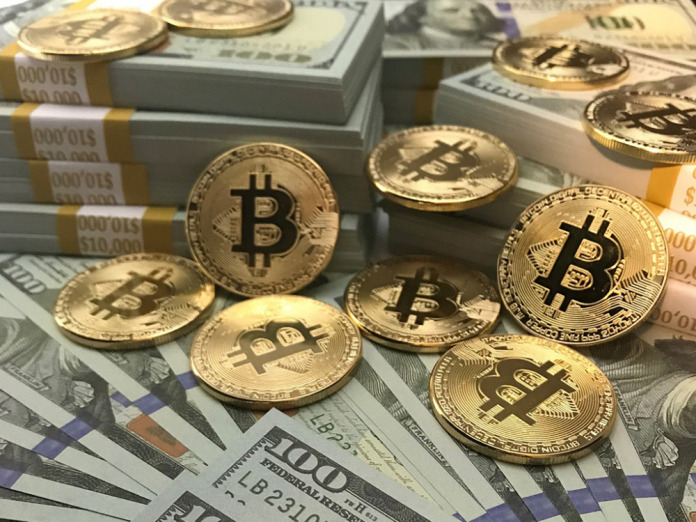 A new report reveals that there are roughly 23 million holders of bitcoin worldwide
Bitcoin adoption continues to grow, however, the increase in whales is alarming
Despite plenty of warning, many users still leave their coins on crypto exchanges
New research from on-chain analysis firm Glassnode has revealed an alarming statistic – seven of the wealthiest crypto exchanges control approximately 13% of the circulating bitcoin supply.
The study titled How Many Entities Hold Bitcoin takes a different approach to count bitcoin HODLers since most studies rely almost exclusively on the number of blockchain addresses.
1/ 🚨How many entities hold #Bitcoin?

We introduce a new generation of on–chain metrics and define an upper limit for the number of entities holding $BTC.

According to our numbers currently ~23 million entities own $BTC.

Read the full story here 👇https://t.co/5KMMACRVbN

— glassnode (@glassnode) January 28, 2020
The Glassnode methodology describes each holder as an "entity" since entities can have multiple addresses, including individuals or exchanges:
Note that with our approach we only aim at solving one of the two confounding factors that follows from using addresses as a proxy to the number of users: mapping multiple addresses to a single entity.
Different Ways to Read the Data
From one point of view, the overall growth of bitcoin entities remains incredibly healthy. As of January 2020, approximately 23 million entities are holders of bitcoin compared to ~28.4 million non-zero addresses in circulation: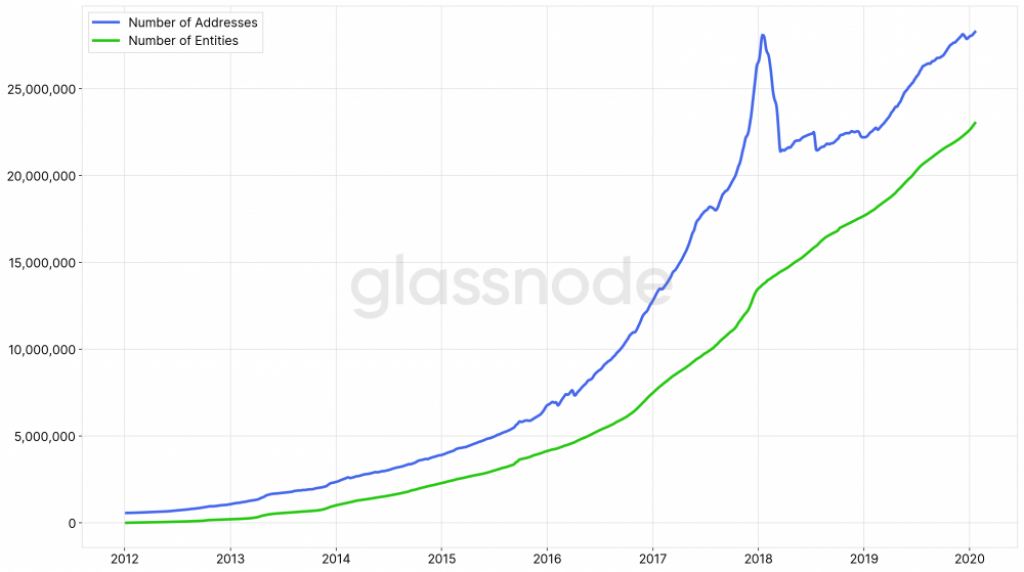 Interestingly enough, only 21 days out of bitcoin's entire 11-year lifespan have seen negative net entity growth.
From another point of view, however, the marked increase in the number of whales may signal bad news for a healthy crypto economy.
The number of whales (entities holding more than 1,000 BTC) rose to record levels in mid-2016 and looks poised to blow past that level in the next two years:
As has been covered in multiple publications, there are still widespread concerns over the concentration of wealth in the bitcoin ecosystem. For now, it remains lower than other cryptocurrencies, but the long-term trend does not bode well.
Cryptocurrency Exchanges Remain a Security Risk
The whale statistic may be somewhat offset by the fact that only seven entities hold more than 100,000 BTC, all of which are exchanges. Coinbase holds almost a million BTC while Bittrex comes in last holding just over 118,000 BTC.
Together they total 2,350,000 BTC or approximately 13% of the circulating bitcoin supply. That's a staggering statistic. It's no wonder then that hackers commonly refer to exchanges as honeypots.
It shouldn't need to be said that leaving your cryptocurrency in the hands of exchanges long-term remains a significant security risk.
As acclaimed bitcoin expert Andreas Antonopolous above explains, the entire point of crypto is self-sovereign banking. Not your keys, not your coins.
Feature image courtesy of Cryptocurrency360.com.