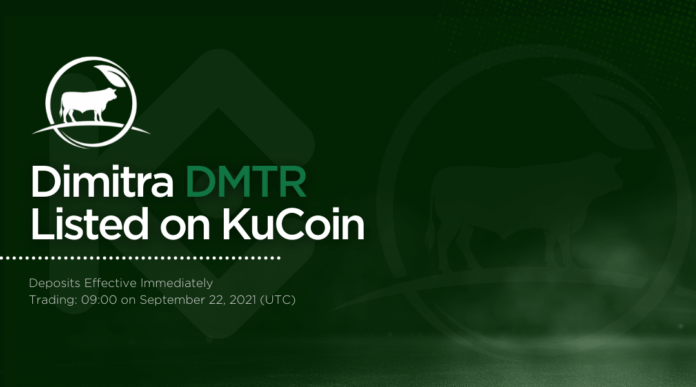 Dear Dimitra Community,
We have some fantastic news to share with you. Dimitra is excited to announce the listing of the $DMTR token on KuCoin, recognized as one of the world's leading crypto currency exchanges. The exchange's user base is global and it is considered to be one of the leading trading venues for emerging and established altcoins.
KuCoin is the first exchange to list $DMTR. This listing, to be followed by other centralized and decentralized listings, will facilitate and accelerate Dimitra's goal of democratizing agriculture technology for farmers globally.
The Dimitra $DMTR token will be available for deposit initially with the DMTR/USDT trading pair.
– Deposits will open at 11:00am UTC on September 21, 2021

– Trading will start at 09:00am UTC on September 22, 2021
All trading execution is done through the official website at www.kucoin.com or within the KuCoin Android and iOS apps
Dimitra is grateful and fortunate to experience the growth of such an active and loyal community! We are looking forward to continuing to grow together.
📢 WORLD PREMIERE LISTING

Dimitra $DMTR Gets Listed on #KuCoin! @dimitratech

🔹Pair: DMTR/USDT
🔹Deposit: now open (supported network: ERC-20)
🔹Trading: 09:00 am on September 22, 2021 (UTC)
🔹Withdrawal: 10:00 am on September 25, 2021 (UTC)

Details: https://t.co/gr9Dt4a03M pic.twitter.com/Y2hnxoBDUN

— KUCOIN (@kucoincom) September 21, 2021
Check out KuCoin's listing announcement here: https://www.kucoin.com/news/en-dimitra-dmtr-gets-listed-on-kucoin-world-premiere?utm_source=twitterinfo
Dimitra (DMTR) is a blockchain platform that is democratizing the agricultural technology space for smallholder farmers globally. Dimitra provides access to the blockchain, machine learning, Internet of Things sensors, and Satellite Technology through a mobile platform that helps farmers globally increase their yield, reduce costs and mitigate risks. Current farming practices are not sustainable; creating an evolution of practices will contribute to solving some of today's largest issues for farmers. Issues like poverty, hunger, global warming, carbon emissions, freshwater, and soil preservation are all impacted by the adoption of Dimitra. Dimitra's platform provides utility by combining the crypto investment cycle with agricultural development practices within nations globally.