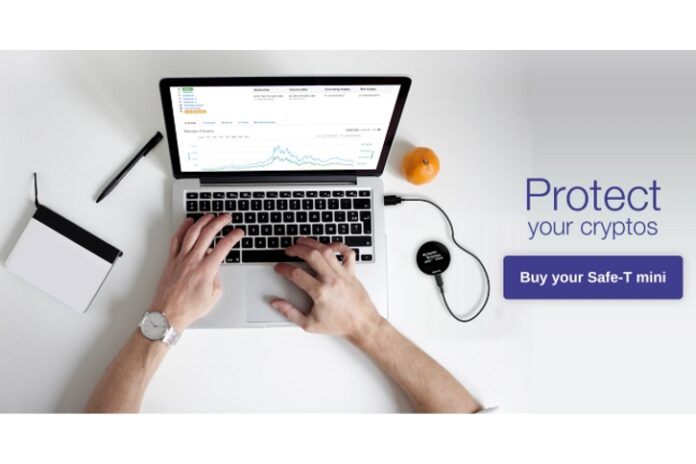 Alone, at home, but not out of reach of prying eyes
We always ensure that nobody is looking over our shoulders when we take money from an ATM. With cryptocurrency transactions, it can be easy to assume in the safe confines of our homes that there are no prying eyes memorizing our private keys. But with millions of dollars of cryptocurrency stolen each year through malware, spyware, and trojan horses, solitude is not the same as safety. The solution is to keep your valuable coins and tokens offline using the Archos Safe-T Mini.
Private Keys, the long string of numbers used to access private wallets, are impossible to remember and even more difficult for fraudsters to guess. But many of us store these keys on our computers, phones, and other devices, convinced of their safety. The more diligent do as they are advised by writing the numbers down and keeping the paper somewhere safe. But papers go missing, or are destroyed. And if you want to make a transaction while you are on the move, the chances are you'll keep some of your crypto on an exchange or an online wallet for ease of access.  
With ever more sophisticated mechanisms at their disposal, fraudsters can intercept private keys when they are being entered, break into your home computer and find the numbers or, as happened last year in a series of malware attacks, replace the address you are sending coins to with their own and make off with the loot.  
With Archos' Safe-T Mini, all your crypto can now be stored in a small, portable device that is easy to set up, and usable offline away from the ears of eavesdropping thieves. 75% of all coins listed on Coinmarketcap are compatible, and with more tokens and coins constantly being added, there is no need to worry about finding a second home for your valuable digital currencies.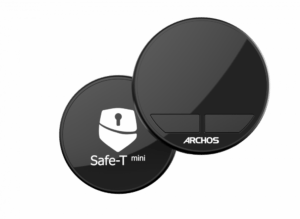 Fitted with a display screen for easy viewing, but small enough to fit in your pocket, the Safe-T Mini cannot be hacked and all transactions to and from the device are viewable as they occur, so it is impossible for modifications to transactions to take place without your notice.  
Moreover, the Safe-T Mini comes complete with the manufacturer's own expertly developed software, which must be installed on your computer to access the device, and is pin-protected. So even if the device itself is stolen, thieves will be unable to access your funds.  Your coins can then be restored on your replacement device using a safe passphrase.
Archos has developed an intuitive and easy-to-use system for operating the device, so you don't have to possess great technological knowledge to install and use your Safe-T Mini. It is the product of the electronic engineers of Eiffage Energie Electronique, experienced manufacturers of quality products.
Pre-order your Archos Safe-T Mini now for as little as $49.99 by visiting Archos online, join the conversation on Telegram