According to Fortune, Bitmain, the leading company of cryptocurrency mining, has cited an audit conducted by the firm KPMG in which it reported net profits of $ 1,100 million in the first quarter of 2018 which would be at least 35% of the benefits achieved in 2017. According to the estimated analysis reported on CNBC, the company generated between $3,000 to $4,000 million in profits in 2017, matching the benefits generated by Nvidia.
Bitmain, the leading company of cryptocurrency mining.
Bitmain Technologies Ltd. (Bitmain) is a company headquartered in Beijing, China with offices in the US, Israel, Netherlands and Switzerland. The main activities of the company are:
Developer of

specialized chips

for cryptocurrency mining. Their 16

nanometers (

nm) chips are one of the most efficient on the market when it comes to electrical consumption and hashrate.

Manufacturer of

cryptocurrency mining equipment

called ASIC (

application-specific integrated circuit

) for wholesale and retail. Their ASICs known as Antminer, depending on the model, can mine the algorithms of the most popular and profitable cryptocurrencies such as

Bitcoin

(BTC),

Ethereum

(ETH),

Litecoin

(LTC) and

Zcash

(ZEC), among others.

Developer

of own

cryptocurrency mining farms

which has one of the largest farms in the world, located in China.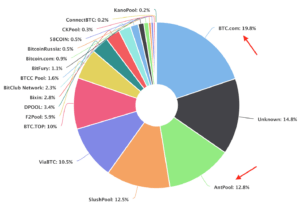 The bet of Bitmain's CEO
At only 32 years old, Jihan Wu is one of the richest people in the blockchain industry. According to Fortune, Wu revealed that his company plans to carry out an Initial Public Offering (IPO) on the Hong Kong Stock Exchange. The IPO would grant some of the first investors in the company, including Sequoia Capital and IDG Capital, a chance to make a profit on their initial investment.
The decision of the company, valued at approximately $14,000 million today, attracted the attention of investors around the world. The valuation of the company exceeds almost 5 times its 2017 profits, although their benefits could reach $4,000 million in 2018, according to the latest financial results of Bitmain before it went public.

The growing industry of cryptocurrency mining
Cryptocurrency mining is on the rise. New technologies and the emergence of new players has made the industry increasingly attractive to investors who want to get involved in the sector. Recently, Bitmain developed an "extremely efficient" ASIC for Zcash that greatly outperforms GPU miners (RIGs). There are also other projects such as Swiss Alps Mining that has been financed through an ICO to develop a new efficient cryptocurrency mining model.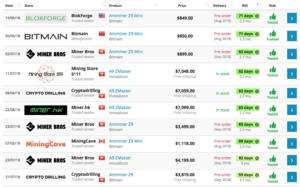 The Bitcoin price has dropped but the Industry continues to grow
The drop price of bitcoin since January 2018 seems to not have affected the world's largest mining company, which will soon have its IPO to formally invest in the industry. It should be noted that according to the Ethereum Co-founder, Vitalik Buterin, said industry will not grow by the amount of invention that it has, but by its level of implementation.
I think there's too much emphasis on BTC/ETH/whatever ETFs, and not enough emphasis on making it easier for people to buy $5 to $100 in cryptocurrency via cards at corner stores. The former is better for pumping price, but the latter is much better for actual adoption.

— vitalik.eth (@VitalikButerin) July 29, 2018