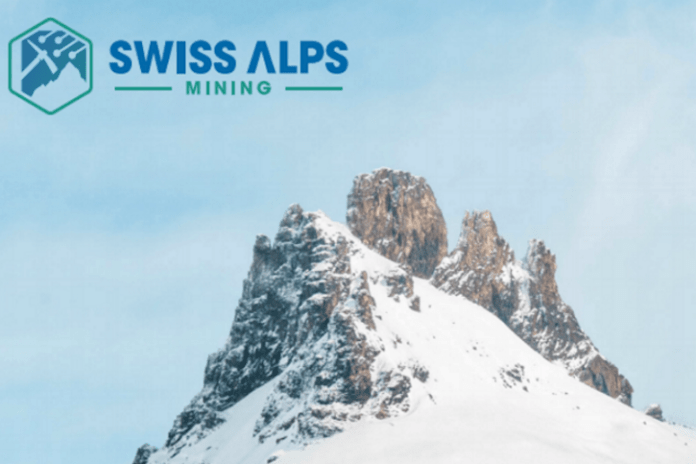 The cryptocurrency mining industry is constantly growing with entrepreneurs and companies having developed successful business models which depend upon this activity, also developing mining farms in a small backyard or in a gigantic industrial sheds. Mining is becoming increasingly complex and expensive as the hardware is evolving to be more and more efficient and mining farms are developed in places with ideal conditions to improve the profitability of cryptocurrency mining. Nowadays, it is an activity that requires expertise with knowledge in multiple topics such as electricity, hardware, networks, cooling, among others.
Currently, there are cryptocurrency mining companies in which you can invest without being a 'crypto geek' and without having to invest large amounts of money. Swiss Alps Energy AG (SAE) is launching its own ICO, which will serve as a funding mechanism to allow any potential customer to have access to cryptocurrency mining, either by buying a small portion of mining (hashrate) or to purchase one or more cryptocurrency mining modules with a capacity of up to 100 Bitcoin mining machines each.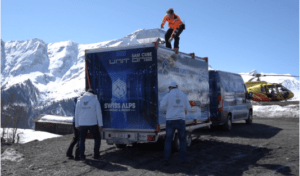 SAM Unit 1 being placed, source: swissalpsmining.io
Main features
SAE have developed a sophisticated, mobile, prefabricated and fast-mountable mining farm called 'Modular Cube System' (SAM Cubes) available in two sizes.
SAM Cubes' mining capacities can be rented completely or partially and hosted by SAE, guaranteeing highly energy efficient and cost competitive mining. Customers may also purchase cubes for their own use obtaining the necessary power from SAE and operating the cube on SAE's premises, or deploy the cube elsewhere.
The SAM Cubes are located in the Swiss Alps, with ideal conditions for natural cooling and renewable energy (at low cost) for mining activity, which reduces the electric cost by 30%.
ICO funds will be used to finance the development and expansion of mining facilities and to acquire holdings in hydropower plants. With the acquisition of hydroelectric plants, the energy will be self-produced, reducing costs drastically in comparison to other mining farms.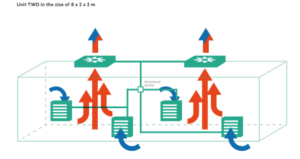 SAM Unit 2 workflow, source: swissalpsmining.io
Novelties
The SAM Cubes have a system called Organic Rankine Cycle (ORC) which facilitates the process of energy recovery, taking advantage of waste heat generated by the mining process in order to recover energy and decreasing energy consumption by up to 20%.
SAM Cubes are eco-friendly as they have dust-protected mining components, the used energy comes from renewable sources and the heat emitted is used to create its own energy thanks to the ORC system.
The rent or purchase of the SAM cubes, services and energy supply will be paid with their token.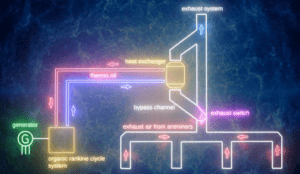 ORC System explained, source: swissalpsmining.io
Token Information
Token name = Swiss Alps Mining
Acronym = SAM
Platform = Ethereum ERC20
Max. Number of tokens = 239,682,538
Cryptocurrencies accepted = Bitcoin, Ethereum
FIAT accepted = yes
Soft cap = $5,000,000
Hard cap = $100,000,000
Token Information
ICO = 165,178,571 – 68.92%
Founders & Partners = 23,968,250 – 10%
Business Angel & Advisors = 19,174,600 – 8%
Pre-ICO = 14,583,333 – 6.08%
Future Contributors = 11,984,125 – 5%
Bounty = 4,793,650 – 2%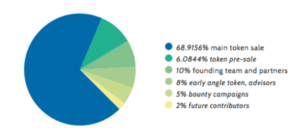 SAM token distribution, source: swissalpsmining.io
Funds Usage
Mining facilities / hydropower plants = 60%
Administration / salaries / rents = 18%
Marketing / promotions = 10%
Cube construction = 5%
Development / blockchain / certification = 5%
Legal = 2%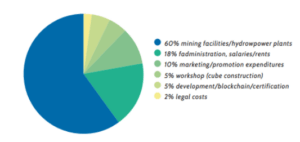 SAM token funds usage, source: swissalpsmining.io
Pre-ICO
Starts = May 29th, 2018
Ends = June 6th, 2018
Token price = $0,30 to $0,40
Min. buy = $5,000
NOTE: token price depends on purchase date.
ICO
Starts = June 15th, 2018
Close = July 27th, 2018
Token price = $0,50 to $0,80
NOTE: token price depends on purchase date.
The Leading Team
Gian-Carlo Collenberg – CEO, founder
Ramon Simon – CFO, founder
Michael Rava – CMO, founder
Rajasekaran Yogarajah – CTO, founder
Competitors
Social Media Presence
Additional Information
ICO Website
ICO Whitepaper
ICO One pager
ICObench Review
TrackICO Review
BitcoinTalk Forum
Conclusions
SAM is the evolution of the cryptocurrency mining farms in which they combine electrical efficiency, favorable conditions, state-of-the-art technology, eco-friendly mining and a team that has the necessary expertise to carry out the project. All the levels of efficiency that they implement reduce the electric cost up to 50% compared to other mining farms, which is a great advantage since the electric cost is the highest cost in the mining activity of cryptocurrencies, allowing the cryptocurrency mining industry to become both more sustainable and more profitable.