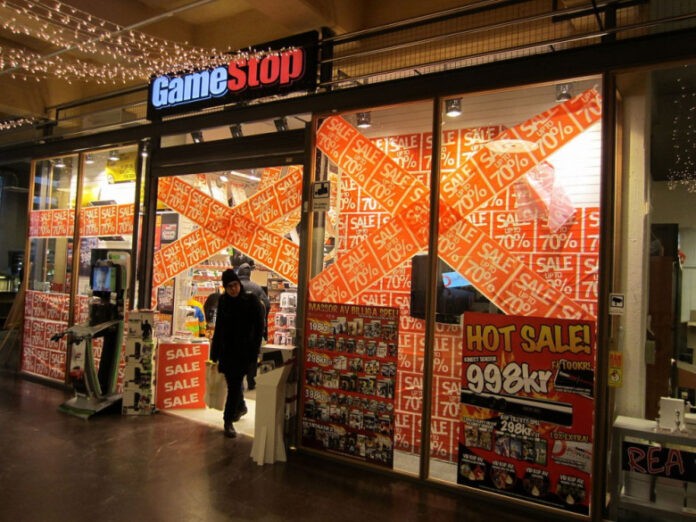 GameStop shares are up more than 180% daily.
Hedge funds incur tremendous losses after shorting the stock.
With institutional investors' growing interest in crypto, increased volatility is set to hit the crypto markets as well.
Mayhem erupted on the stock market as the hype on the r/wallstreetbets subreddit sent shares of the popular video game retail company GameStop flying. Over the course of the trading day, the stock price of GME increased by 181.7% compared to last day's close.
Reddit Degenerates vs. Hedge Funds
It is truly a David vs. Goliath story. Reddit users on r/wallstreetbets have been discussing GME as one of the most interesting stocks for several days already. However, what was needed to send to GameStop hype into overdrive was a single word out of the mouth of Elon Musk:
Gamestonk!! https://t.co/RZtkDzAewJ

— Elon Musk (@elonmusk) January 26, 2021
Due to the massive surge in stock prices, many hedge funds that have shorted GME saw their positions liquidated, forcing them to buy back their short-sold stocks at the market price, sending the price even higher ("short squeeze"). For short-sellers like the hedge fund Melvin Capital, this spelled losses that totaled up to billions of US-Dollars.
Among the bulls that have started GME's price surge was the VC investor Chamath Palihapitiya, who is an outspoken advocate for financial responsibility. After the pandemic-related market crash in March 2020, Palihapitiya stated that institutional investors such as hedge funds should not receive bailouts. Instead, hedge funds that exactly knew the risk of their investments should be allowed to fail.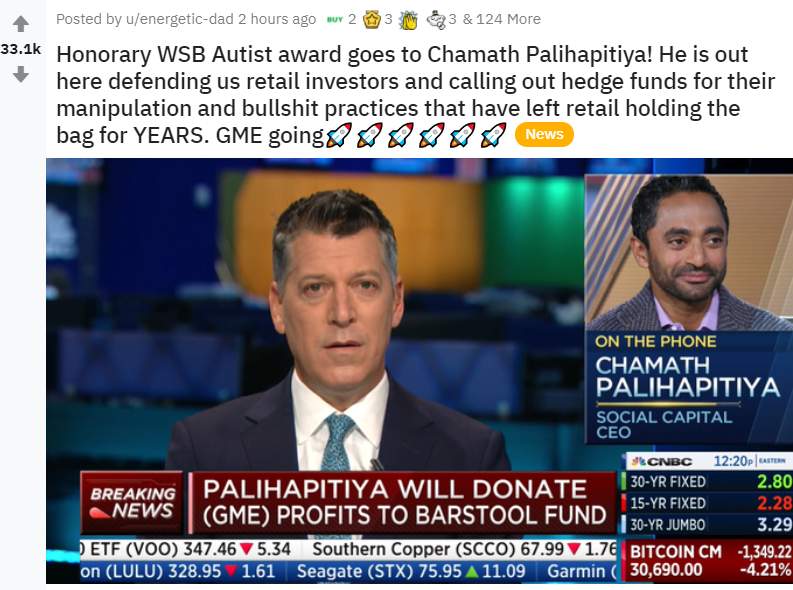 On both Twitter and Reddit, many users cheer the losses incurred by hedge funds and the subsequent redistribution of wealth towards retail investors. However, only time will tell if GME can support the current stock prices. For now, it seems as the stock will remain extremely volatile.
Thanks #GameStop stock riggers. If the entire financial system is going to be corrupt and lawless, I want it to be corrupt and lawless in a fun way.

— Matt Stoller (@matthewstoller) January 27, 2021
Can the same happen in the Crypto Markets?
As institutional investors are increasingly setting their eyes on crypto assets, the markets can become more volatile in the upcoming year. Already, the market dominated by crypto whales who can manipulate the prices with large trades. Even more so, this will be the case once hedge funds start placing their bets on crypto assets.
Short squeezes might also become a possible scenario. Currently, most short positions are opened through derivatives such as perpetual contract futures, which do not affect spot prices. Short positions can however also be realized through margin trades or DeFi borrowing. In this case, liquidations due to rising asset prices can force short-sellers into a buyback, creating more upwards price pressure.
Many of the redditors who saw gains through trading GME are also aware of the investment opportunities in the crypto-economy. This can be interpreted as a bullish sign as, in the short run, there might be a larger-than-usual demand for crypto assets.