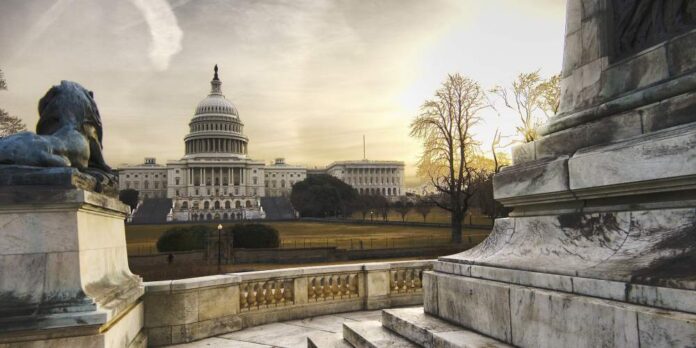 The House Committee on Financial Services held a meeting with some of crypto's most prominent figureheads in the US attending.
Blockchain Technology could reduce settlement times
A total of six major crypto CEOs was present in yesterday's House Committee hearing titled "Digital Assets and the Future of Finance: Understanding the Challenges and Benefits of Financial Innovation in the United States". The meeting was attended by Jeremy Allaire (Circle), Sam Bankman-Fried (FTX), Brian Brooks (Bitfury), Chad Cascarilla (Paxos), Denelle Dixon (Stellar) and Alesia Haas (Coinbase). 
A long-standing issue is the lack of clear regulation of stablecoins, which was addressed by Jeremy Allaire. The CEO of the Goldman Sachs backed stablecoin Circle USD has advocated for more regulation on stablecoin issuers. 
Paxos CEO Chad Cascarilla agreed to that, adding that blockchain technology could be used to improve the digital financial infrastructure of the US by speeding up clearinghouse settlement. During the GameStop short squeeze in January 2021, settlement times led to a liquidity issue for the trading app RobinHood, which resulted in a controversial trading halt. 
Related: Australia Reveals Plans For Massive Crypto Regulations
US "behind on ETF" says Bitfury CEO
Bitfury CEO Brian Brooks noted that the United States' stance on crypto ETFs is too restrictive. According to him, the restrictive regulations lead to a brain drain to the detriment of the US:
There is a reason why crypto talent is no longer concentrated in Silicon Valley, the birthplace of the original commercial Internet. Sure, some talent has merely moved from Silicon Valley to Miami — but a surprising number of talented founders have left for Portugal, Dubai, Abu Dhabi, Singapore, and other jurisdictions that are not at all unregulated but that have a more positive posture toward innovation and growth.
House Representative Patrick McHenry agrees to that notion, calling the existing regulatory framework "clunky" and "not up to date":
We need reasonable rules of the road, we know that. We don't need knee-jerk reactions by lawmakers to regulate out of fear of the unknown rather than seeking to understand. And that fear of the unknown in the move to regulate before understanding will only stifle American ingenuity and put us at a competitive disadvantage.