Australian entrepreneur Wallet of Satoshi is running a crowdfunding campaign for victims of the bushfire disaster

The campaign has so far raised 2% of its stated 1BTC goal from 64 contributors

Bitcoin cannot be censored, however, there are still some trust issues when making these kinds of payments
Bush fires continue to run rampant in many parts of Australia. One locally-based entrepreneur, however, is using this tragedy and the power of bitcoin to raise funds for victims down under.
Wallet of Satoshi, a crypto wallet that makes use of the lightning network, has recently launched a crowdfunding campaign on Tallycoin.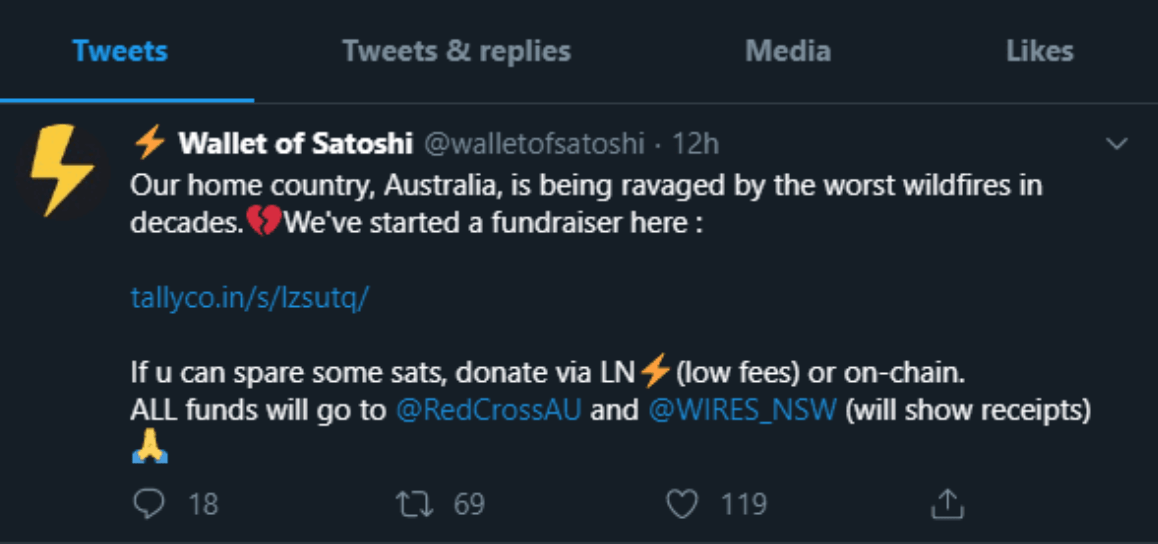 Wallet of Satoshi is asking for spare satoshi's | Source: Twitter
The creator of the wallet app is hoping to raise just one bitcoin with this latest drive. That may not sound like much but to those who have been left homeless, every little bit helps.
One Goal, One Bitcoin
The campaign has so far raised only 2% of its intended goal from 64 contributors. And with the price of Bitcoin hovering around $8,000 that brings existing donations up to roughly $160.
Only 2% has been raised so far | Source: Tallycoin
The campaign ends in 8 days, though, Tallycoin does provide one massive benefit over other crowdfunding platforms – no third party funds transfer. Kickstarter, for example, is all-or-nothing funding and handles all donation funds on behalf of both backers and projects.
Tallycoin, on the other hand, acts just as a user-interface between you and a specific project. In other words, a project receives funds as and when they come in. They cannot be censored.
Compare this with PayPal, who last year pulled out on Pornhub payments leaving many users, particularly international ones, with few other payment alternatives.
The Dark Side of Crypto
Despite this massive benefit of cryptocurrencies at large, there's still some trust risk involved with making bitcoin payments. As Wallet of Satoshi points out, for those that don't trust where the funds are going, they are willing to provide proof for each donation:
"If u can spare some sats, donate via LN⚡️(low fees) or on-chain. ALL funds will go to @RedCrossAU and @WIRES_NSW (will show receipts)."
For all intents and purposes, this project appears to be completely legitimate. But crypto scams are a dime-a-dozen these days and there's no sure way to know what happens with your funds. You won't be able to pick up the phone and call for help if you happen to fall for one.