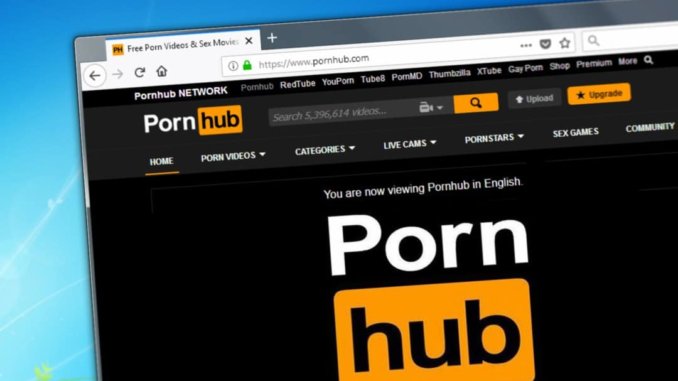 Payment monolith Paypal has stopped servicing the popular pornographic video sharing and site, Pornhub, as it violates its rules on sex work. But can cryptocurrencies offer a solution?
On Thursday, Pornhub shared an urgent message with its Twitter followers. According to the desperate plea, Paypal – the firm's go-to processor for paying its models – had ceased its services with them.
URGENT: PayPal has stopped all Pornhub model payouts.

If you had PayPal as your payout method please change to direct deposit/SEPA, or payment by check in your settings. Read more here https://t.co/LQAKeMsHIu

— Pornhub Model Help & Updates (@PornhubHelp) November 14, 2019
In lieu of the payment processor, Pornhub advocated that all concerned switch to direct wire transfer or payment by check. In a statement the site said:
We are all devastated by PayPal's decision to stop payouts to over a hundred thousand performers who rely on them for their livelihoods.
Heeding the porn platform's call – and clearly seeing an adoption opportunity – a myriad of cryptocurrency aficionados rushed to the rescue.
Scores of notable industry veterans were quick to suggest switching to crypto payments. Bitcoin dev, Jeremy Rubin noted:
"your models won't be de-platformed by Bitcoin."
Others suggested that a switch to a bank account would only delay the inevitable from happening again. Another bitcoin supporter, known as Damian Mee, also advocated a switch to a less censored alternative:
"Switch to SEPA/direct deposits, and have history repeat itself shortly, or take a moment to learn about money, and demand supports the only method that cannot be censored."
It seems Paypal has taken offense to 'sex work,' actively seeking to cut ties with any payments which originate from the world's oldest profession. This, it seems, includes pornography.
This isn't the first time Paypal has pulled its services thanks to porn. An op-ed in the Huff Post highlighted Paypal's seemingly discriminatory stance. According to the piece back in 2014, Paypal clamped down on the crowdfunding site Patreon, due to its "adult content," threatening to remove all PayPal functionality. As a consequence, Patreon buckled, flagging all adult content pages, making them private, and removing payment options.
Could Crypto Be the Answer?
Cryptocurrency adoption could indeed provide a much-needed avenue for performers to receive their payments. Cryptocurrencies not only offer instant, low fee transactions, but also a route away from centralization. Payment processors and banks are tethered by the whims of intermediaries, often looking to protect the brand over their patrons. This, in effect, leads to the kinds of censorship displayed by Paypal.
Seemingly in agreeance is Binance boss, Changpeng Zhao, who saw the potential of further crypto adoption.
Sounds like an opportunity for #crypto? https://t.co/vHG8XrtHU5

— CZ 🔶 Binance (@cz_binance) November 14, 2019
Judging from Pornhub's acceptance of crypto in the past, it may become an option. Back in April 2018, Porhub struck a partnership with the cryptocurrency, Verge (XVG). This enabled the platform to accept XVG payments for its premium subscription service. A blog released by Pornhub at the time called the alliance "an important foray into the future."
Soon thereafter, Pornhub – clearly liking the taste of the future – decided to add Tron (TRX) as a payment option.
Tron's head-honcho, Justin Sun, was quick to offer his services in sight of Paypal pulling out.
.@Pornhub accepts $TRX payment. We need to add USDT-TRC20 supports too. #TRON #TRX https://t.co/2cK6jgqP3e

— H.E. Justin Sun🌞🇬🇩 (@justinsuntron) November 14, 2019
Sun suggested adding USDT-TRC20 optionality – a Tether stablecoin running on the Tron network. This is a potentially viable option given its relative stability.
So, with the crypto space rallying to help Pornhub, is it likely we'll see an industry collaboration soon? Only time will tell.