Important date: March 5th – Crowdsale takes place
Number of tokens: 1 billion
Cap: $10 million ($1.4 million available in public sale)
Token type: ERC-20 token built on the Ethereum blockchain
Token ticker: ZCO

What is Zebi?
Zebi is a blockchain-driven solution to make sensitive individual data available for use. Zebi protects the data from unauthorized use and obtains consent from the data owner.
What is the problem Zebi wants to solve?
Personal data is increasingly valuable to businesses and governments across the globe. Much of this data is digitized and stored in an unsafe way. Recent hacks at companies such as Equifax and Yahoo makes securing this data all the more important. Startling amounts of data are maintained by companies without the consent of people. Zebi's technology will use the blockchain to allow users to authorize their data collection and make this data available for legitimate purposes in a safe and secure way.
What is Zebi's business plan?
Particularly impressive is Zebi's partnership with the Andra Pradesh government. Andra Pradesh is a state in India which is home to over 50 million people. This partnership should ensure that Zebi will have cashflow long before a majority of ICO projects. A roadmap for the project is below.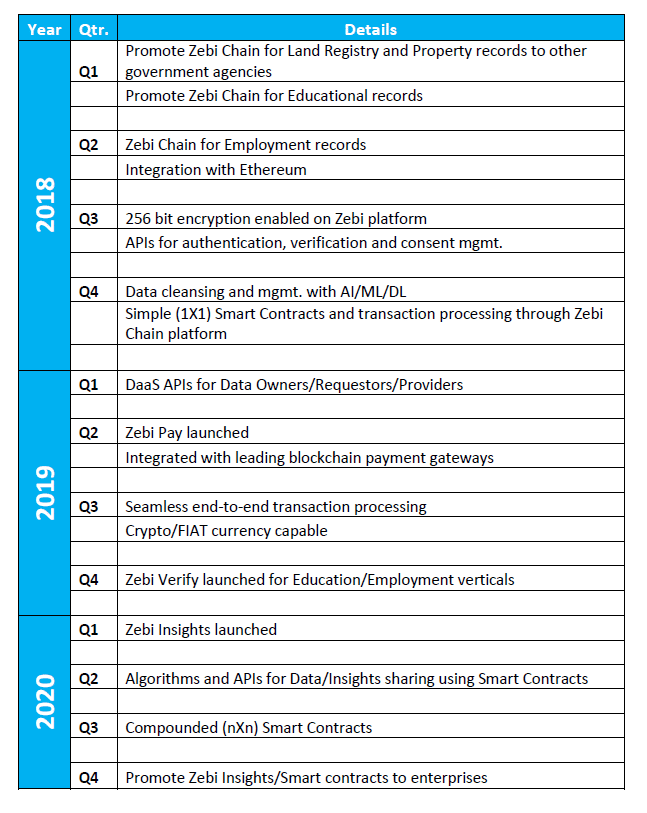 ICO
Zebi plans to hold its ICO on March 5th, with only 1500 ETH available. Of the $10 million cap, $8.5 was raised in a pre-sale. Zebi's token economics are reasonable. Of the 50% of tokens retained by Zebi, a maximum of 17.5% will be kept by the team. Reserves will be locked for 18 months after the ICO and only 12.5% of all these tokens may be released in any single year. These token metrics give a strong incentive for the team to make the project a success.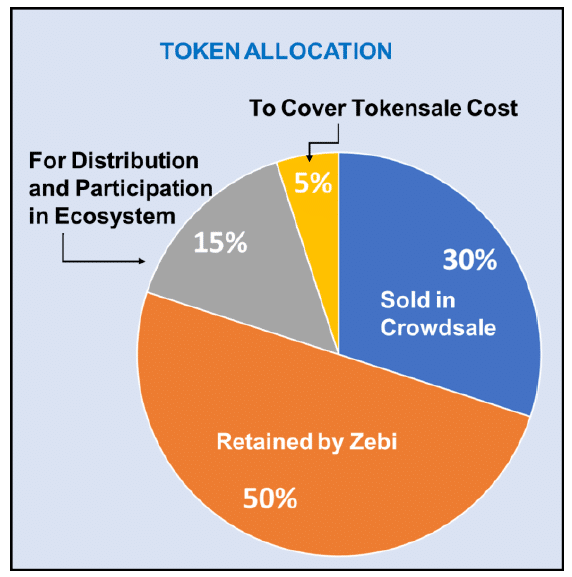 /////
Token Utility
The Zebi Coin (ZCO) is a utility token to be used as incentive for settlement of transactions within the Ecosystem. The ZCO, paid by the Requester for a data transaction, will be distributed among Data Provider, Individual and Zebi as a reward for making the transaction happen. The proportion in which this sharing will happen will be governed by a smart contract which can be adjusted by consensus among the participants. This is not a revolutionary use case for a token, and quite frankly there is no reason why Ethereum could not be used for the case proposed in the Zebi white paper.
The team
The team is based in Hyderabad, India and is strong. Its educational background (Stanford, MIT, Oxford etc.) is trumpeted prominently on the website (although much of this comes from the advisors).
Hype
Zebi has over 7800 people in its Telegram channel, which is a fair number. This number has been enhanced by Zebi's marketing efforts, which mandate those that wish to join the whitelist also join the Telegram channel.
Competition
It is difficult to say whether there is in fact direct competition for Zebi's product offering. In India, Zebi is unique, and questions to the team in Telegram have acknowledged this. Internationally, a business that secures data requests is also a new business model. As a result I am unaware of any direct competitors.
Risks
Token utility: The ZCO token has no function except being used as a form of payment for Zebi services. Due to the possibility of price fluctuations, users of the Zebi ecosystem will not want to hold tokens any longer than they need to, and will likely convert tokens immediately after they are no longer needed. This will depress prices over the longer term.
Investment Horizon
Short Term: Zebi's partnership with the Andra Pradesh government and its strong marketing have built up a strong buzz. In addition, the small market cap makes token price appreciation more likely. This is a good candidate for a flip.
Long Term: The unique business model and potential for further partnerships is strong, which is great. However, the poor token utility could ultimately limit price appreciation when the project is earning revenue.
Conclusion
Overall, Zebi is a strong project that has good potential. However, due to the poor token model the long-term possibility of token price appreciation is limited.