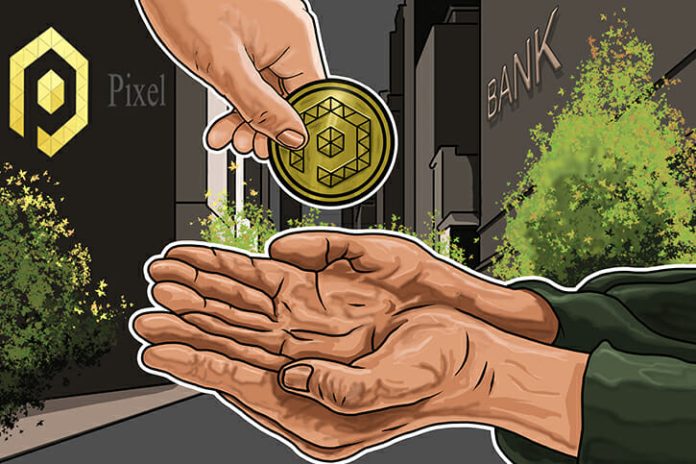 Donating funds to charity is a laudable endeavor. A good thing to do. Charitable contributions make a difference to your tax returns, too, so it's a win-win situation, both from a moral and a financial standpoint.
But charities are not always what they seem. Recent scandals have brought to light the inherent inequities within some of these organizations, where donated monies are not always routed to where they are supposed to be. Because of this, many good-will people are now reluctant to contribute anymore.
The advent of blockchain technology has enabled a new way of donating to charity through tokens, and Pixel Charity is a pioneering ICO in this field.
https://youtu.be/Q7hbsXQaqFE
Pixel Charity: the tokenization of charitable contributions
Traditionally, when one donates to charities, one is uncertain or unaware of where the money ends up. This uncertainty prevents many people from donating.
Pixel Charity proposes a blockchain-based payment tool for would-be donors to use tokens for their contributions.
How it works
https://youtu.be/iYXcwefLlvg
Users receive only PXL, PXLT is the security token for ICO investors. Please see the website for further explanation.
The amount transferred is placed into a bank account, and the interest accrued is donated to charitable organizations with good reputations. The main capital remains on deposit.
Consult the whitepaper for more details.
Pixel Charity in figures & quick facts
Here we GO! 30% BONUS for the first 1,000,000 PXLT. Harry up! https://t.co/y9f9jy0Lyb pic.twitter.com/2nsBFsL0Kw

— Pixelcharity (@pixelcharityico) May 29, 2018
Token name – PXLT
Total amount of tokens issued – 20m
Total amount of tokens available for sale – 14m
Token price – 1PXLT = $0.75 – $1
Private sale start date – April 19th, 2018
Private sale end date – May 3rd, 2018
Pre-sale start date – May 6th, 2018
Pre-sale end date – May 26th, 2018
Token sale start date – May 28th, 2018
Token sale end date – June 30th, 2018
Soft cap (during Token Sale) – $1m
Hard cap (during Private Sale) – 500,000 PXLT
Hard cap (during Pre-Sale) – 1m PXLT
Hard cap (during Token-Sale) – 13.5m PXLT
Notes:
Funds will be returned to investors if the soft cap is not reached
All unsold tokens will be burned
The PXLT token
The company will issue its own currency, the Pixel CrowdSale Token (PXLT), which is based on the Ethereum ERC-20 Standard.
Once created, the tokens will be distributed as follows:
Pre-sale – 5%
Token sale – 70%R
Reserve – 12%
Founders and team – 9%
Bounty – 4%
Bonus Program
Pixel Charity Introduces Blockchain to Charity
Blockchain project Pixel Charity intends to make charity more transparent and fair in the distribution of donations https://t.co/Jqh5qWH0hN pic.twitter.com/tC4muo62Ir

— Pixelcharity (@pixelcharityico) May 25, 2018
Pixel Charity will run a Bonus Program. Consult the Token Information document on the website for details.
Bounty Program
Join the Pixel Charity Bounty campaign WEEK 2. Register here: https://t.co/FaxtXuSN1e#charityico #bountycampaign pic.twitter.com/we5z9dBBNu

— Pixelcharity (@pixelcharityico) May 25, 2018
Consult the whitepaper for details.
Learn more about the Pixel Charity team here.
Social media presence and digital footprint
Pixel Charity – a crypto project which allows people to participate in charity without donating money#crypto #cryptocurrency #PixelCharity #ICO #fintech #Ethereum #IoT #AI #altcoin #ETH #crowdsale #token #Charity #donation pic.twitter.com/bIW0MswcVm

— Pixelcharity (@pixelcharityico) April 25, 2018
Here are the numbers for Pixel Charity at the time of writing (late May 2018).
Twitter – 1,811 followers
Facebook – 2,300 followers
Telegram – 673 followers
YouTube – 11 followers
Competition
Pixel Charity's concept, while not unique, is currently under-explored on the blockchain. Secure Donation Token, Giftcoin, and GivaCoin are probably the only other ICOs with similar propositions.
Charity is a very personal option, of course, and no matter how many platforms there are, there must also be people willing to use them.
Consult the Pixel Charity Whitepaper for more information about the platform, additional features and services.
Conclusion
The best way to help charity without donating money https://t.co/9kgx5pNFNw Pixel – with us charity becomes free!#pixelcharity #pixel #itproject #charityproject #charityprojetcs #donate #donatenow #donatemoney #donation #charitydonation #blockchaintechnology #foundationcharity pic.twitter.com/BfObYKL7wi

— Pixelcharity (@pixelcharityico) April 20, 2018
The charity sector has come to the spotlight for all the wrong reasons more than once. Charities may sport all the good intentions and plans, but their execs walk away with six-figure packages too often.
Donating via tokens, while still representing a financial investment, introduces a proxy entity to donate through, and limits the donor's exposure to financial loss.