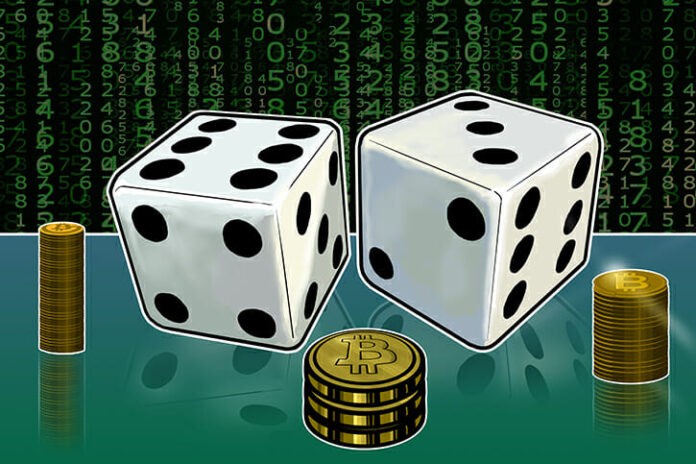 The online betting industry is gigantic and one of the most lucrative online businesses out there. With an expected market share of about $60bn by the year 2020, the sector is only going to get bigger.
The lure of online betting lies in its simplicity, ease of access, and of course, the possibility of walking away with some financial gain.
The industry has been around since pretty much the dawn of the internet. The first betting sites began appearing circa 1994, specifically when Antigua and Barbuda passed its Free Trade & Process act. This paved the way for the granting of licences to companies intent on providing online betting services where real money would be exchanged. It's all been a whirlwind since then.
Today, online gaming platforms accommodate the whole gamut of games: card games,
roulette, board games, dicing platforms, etc.
Neoplay enters the market offering one of the latter, a dicing platform based on the NEO blockchain.
Hey guys, Enjoy the #Crowdsale! Exchanges of both of tokens @NeoplayPlatform will be announced post-Crowdsale! #Blockchain #ICO #cryptocurrency #tech #NEO #ETH pic.twitter.com/YsJecrCwdN

— Márcio Teruel (@marcio_teruel) May 20, 2018
Neoplay: how it works
Dice are instruments used in games to generate random numbers. Traditional, cubic-shaped dice throw out a random integer in the one to six range.
The dice used in Neoplay's platform are somewhat more complex. They are 100-sided, which means that the generated integers are way more numerous.
First-week +40% bonus expires May 12th 8:00 PM UTC. Join our discord for more information! pic.twitter.com/95nlbfY3ld

— Neoplay (@NeoplayPlatform) May 11, 2018
Neoplay's game mechanics work like this: the player places bets in ETH or GAS on the results of a 100-sided dice roll, and chooses the odds of winning.
The outcome may be a win or a loss. However, in the latter scenario, Neoplay allows the user to take a second roll, assuming that the player holds enough tokens. If they win the re-roll, the player will immediately be credited with their winnings. If it's a loss, the player is prompted to re-roll again. The re-roll cost will be a function of the initial bet amount, and the expected payout of the bet.
True number randomization through Random.org
Questions about the true randomness of online betting and gaming sites always float around the back of a player's mind.
Random numbers can be generated through a variety of methods on the blockchain, but
usually involve combinations of blocks and transactions fed through hashing algorithms. While effective, these numbers are never truly random, as there is always an underlying logic to them, a trait that makes this mechanism vulnerable to exploitation.
Neoplay overcomes this problem by using numbers generated through Random.org, an
internet service that uses atmospheric noise to create truly random numbers that cannot be manipulated.
Neoplay in figures & quick facts
+25% Crowdsale bonus expires May 19th 8:00 PM UTC!! pic.twitter.com/mI3iwxC0pe

— Neoplay (@NeoplayPlatform) May 18, 2018
Token Name(s) – NPLAY & EPLAYTotal am
Total amount of tokens issued – 200,000,000 (NPLAY and EPLAY combined)
Total amount of tokens available for sale – 190,000,000 (NPLAY and EPLAY combined)
Token price – 5,000 NPLAY + 5,000 EPLAY = 1 ETH = 10 NEO
Token sale start date – May 5th, 2018
The Neoplay tokens
Neoplay offers two sister tokens, NPLAY and EPLAY. Both tokens will be initialized on Ethereum's ERC-20 standard, but platform users will have the chance to convert NPLAY tokens into NEO's NEP-5 protocol once it's implemented. Players have the incentive to purchase tokens to fund dice re-rolls.
According to the whitepaper, both tokens will allow players to re-roll losing bets, both tokens will be burned when utilized for re-rolling on their respective blockchain from their supply pool, and both tokens will be credited to crowdsale participants.
Consult the whitepaper for more details about Neoplay's tokens.
Bonus Program
Neoplay runs a Bonus Program during the Token Sale period, thus:
First day – 50% Bonus
First week – 40% Bonus
Second week – 25% Bonus
Third week – 15% Bonus
Final week – +5% Bonus
Other features
The Neoplay platform will offer a Neo Raffle and Lucky Neo games. Consult the whitepaper for more details.
Social media presence and digital footprint
The Neoplay website and whitepaper are up-to-date. We have included additional information pertaining to the crowdsale! https://t.co/wDtf16B98L #neoplay #NEO #ethereum

— Neoplay (@NeoplayPlatform) April 10, 2018
Here are the numbers for Neoplay at the time of writing (early June 2018).
Twitter – 129 followers
Medium – 21 followers
Competition
Neoplay offers a pioneering dicing platform, with perhaps only one direct competitor, Ethbet.
Neoplay should enjoy market prominence, should the actual implementation and execution of its proposition go according to play and remain true to their intentions.
Consult the Neoplay whitepaper for more information about the platform, additional features and services.
Conclusion
Registration / whitelisting / pre-approval will NOT be required to participate in the Neoplay Crowdsale happening on May 5th, 2018, 8:00 PM UTC pic.twitter.com/P1G1F2T8U8

— Neoplay (@NeoplayPlatform) April 16, 2018
Online betting is a stable and profitable industry. It's not devoid of controversy, of course, as its very raison d'etre is the exploitation of greed, with all the consequences that might bring.
From a purely technical standpoint, Neoplay offers a unique platform underpinned by
the true randomness of its number generation system.
Neoplay social media is currently negligible. It does not seem to even have a Facebook or Telegram account.