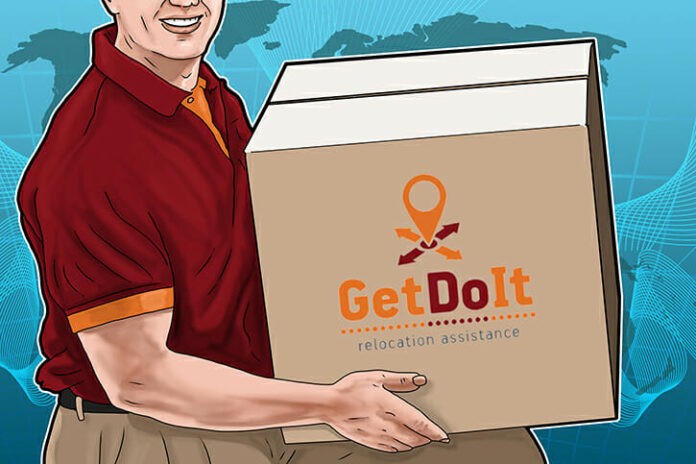 Due to technological advances in communications, the world has become unprecedentedly mobile and multi-integrated causing people to move constantly from one place to another for different reasons. In the case of Europe, moving has increased exponentially because the political agreements reached by the European Community made in the last 10 years mean that European states have melted together, giving more facilities to their citizens to move freely through their borders. Despite all this, there are some 'barriers' to break when a move is made because of the time and money required to search for contractors who may not have references.
GetDoit is a platform specialized in the moving processes, which combines all the related services for removals, from transportation to a specialist to assemble and disassemble furniture. It works with smart contracts to execute payment at the moment of the service is complete and has a valuation and comments system that makes it easier to hire contractors that are reliable and with good valuations. GetDoIt is registered in Australia and is carrying out an ICO to be able to finance its business model.
Main features
Users will have access to an

all-in-one user-friendly

platform that offers

all services related with moving

: transportation and logistics, moving, repair, assembling (or disassembling) of furniture and household appliances, renovation, remodeling, repairs and maintenance

Users can make 

specific requests

(one or more task), contractors find them and make an offer to the user if the request fits with their services

Users can

rate and comment on

the contractor's services and also will have access to rating and comments of the previous work done by contractors and service providers

In the registration process, the contractors and users will go through a

prior validation

(KYC) before being able to use the benefits of the platform, with the purpose of verifying that the person is real and identifiable

Contractors and service providers will receive payment when the services are

concluded satisfactorily

for the client thanks to the smart contracts

Services

will be available

in Germany, Austria, Switzerland and Australia and are aiming to be opened worldwide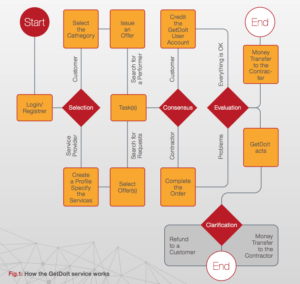 Token information
Token name = GetDoIt

Acronym = GET

Platform = Ethereum ERC20

Max. Number of tokens = 14,285,714,285

Cryptocurrencies accepted = ETH, BTC, BCH, LTC

FIAT accepted = USD

Soft cap = €1,000,000

Hard cap = €4,000,000
The maximal total GET token supply is set at 252 million GET: 100 million GET can be emitted during the private presale and 152 million GET during the crowd sale.
Max. Number of tokens = 10 000 000 000
Use on Platformt = 9,640,000,000
Token distribution = 360 000 000
Cryptocurrencies accepted = ETH, BTC, BCH, LTC, Dash, ETC, BTG
Token distribution
ICO = 100,000,000 – 35%

Pre-ICO = 152,000,000 – 35%

Team =  36,000,000 – 10%

Legal = 36,000,000 – 10%

Reserve = 36,000,000 – 10%
By ICO, Token price = $0,015 to $0,0286
NOTE: to guarantee that percentages remain the same, the token quantity can vary depending on if tokens offered on ICO are not sold completely.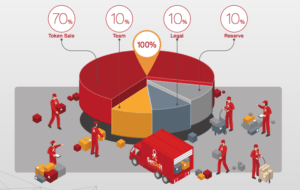 Pre-ICO
Starts = June 1st, 2018

Ends = September 30st, 2018

Token price = $0,010
ICO
Starts = October 1st, 2018

Closes = November 25th, 2018

Token price = $0,015 to $0,030
NOTE: the token price depends on the purchase date.

The leading team
Competitors
The value proposition of GetDoIt is original and there are no other similar projects with the same business model. There are many ICOs that are developing logistics platforms based in blockchain but these are mainly focused on international trade. There is only one platform called SLOGN Logistics that has a similar idea but is focused on B2B.

Social media presence
Additional information
Conclusions
GetDoIt has an original value proposition which no ICO or existing platform has implemented. Having a platform available which brings together all removal services, with rating and comments available for contractors, will save time and money for users who are relocating, whatever the reason.