Important dates: March 22nd 2018 – crowdsale begins
Number of Tokens: 1 billion
Cap: $30 million
Token Type: NEM Mosaic token built on the NEM blockchain
Token Ticker: DMC
What is Darc Matter?
Darc Matter is a decentralized platform for the alternative fund industry, allowing users to invest in alternative funds listed on the platform.
What is the problem Darc Matter wants to solve?
Many funds are not transparent and can only be accessed by the wealthiest investors. Transactions are hidden and open to fraud, such as in the case of Bernard Madoff. The industry is fraught with inefficiencies, with most interactions between funds and investors still done via paper. By moving transactions to the blockchain, Darc Matter can enhance transparency and efficiency at the same time.
What is Darc Matter's business plan?
Darc Matter was set up in 2014 and has an existing business of providing cross-border investment opportunities. Its current clients include JP Morgan, Deutsche Bank and other large institutions. The plan seems more focused on integrating the DMC token into the existing business model and moving current clients over to the blockchain. Further details are in the roadmap below.

ICO
The Darc Matter crowd sale is scheduled to take place on March 22nd 2018. 50% of tokens will be sold as part of the ICO. DMC tokens awarded to the team and seed investors will have a three-year vesting schedule. The management reserve is very high in my opinion, begging the question: why do they need so many coins?

Token Utility
DMC Token usage is described in the diagram below. Investors will primarily use DMC to consummate and process smart contracts that unlock investment opportunities. Users will be able to run master-nodes (Singularity Node) that will help process transactions.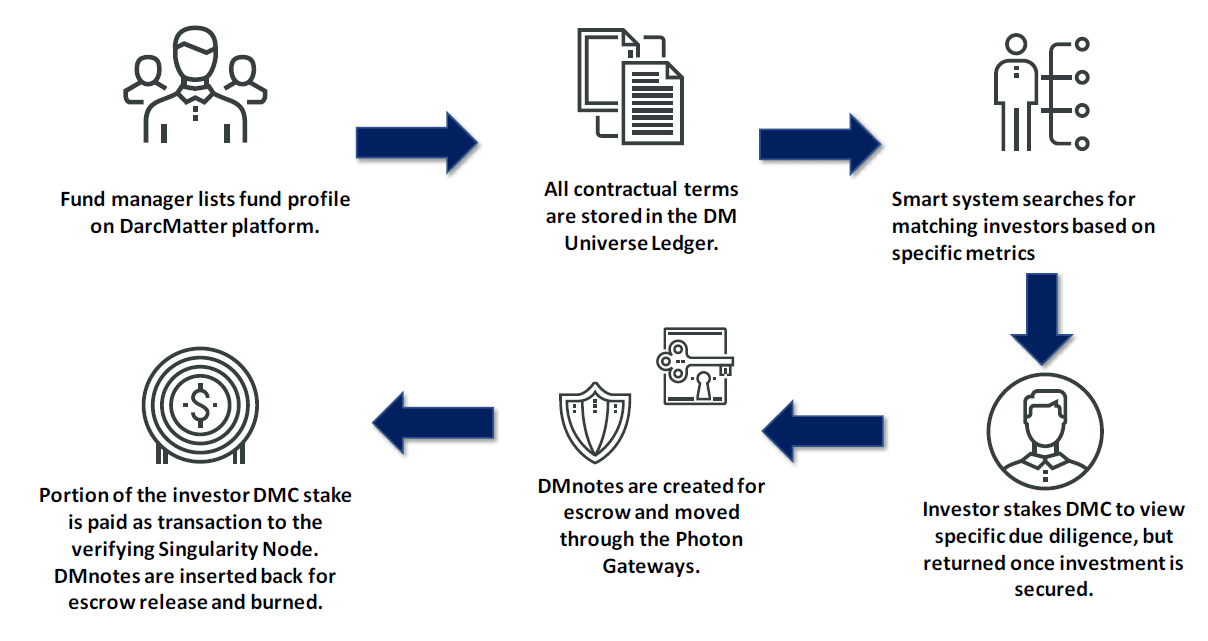 The team
The team is headquartered in New York. The CEO is Sang Lee, who used to work in Investment Banking at BNP Paribas. Advisors include Mark Mai, the founder of OkCoin and John Nahm, who supports Korean-led startups.
Hype
Darc Matter has just over 1200 people in its Telegram channel. There are very few social media mentions of DMC. Hype is pretty much non-existent for this project. However, Darc Matter has started an airdrop program which should help improve their visibility.
Competition
Iconomi: Iconomi is also a platform where funds are available for investors to buy in one place. However, unlike Darc Matter, Iconomi only focuses on crypto funds.
Melonport: Melonport is a more direct competitor to Darc Matter. It also wishes to disrupt the traditional asset management industry by replacing middlemen with smart contracts
Risks
Exchange Listing: The DMC token will be based on the NEM blockchain, which is not hugely popular with other dApps. The largest exchanges such as Binance and Bitfinex do not support NEM and thus will be unlikely to list a NEM dApp in the near future. This will substantially reduce liquidity.
Investment horizon
Short Term: Given the state of the market, poor hype and likely challenges over an exchange listing, I'm not convinced that DMC will perform well in the short-term.
Long Term: Despite the short-term uncertainties, the white paper is well-written and there is an existing business to back up the product. The fund industry is indeed in need of a shakeup, and Darc Matter's move to the blockchain could help. The long-term picture is much more optimistic.
Conclusion
Darc Matter is a strong project overall. It has an existing business, a strong use case and well-thought-out business model. Negatives include exchange integrations with NEM tokens and questionable token metrics for the team. Nevertheless, as a long-term investment, Darc Matter may be a solid choice.