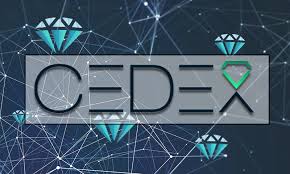 Diamonds are forever, as the song goes.
The small precious stones are relatively rare, which drives their value. The diamond trade is worth about $13bn a year.

Diamonds are a valuable commodity. It takes either a lot of wealth or the right social contacts to access trading channels, which leaves the average person out of the diamond game. The current marketplace only allows members of a certain professional and social circle to invest and trade this very profitable commodity.
CEDEX is a new ICO that hopes to enable normal people to invest and trade diamonds through a blockchain-based marketplace platform.
CEDEX: enabling the tokenization of the diamond commodity
Access to diamond trading channels is normally restricted to long-established professionals, so casual traders or investors would not have the same access as they would to other financial investment opportunities, such as shares.
CEDEX, in its own words: 'is a global exchange that focuses on bridging the gap between the traditional diamond industry and the innovative financial markets.'
CEDEX is 'creating a platform to bring together diamond supply and demand for trading in diamonds.'
Potential traders may wonder how or why they would engage in diamond trading with little or no knowledge of how the diamond market works, and that would be a valid question.
CEDEX offers DEX, a proprietary machine-learning algorithm, to assist in the process. DEX rates a given diamond's asking price by taking a number of factors and creating a benchmark value and a smart contract for every individual precious stone.
According to its own marketing blurb, DEX will offer 'transparency and coherency' to the diamond financial market. You can try an Alpha version of DEX through the CEDEX site.
Cedex in figures & quick facts
Do you want in on the #CEDEX action? now is your time, the pre-sale is still active and you can get your #CEDEX coins and own a part of history!https://t.co/zfQfJGvQ95 pic.twitter.com/klbYVcHQhc

— Cedex (@Cedex56082561) March 16, 2018
Token name – CEDEX
Total numbers of tokens issued – 100m
Total tokens for sale during ICO – 50m
Token worth – 1 CEDEX = $0.8
Pre-ICO start date – March 16th 2018
ICO start date – March 17th 2018 or April 13th, depending on the results of the pre-ICO
Hard cap – $40m
Cedex will accept ETH, Bitcoin, Bitcoin Cash, or fiat currencies as payment.
Any unsold tokens will be burned.
Bonus scheme
The #CEDEX pre-sale is 30 minutes away, so you better strap yourselves in because the next stop is the ICO of the year!#CEDEX #ICO #LAUNCH #HEREWEGOhttps://t.co/zfQfJGvQ95 pic.twitter.com/zMYVcQaytc

— Cedex (@Cedex56082561) March 16, 2018
Cedex will offer a bonus scheme for early investors.
Bonus during pre-ICO – up to 25% (0.3 CEDEX coin for each coin purchased)
Bonus during first day of sale – up to 25% (0.15 CEDEX Coin)
The CEDEX coin
The company will issue its own currency, the CEDEX coin (CEDEX), which is based on the ERC-20 standard.
The CEDEX coin will enable its holders to:
Certify diamonds in germological labs
Transportation services for the tokenized diamonds
Insurance services
Custodian services
Learn more about the CEDEX coin here.
The team
The CEDEX site presents a core team of 19 people plus eight advisors.
You can learn more about the CEDEX team here.
Social media presence and digital footprint
Minutes before the #CEDEX pre-sale starts, here are a few articles you may find interestinghttps://t.co/OXArkqhukL

— Cedex (@Cedex56082561) March 16, 2018
Here are the social media numbers for Cedex at the time of writing (mid-March 2018).
Twitter – 4,338 followers
Facebook – 2,091 followers
Medium – 67 followers
Telegram – 4,353 followers
LinkedIn – 142 followers
YouTube – n/a
CEDEX's presence on social media is not particularly remarkable, so their community
managers will need to work hard to expand this ICO's global reach.
Competition
CEDEX faces little in the way of competition at this time. There are no other ICOs that offer a blockchain-based marketplace for trading diamonds. From that standpoint, CEDEX enjoys a significant advantage.
Additional information
ICOBench review for CEDEX.
White paper
Consult CEDEX's white paper for more information about the platform, additional features and services, etc.
Conclusion
The world of diamond trading is a rather obscure and remote concept for most people, and what we do know stems from James Bond movies or murder mystery serials. In reality, only those who own substantial wealth and have significant financial clout have hopes of getting involved in owning or trading precious stones.
CEDEX offers a novel idea, a marketplace where more regular people can buy or trade
in diamonds. The concept is neat, yet many might be afraid to dip their toes into a market traditionally considered as elitist.
This ICO deserves a chance, if only to prove once and for all that diamonds are in fact forever, this time perpetuated by the blockchain.