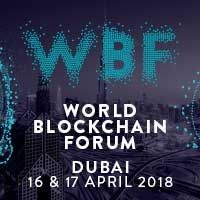 Presented by Keynote, the World Blockchain Forum comes at a pivotal time, as Blockchain becomes more than a technology but a strategy to radically redesign the institutions and services we take for granted. The space is changing quickly and there's no better time than now to be involved.
When and where is it on?
WBF Dubai will take place at the Madinat Jumeriah, in the UAE on 16th & 17th of April 2018.
How many years has it been going?
This will be our 3rd year in Dubai, making it Dubai's longest-running blockchain conference.
What was the inspiration to start it?
Without a doubt, Bitcoin, Blockchain technologies, and ICOs have become the hottest topics in financial technology, reaching levels undreamed of when the technology was created less than 10 years ago in 2008. Investment in the area from July 2016 – June 2017 surpasses all previous years combined. We've chosen Dubai because it is a global hub for innovation and investment opportunity.
What exciting things can people look forward to?
As the longest-running crypto-technology conference in Dubai, WBF will delve into the innovative possibilities of blockchain technology, the impact of cryptocurrencies on global financial markets, and the shifting landscape of ICOs.
The conference component of The World Blockchain Forum will cover a wide array of topics spanning from the Blockchain, Bitcoin and Ethereum, ICOs, investing, regulation, startups, disruption, and much more.
What opportunities are on offer for those attending?
The event will feature upcoming ICOs, forecasts on future investments, and regulatory standards as well as plenty of networking opportunities with executives and the entrepreneurs who are making it happen.
Keynote has developed a strong network of Blockchain industry speakers who will be presenting in 20-minute time slots throughout the two-day conference. There is a beautiful and spacious exhibitor's hall where exhibitors and sponsors will be able to interact with attendees on an intimate basis.
Who will be speaking?
Our keynote speakers are the best and brightest from the world of innovation. They are the innovators, thought leaders, and decision makers that ignite discussion and illuminate tomorrow's financial landscape; they are your shortcut to the future. We're still confirming lots of speakers, but for an updated list please visit: https://dubai.keynote.ae/speakers/
What tips would you give to people attending to get the most out of it?
Remember what you learn, take notes! Connect with speakers and other attendees (it is a networking event after all) and be prepared to share what you learn with fellow co-workers, colleagues and friends.
How can people book tickets / when does it usually sell out?
Tickets can be purchased before April 1st (at which time the price will increase) at: https://dubai.keynote.ae/tickets/