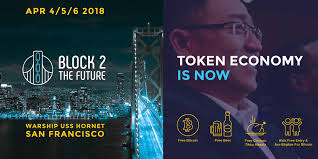 "Over 100 speakers and 3 days of awesomeness" are promised aboard the USS Hornet, for the inaugural Block2TheFuture conference 2018 – but hurry, the sale price for tickets is closing soon!
When and where is it on?
Alameda CA, April 4th to 6th. Most notably, it will be taking place on the USS Hornet, a 1942 Naval Aircraft Carrier.
How many years has it been going?
This is the first Block2TheFuture event. This event will be building on a similar one held in Santa Monica, in October 2017, and aims to engage the Bay Area community.
What was the inspiration to start it?
To create a conference for those curious about blockchain technology, ideas & our future. This event is primarily for the community to engage with the blockchain technology, learn, meet, and foremost connect with one another.
What exciting things can people look forward to?
Kids will get free entry, and will be free to stay on the USS Hornet overnight (if accompanied by parents), attendees can explore the key ares of the ship and the historical naval aircraft on board, as well as gain access to free Bitcoin. There will also be free beer, chicken tikka masala, and over 100+ prominent speakers in the blockchain field. This will also be the first time that kids are actively being engaged with at a blockchain event.
What opportunities are on offer for those attending?
All attendees will have access to all speaking sessions as well as breakfast & lunch. Depending on the package chosen, attendees will also have the chance at a free Bitcoin (fractional BTC), collectible T-shirt, collectible goodie bag, three books, collectible metal badge & more.
Who will be speaking?
All-in-all over 100 speakers will be presenting at the event, including:
– Tim Draper (DFJ)
– Brock Pierce (Entrepreneur)
– H. E. Ehlil Ahmad Hakimi, Finance Minister of Afghanistan
– Dr. Larry Sanger (Everipedia and Wikipedia co-founder)
– Anthony Pompliano (Full Tilt Capital)
– Aubrey de Grey (SENS – Cure Aging)
– Justin Newton (NetKi)
– Kavita Gupta (Consensys)
– Armin Ibrahimi (Shocard)
– Lily Liu (Earn)
– Liz Steininger (Least Authority)
– Tone Vays, Paul Walsh (MetaCert)
– Stan Miroshnik (Element Group)
– Howard Marks (Start Engine)
What tips would you give to people attending to get the most out of it?
The goal of Block2TheFuture is for all attendees to understand the current status of technology is not how mankind will move forward. We want attendees to become aware of the technology and have four to five actionable steps that they can take home and implement right away.
How can people book tickets, and when does it usually sell out?
Tickets can be found on their website here:
https://www.block2thefuture.com/
Tickets will likely sell out by the end of March, and there are three different ticket tiers/package options.