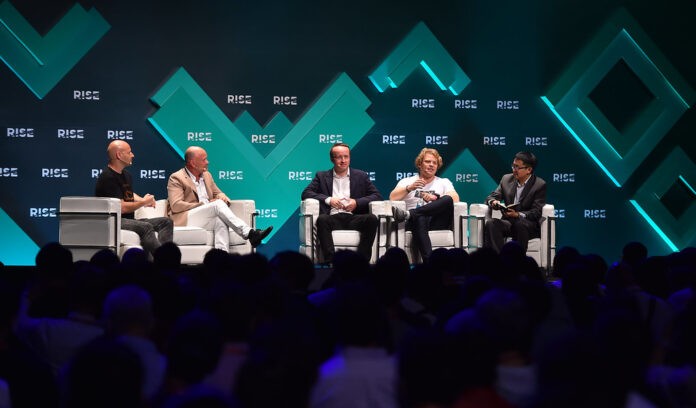 The Galaxy Digital CEO tried to smooth tensions on Twitter after a secret recording caught him bashing XRP.
The spat with Ripple CEO Brad Garlinghouse can only be described as low-key, given their business relationship.

XRP has severely underperformed bitcoin in the previous two years; however, only by December will we know if Novogratz's prediction is accurate or not.
Galaxy Digital CEO Mike Novogratz has struck back at critics after a recent article highlighted his distaste for XRP, the third-largest cryptocurrency by market cap.
Novogratz was speaking at a private TD Ameritrade conference in Orlando when he was secretly recorded saying that XRP would "underperform immensely again" in 2020.
The former billionaire took to Twitter to clarify his comments, presumably in light of one fundamental fact: Galaxy Digital is a hefty $23.8 million investor in Ripple, the company who created the XRP cryptocurrency:
1. GLXY is a big investor in Ripple Labs. I would like to see them do well. @bgarlinghouse has done a great job as ceo. I commented the XRP tokens underperformed $btc last year because Ripple owns a lot of them. I have been almost solely long $btc for the past 15 months.

— Mike Novogratz (@novogratz) February 6, 2020
According to media outlets, all type of recording was forbidden at the event; however, that didn't stop one enterprising journalist from capturing the damming comments.
Ripple CEO Not Impressed but Bitcoin Is Still Novogratz's Crypto of Choice
Novogratz's words appear as a half-hearted apology to Ripple CEO Brad Garlinghouse who broke his silence on the incident via his own Twitter response:
Also..this is the same guy that said bitcoin will go to 20K in 2019 ‾_(ツ)_/‾ #notNostradamus

He did predict Tom Hanks would win an Oscar for Mr. Rogers – maybe this is the prediction he'll get right? Personally voting for Brad Pitt though!

— Brad Garlinghouse (@bgarlinghouse) February 5, 2020
Given the nature of their business relationship, the indirect to-and-fro messaging can only be described as a low-key spat. To date, XRP has outperformed BTC in 2020, however, there are still 11-long months to go before a real winner can be revealed.
Ripple has announced many high-profile XRP partnerships in recent years, including remittance giant MoneyGram in August of last year.
The remainder of Novogratz's tweets echoes a sorry-not-sorry narrative. Intentionally or unintentionally, he has become one of the wealthiest crypto investors to spearhead bitcoin maximalism:
$BTC has found a place as a weapon in macro portfolios as digital gold – a hard asset. All other cryptos are venture bets and will only have lasting value if they become a product that is useful.
Despite his firm's sizable Ripple investment, Novogratz believes every other crypto still has a mammoth task of "proving itself".
In a 2017 interview with Bloomberg, Novo, as he is more affectionately called, estimated that 20% of his net worth was in digital assets.
Still a Long Way to Go to Recover Lofty XRP Highs
Garlinghouse is correct in his 2020 assessment; however, a proper look at the XRPUSD chart reveals a tough environment for investors over the last two years: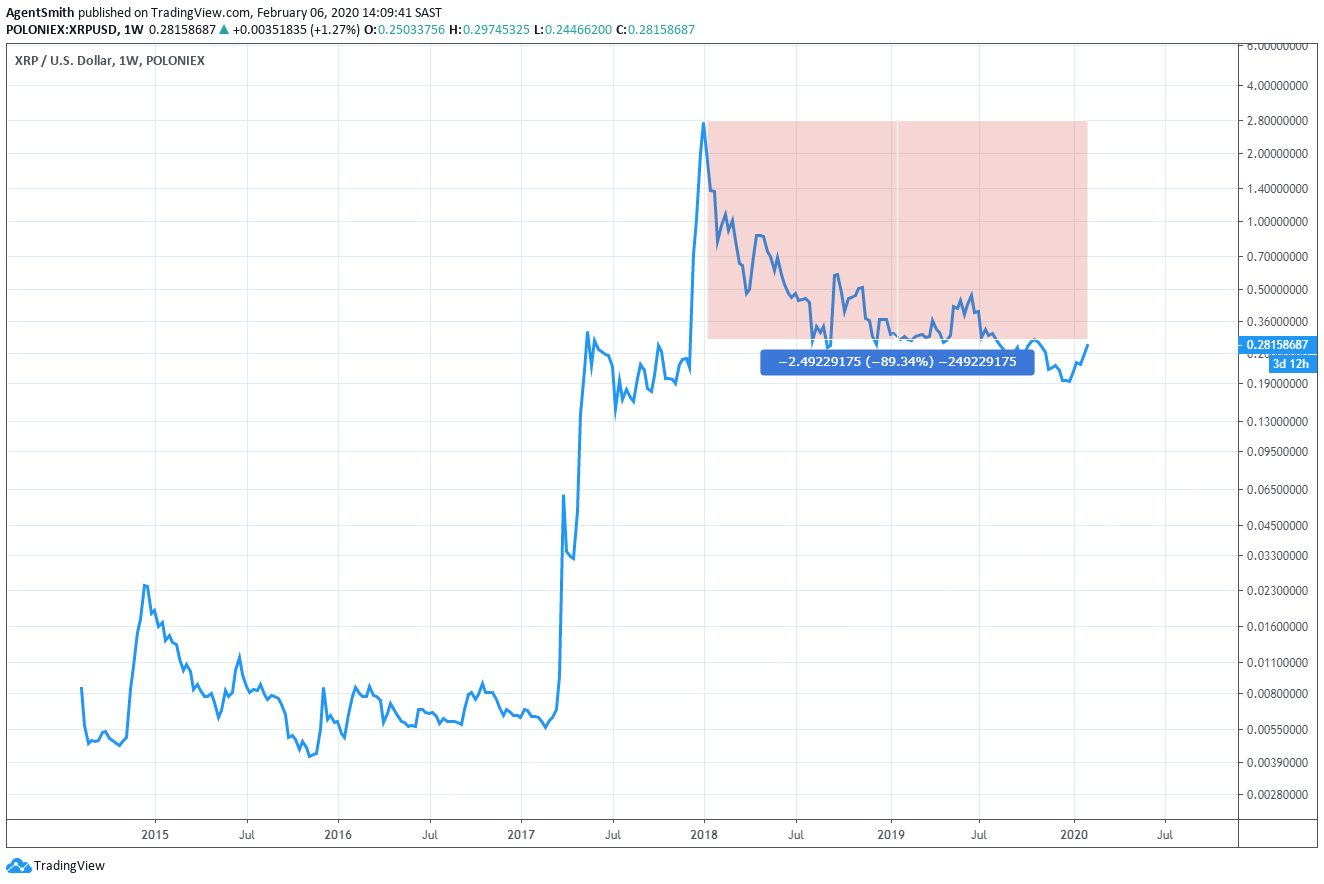 XRP is still down almost 90% from its all-time high, while bitcoin has retraced 50% of its losses.
2017 Saw bitcoin dominance drop drastically to altcoins, but that trend promptly reversed in 2018. Will 2020 be the start of a new altcoin trend?
Feature image courtesy of RISE.