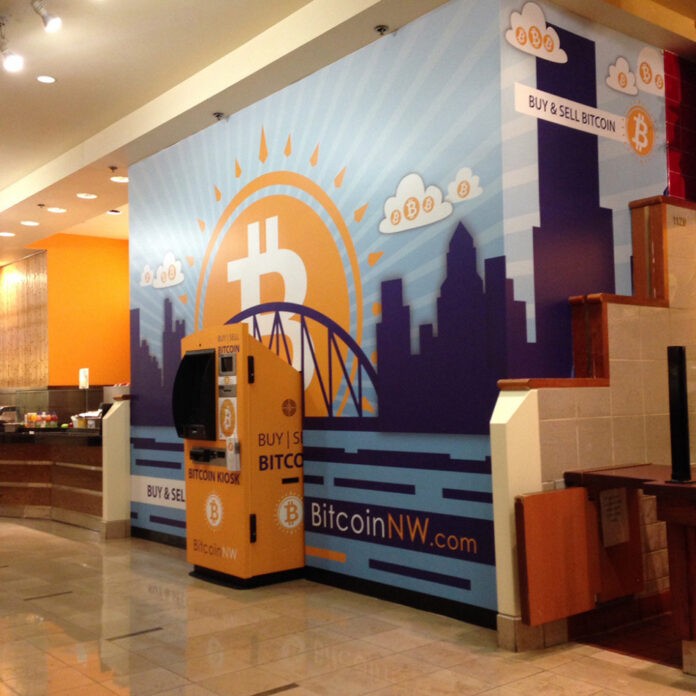 The number of bitcoin ATMs worldwide climbed above 6,000 for the first time in 2020.
ATM firm Bitcoin Depot recently announced that its installations totaled more than 500, making it the largest provider in the world.
Bitcoin ATMs will help fuel adoption, but they also suffer from fraud and privacy issues.
The number of bitcoin ATM's worldwide has skyrocketed above the 6,000 mark according to data out of Coin ATM Radar.
Crypto ATM installation growth sports a chart almost similar to that of bitcoin. The parabolic move kicks off the new decade buoyed by a February 6th press release from Bitcoin Depot.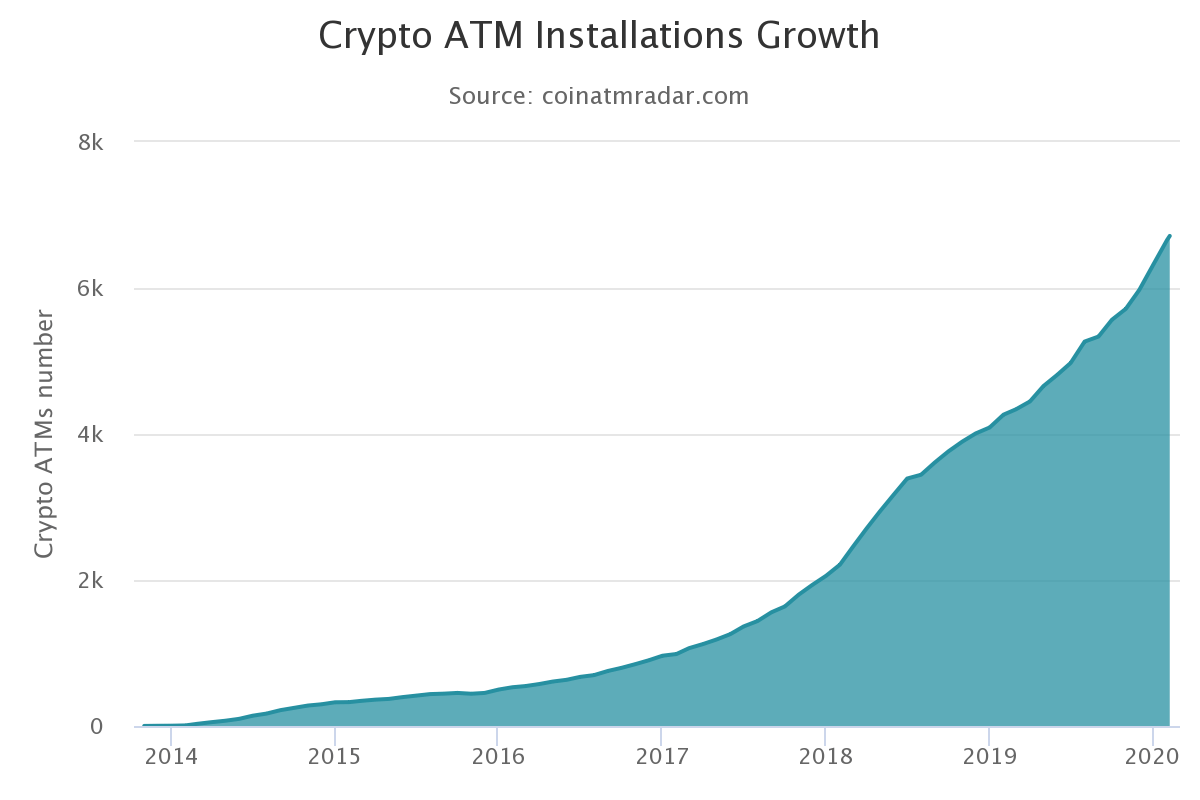 The Atlanta-based firm announced it had surpassed over 500 ATM's making it the largest network on the planet. Over a fifth of those can be found in Atlanta alone.
CEO Brandon Mintz told PRNewswire:
With more than 500 ATMs across 30 states, and more than 100 of those right here in our own backyard, we are significantly outpacing others in the industry.
Bitcoin Depot Claims the Number One Ranking
The announcement catapults Bitcoin Depot to the number one spot which was previously held by COINFLIP. With 540 machines in operation worldwide, Bitcoin Depot now has an estimated 8% share of the global Bitcoin ATM market: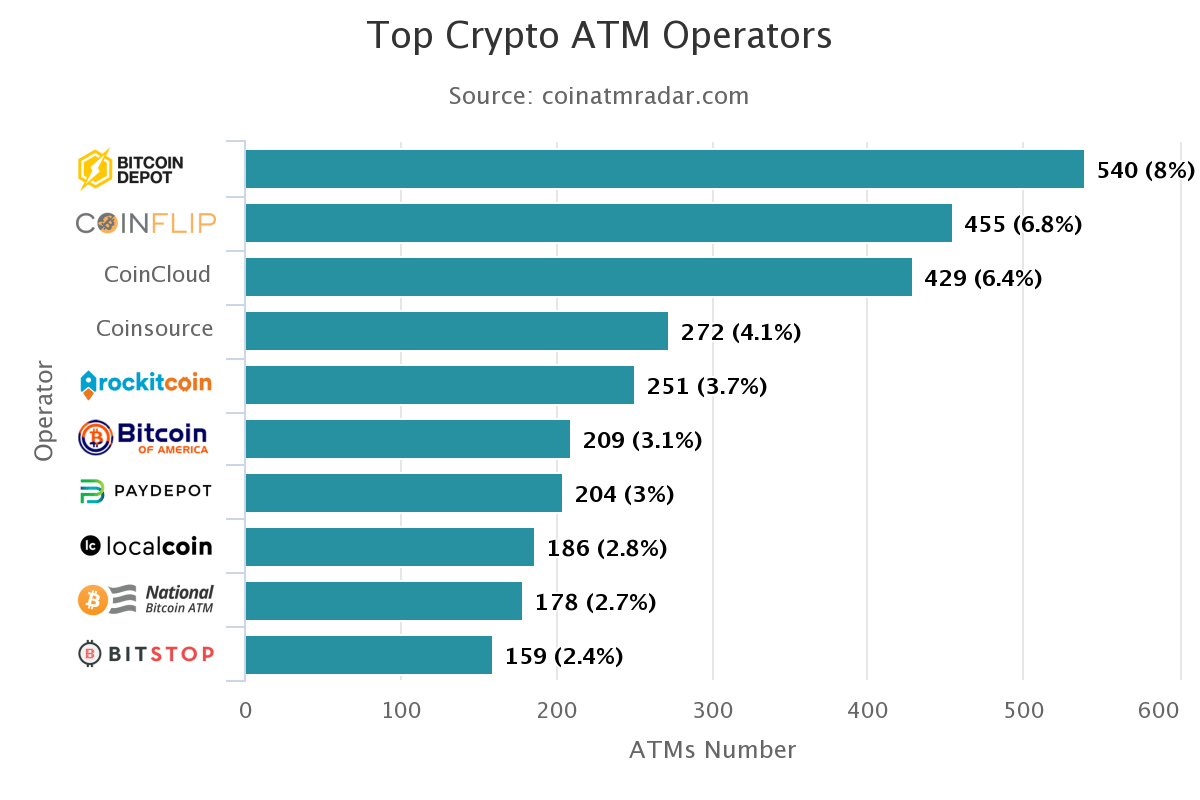 Bitcoin ATMs continue to expand to new locations in the U.S., but the picture isn't completely rosy. The resurgence of bitcoin ATM fraud means it literally pays to do your homework when buying from a reputable operator.
Not for Everyone but Probably Necessary for Adoption
The world's first Bitcoin ATM opened in Vancouver back in 2013. Now 7 years on, is there a case to be made for growing adoption? The numbers are still remarkably low.
A 2019 study claims that 11% of Americans own bitcoin. And these are only numbers for the world's most advanced economy. In other words, there's still a long way to go before cryptocurrency reaches mainstream consciousness.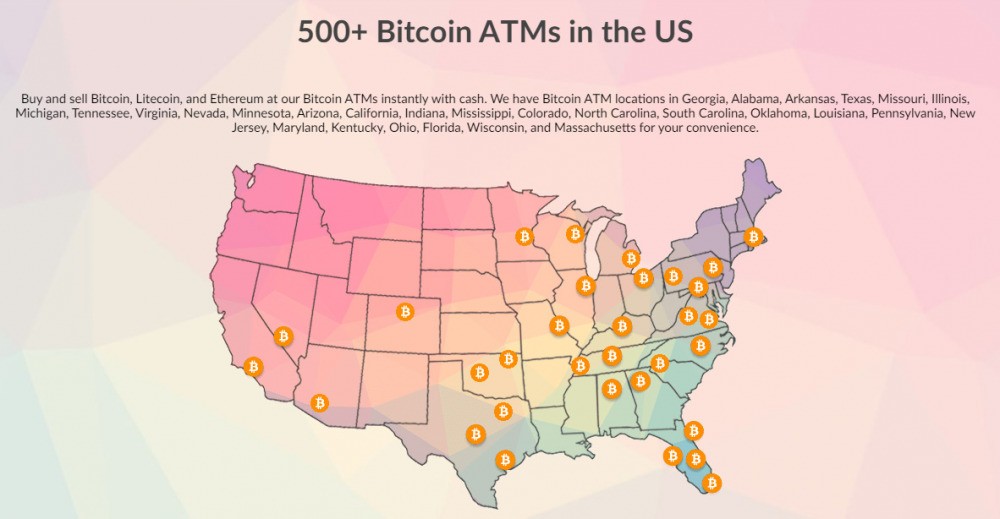 Fraud issues aside, some Redditors also point to growing concerns around transaction privacy with these machines:
There's not much appeal to bitcoin ATMs anymore though. At least in the US. They used to be a decent option for privacy but now most have cameras and require a non-burner phone number. Combined with high fees and risk I can't really recommend using one.
Bitcoin ATMs generally charge higher fees, sometimes in the region of 5-8%. Cryptocurrency exchanges are still, far and away, the cheapest and most efficient way to buy bitcoin.
They are, however, more technical to use for everyday citizens who have become accustomed to physical outlets. Advanced users may not like bitcoin ATM's but they are likely a necessary service if bitcoin adoption is to grow.
Feature image courtesy of Tydence Davis.