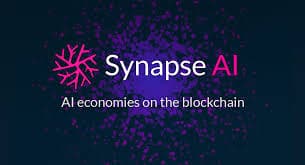 Dan Gailey is co-founder and CEO of Synapse AI, a decentralized data and AI marketplace. We talk to him about the announcement of the next phase of its token sale, coming soon.
What is your background?
I've been programming all my life. I grew up in the hacking/phreaking scene, educated in Electrical Engineering and Computational Chemistry, and grew my experience building infrastructure that facilitates transactions among heterogeneous multi-agent systems.
Does it seem like a logical background to what you do now?
Absolutely. My entire life is geared towards delivering this network and connecting all humans, devices, and intelligence.
Give us a one-minute pitch for what you are doing now?
Synapse AI is building the first decentralized AI + Blockchain Marketplace and Network for data, models, and agents. We're building the infrastructure that will run an autonomous logistics and supply chain, while providing insights and models of all participants (including humans).
Why did you get involved with this ICO?
I've been working on this for a while, so it made sense to create an ICO around it. We were one of a few to actually put work towards an ICO in summer 2016.
Why do you think it is such a powerful idea?
Decentralized access to decoupled services like data and machine learning, combined with provenance and access control via the blockchain can start to unlock global insights never before possible in traditional centralized systems. We're not even talking trillions of dollars in value at this point, but something bigger that can unlock new AI economies never imagined.
How can people find out more about the ICO, you, and your work?
Visit Synapse AI (https://synapse.ai) and sign up for the Token Sale. We have a second Tier available on February 5th 2018 and we're opening up the whitelist this week. People can find me on Twitter at @dpg, or LinkedIn, or Facebook.
What else should we know about your projects?
We're organizing the Decentralized AI Summit (https://decentralized-ai.com/) and we have some really huge names presenting, like Google, Nvidia, Samsung, Unity, IBM, Amazon, and a ton of independent researchers and startups like Synapse, Numerai, DocAI, Ocean Protocol, and the list goes on. Check it out if you want to see the future of AI and how it's going to change everything.