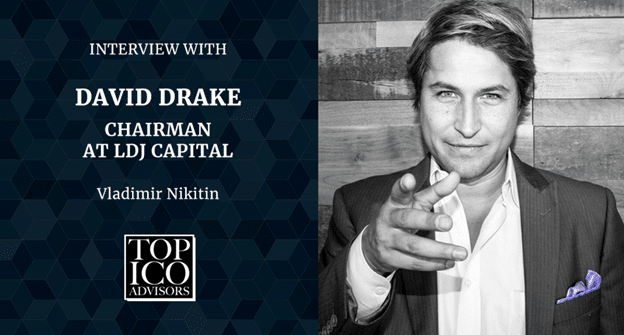 By Vladimir Nikitin (TOP ICO Advisor from the company Top ICO Advisors).
I am glad to present a new regular column: interviews with famous people from the cryptocommunity. One of the first in my column is a well-known face in the crypto community – David Drake.
What draws you to cryptosphere?
What draws me is that it's a global, instantaneous, payment system outside of the realm of red tape. It's also a capital preservation and offshore diversification strategy. It is the crypto revolution answer to the dot.com revolution
If a company was thinking about embarking on an ICO, what advice would you give them?
It's important that you build a crowd and following up at least 20,000 people that are embracing your business. Having a strong board advisory is crucial.
In how many projects do you currently participate in as ICO advisor? Tell us about most successful ones to date.
I have advised, reviewed, and worked with 250 different initial coin offerings this last year. It is my pleasure now to understand who can succeed and why they succeed. Crypterium, Opening, Polymath, Universa, Credits, Fanchi.se, Tradove, Wepower, Quantstamp are some great companies. Some are still fundraising
What criteria do you use to make the decision to join an ICO as an advisor?
I look at the team and their capacity to be able to raise capital, the previous success of their entrepreneurs, and obviously their understanding of how to take care of their token holders: that's very important to me. It is also important to see what kind of advice and board advice they have to support them in their growth.
What you think about ICO regulation from governments, as more than half ICOs are scam?
I think it is a necessary direction we have to deal with, and I like what your plan is doing by proposing the changes through the initial coin offerings
In which crypto-events of 2018 will you participate?
Mainly the ones in New York City.
How can you be contacted with a view to on-boarding as an ICO advisor?
Please email me at [email protected]; I try to be accessible.
Do you believe that a quantum computer can destroy all cryptocurrencies?
No I do not believe so; I think the calculations that are needed for that to be done are unsurmountable.
Do you think Bitcoin will ever cost 100k USD, and if so, when it will be?
In five years from now that will be a possibility because I look at it as gold. Just a finite amount of it, at 21 million and when I want to keep my gold safe I'm going to buy Bitcoin which has liquidity.
Should countries like Belarus accept the cryptocurrency and legalize them?
Absolutely, it makes for them as leaders in the thought process, and in the future of cryptocurrencies, and we are looking for countries who can see the possibilities.
Thank you David for your time, I wish you success in your affairs.