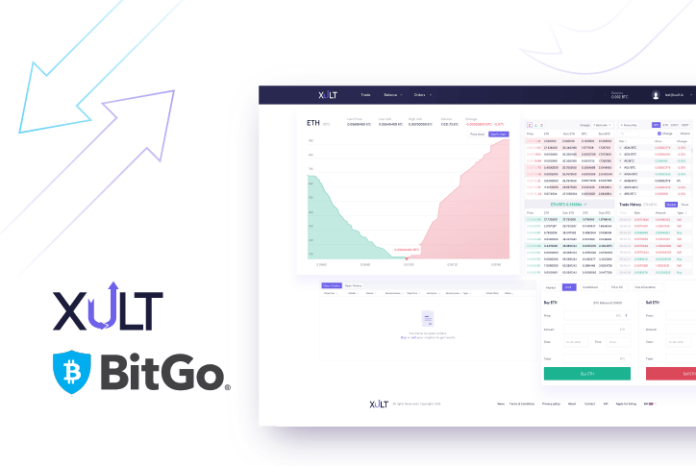 The Xult exchange powered by the ExchangeCoin (EXCC) just announced that they have signed an agreement with BitGo. BitGo is the market leader in institutional cryptocurrency financial services, providing clients with security, compliance, and custodial solutions.
The agreement, signed on 01.10.2018, includes services to provide hot storage wallets. These wallets are for the new exchange – Xult, which will be launched this quarter.
In his statement, Sylwester Szczepanek, the EXCC CEO said:"We're intensively working to deliver the Xult exchange on time. The agreement with BitGo is another big step, which will bring us closer to achieving success". He added, "The next big steps are already scheduled – we will announce the beta tests in just a couple of weeks, and our team is working on the preparation of the launch campaign."
BitGo is a leading provider in the industry. Therefore special attention is focused on safety and compliance, also they handle custodial/ maintenance problems. These services are in line with the Xult long-term strategy.
Speaking about this new partnership, Wiktor Głowacki, the EXCC CEO said, "There are many wallet providers competing in the crypto market nowadays. The BitGo wallets are intuitive and easy to use, focused on user experience, and offer a large number of supported coins which is integral with the EXCC philosophy to build exchange products".
"We're happy to welcome the Xult team," said Josh Schwartz, VP of Sales at BitGo. He added, "This collaboration is in line with our long-term strategy of cooperation with rising cryptocurrency exchanges, whose priorities are building a scalable and stable platform for investor funds."
As the EXCC team announced on their blog, Xult will be a new exchange, in addition to their decentralized exchange EXCC-DEX and the exchanger Xchange.me. Xult will be a part of the exchange platform for crypto traders powered by the ExchangeCoin (EXCC) team. As you can read in their Business & Marketing Q&A – there will be approximately 20 coins on Xult, for a great start, which includes the following: BTC, ETH, LTC, USDT, BAT, OMG, STATUS, 0x, and obviously EXCC. The Xult launch is planned for this quarter.
About ExchangeCoin
The ExchangeCoin (EXCC) was created in 2017 to provide finance in support of an idea to build a decentralized exchange platform. The platform was developed to offer services to semi-professional cryptocurrency traders. The ExchangeCoin is one of the rare cryptocurrencies with a value reflected in the features of real products. It is similar to the traditional market and stock exchange setting. You can find more information about the ExchangeCoin by visiting www.excc.co.
About Xult
Xult is an innovative user-oriented cryptocurrency exchange and is scheduled to launch in Q4 2018. This centralized exchange has features designed especially for professional to semi-professional traders that value an intuitive user interface experience with multiple order options. However, it is also user-friendly and easy for laymen traders to use as well. Xult is focused on popular cryptocurrency projects and newly emerging innovative coins and tokens. www.xult.com
About BitGo
BitGo is the market leader in institutional cryptocurrency financial services, providing clients with security, compliance, and custodial solutions. BitGo is the world's largest processor of on-chain bitcoin transactions, processing 15% of all global Bitcoin transactions, and $15 billion per month across all cryptocurrencies. The company has over $2 billion in assets in wallet, and a customer base that includes the world's largest cryptocurrency exchanges and spans more than 50 countries. In 2018, it launched BitGo Trust Company, the first qualified custodian purpose-built for storing digital assets. BitGo is backed by Craft Ventures, DRW, Galaxy Digital Ventures, Goldman Sachs, Redpoint Ventures, and Valor Equity Partners.