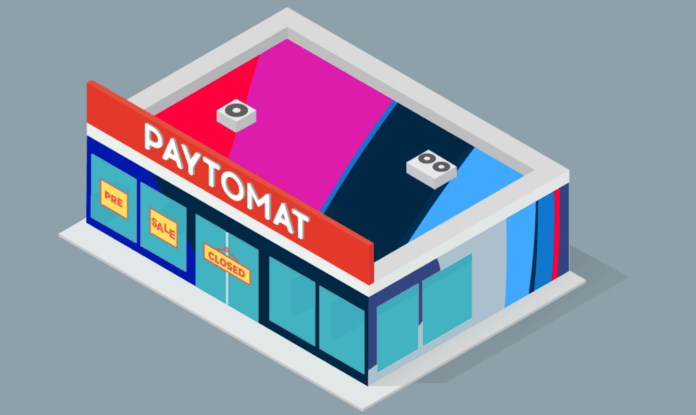 Dates of the public token sale will be announced later on in May
April 19, 2018, Tallinn, Estonia and Kyiv, Ukraine – Paytomat, the decentralized payment solution for crypto, reports closing its pre-sale early, having reached the limit of 5,000,000 PTI tokens allocated for this phase. With this amount sold, Paytomat transcends its minimum target for the token sale. Most of the funding came from cryptocurrency core teams who showed big interest in Paytomat and value the additional liquidity it will bring to their coins. Earlier Paytomat received 100,000 WAVES as part of its residentship in the WavesLab blockchain incubator, and a $33,333 prize at the ICO pitch contest within the World Blockchain Forum in Dubai. Paytomat will announce the dates and conditions of its main sale later on this May.
"Besides product development, we have been paying a lot of attention to networking with crypto core teams. We're working closely with DASH, WAVES, NEM, ZenCash, Decred and other communities. We're happy to see their great support for Paytomat and our potential to develop into a global payment system for crypto," – Yurii Olentir, Paytomat CEO, said.
"Having gained a considerable momentum so far, we have decided to revise our token sale strategy and postpone it to make time and negotiate with other crypto core teams willing to join the Paytomat ecosystem. PTI token sale might end up being a private placement with only selected crypto core teams admitted as our contributors. This is great news for the individual contributors who supported us during the pre-sale. A token sale driven primarily by institutional contributors brings clearer perspectives for PTI and will directly influence its market price when our token hits the exchanges," – he added.
Paytomat has already secured various partnerships in the crypto community and formed a strong Advisory Board including Sasha Ivanov, WAVES Founder and CEO, Dmytro Budorin, Hacken co-Founder and CEO, and other blockchain experts, who are contributing to the Paytomat token sale and business development strategy.
Currently the Paytomat solution works across a variety of businesses in Ukraine as an extension for receiving payments in crypto on existing point-of-sale terminals using Poster, Profit Solutions and 1C. With the international expansion starting this year, Paytomat has signed partnerships with dozens of merchants in Europe. The Paytomat solution now supports 11 cryptocurrencies: LTC, DASH, WAVES, XEM, ETH, BCH, NANO, ZEN, DCR, XZC and BTC.
Join the Paytomat official Telegram for 24/7 support: https://t.me/paytomat. Follow Paytomat on Twitter for the latest news: https://twitter.com/paytomat
About Paytomat
Paytomat is a blockchain-based payment processing system created to help merchants, consumers and crypto core teams to find each other and create real life traction for cryptocurrencies as an emerging method of everyday payments. Built as a decentralized autonomous organization and decentralized franchise, Paytomat features a unique loyalty program based on PTM coin, incentivizing merchants to accept payments in crypto, and PTX tokens, thereby incentivizing customers to pay with crypto. For more information visit https://media.paytomat.com. Media contacts: [email protected]