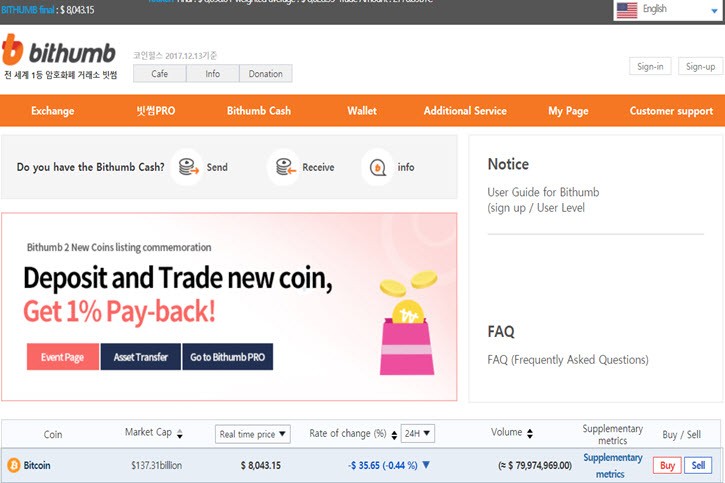 Bithumb's published audited accounts show that the South Korean largest crypto exchange has a trading volume of $476 million per day. Not only that, but they are also discovered to be holding $6 billion since 31st December 2017, on their customers' behalf.
Bithumb stores $6 billion
South Korea is among the biggest crypto markets in the world. Against this backdrop, Bithumb became the largest exchange per trading volume. Originally. Bithumb came to be as BTCKorea's subsidiary and as such is obligated to publish all of its audited accounts. This year's report was published on March 20th on the website belonging to the Financial Supervisory Service (FSS), a regulator working for the FSC (Financial Services Commission).
According to the report, Bithumb is holding around $6 billion in cryptos, all on behalf of their users. This practice began on 31st December 2017. The amount in question is made up of various cryptocurrencies. It has around $1 billion in Bitcoin and $1.6 billion in Ripple. Along with those two, there are QTUM ($0.7 billion), EOS ($0.65 billion), Ethereum ($0.6 billion), Bitcoin Cash ($0.5 Billion), as well as Bitcoin Gold ($0.3 billion). There are even more cryptocurrencies involved, but with a significantly lower amount. The exchange is also holding $0.4 billion in its own balance sheet.
The reported sales of this exchange for 2017 include around ₩333.4Bn ($312Mn). Their net income is estimated to be at ₩427Bn ($400Mn). Of course, there is also a non-operating income, which produces $90 million in addition. After the shareholders' meeting on March 30th it is expected that the financial statements of this exchange will be published somewhere mid-April.
South Koreans' activity in the crypto world
These figures show us that Bithumb's daily trading volume amounts to about 8% of their customers' holdings.
South Koreans have now started taking their cryptocurrencies offline. This is also thanks to Bithumb, which is entering the payments market. A recently-established partnership with Korea Pay's Services, a mobile payment operator, is supposed to reach, and possibly exceed, 8,000 merchants within this country alone. Around 200 brands decided that they are ready to try using payments in cryptos, which is expected to happen by the end of this year.
The brand called Touch B, for example, is entering the business involving kiosks, and it will be among the first to normalize crypto payments.
The report involving Bithumb's audited accounts stated that this is the most popular exchange in the country. Around 75.7% of South Korean trading in Bitcoin goes through this exchange, and the same goes for 50% of the trading volume belonging to Ethereum within this country.
This is proof of how rapidly cryptocurrencies are evolving in this country. Bithumb's revenue in 2017 was around 171 times higher than it was in 2016. At this rate, it is only expected to increase even more, as the use of digital currencies slowly but surely becomes a norm in South Korea.